No hard feelings as Hughes returns to PNC
Right-hander was released by Pirates at end of Spring Training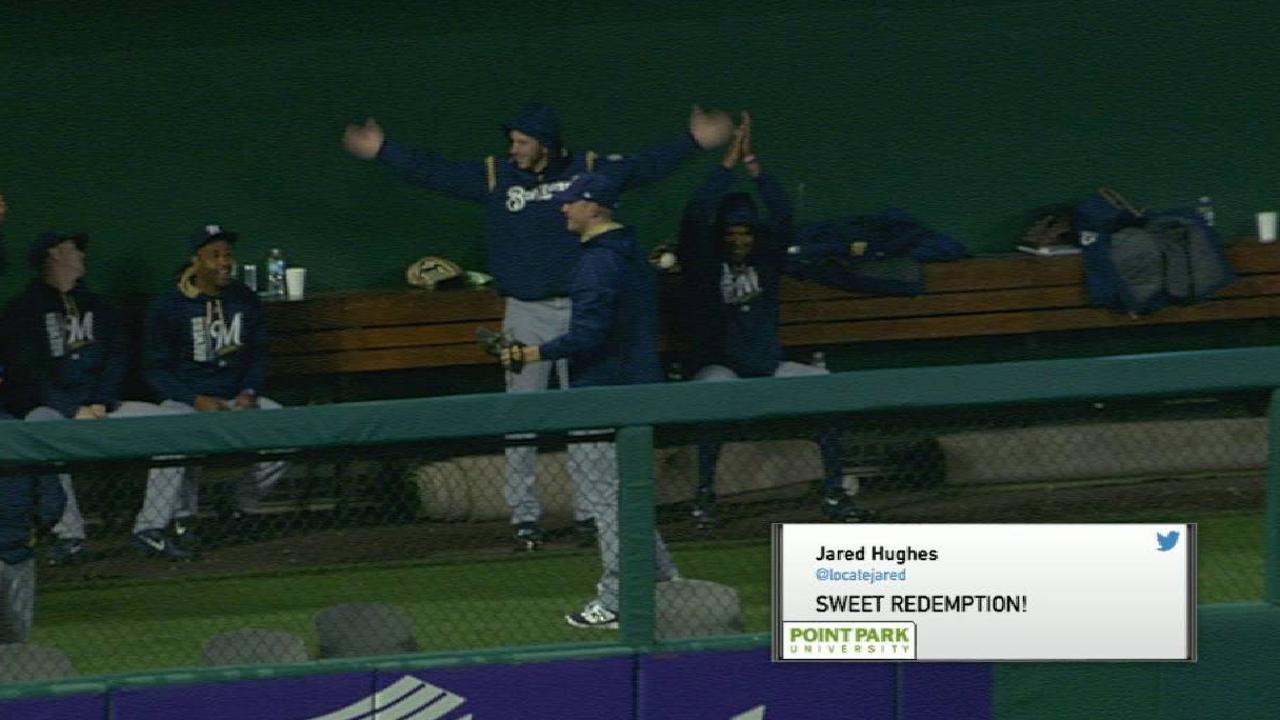 PITTSBURGH -- Jared Hughes, who pitched six seasons for the Pirates, made his first return to PNC Park as a visiting player with the Brewers on Friday. The 31-year-old right-hander was placed on waivers and released by Pittsburgh at the end of Spring Training.
Hughes was a valuable part of the Pirates' bullpen, posting a 2.82 ERA over 313 appearances with Pittsburgh. He signed a one-year deal with the Brewers soon after his release.
The right-hander threw a scoreless sixth inning against the Pirates on Friday night. After allowing a hit and a walk, Hughes registered his lone strikeout of the inning, against former teammate Josh Harrison, to end the frame.
He got a little turned around upon returning to PNC Park.
"It's funny. I went in the front entrance, and there was a little security checkpoint," Hughes said. "I said, 'Hey, I'm with the visiting team now.' He looked at me and said, 'You have to go around to 24-hour security, I'm sorry.' I got rejected at the front entrance today. But it was OK. It was a nice little walk around the stadium."
After six seasons with the franchise, Hughes says he understands why the club let him go and has no hard feelings.
"It was difficult leaving a group of people I really enjoyed being with," Hughes said. "I had a terrible Spring Training, and they told me before Spring Training started that there might be a crunch at the end of the spring. I had a heads-up on it. I was not surprised. I understood."
"It seems like he's doing well," Pirates manager Clint Hurdle said. "Rarely have I seen him where he doesn't have a big smile and talks about his family and his wife and kid, and he's happy, pitching in the big leagues.
"I had to make sure I saw him right away, because he's [my son] Christian's favorite player, and my son wanted me to make sure I got over and said hello right away. So I can give Christian a message later that Jared sends his love. We're all good."
Having joined the Brewers right at the start of the regular season, Hughes has found a good fit in Milwaukee.
"The guys were really nice," Hughes said. "They welcomed me with open arms and treated me like family. It was a weird dynamic, there's no denying it. Coming in on the first day of the season and trying to get to know your new team and playing with them immediately, but they were there for me."
Entering Friday, Hughes is 1-1 with a 3.27 ERA in 11 appearances with the Brewers.
"I feel good. The ball is coming out well," Hughes said. "It's sinking, that's kind of like what I do. I throw way too many sinkers and it's sinking, so that's a good sign."
George Von Benko is a contributor to MLB.com based in Pittsburgh. This story was not subject to the approval of Major League Baseball or its clubs.