Padres need improvement in situational hitting
Club goes 0-for-11 with RISP in Thursday's extra-innings loss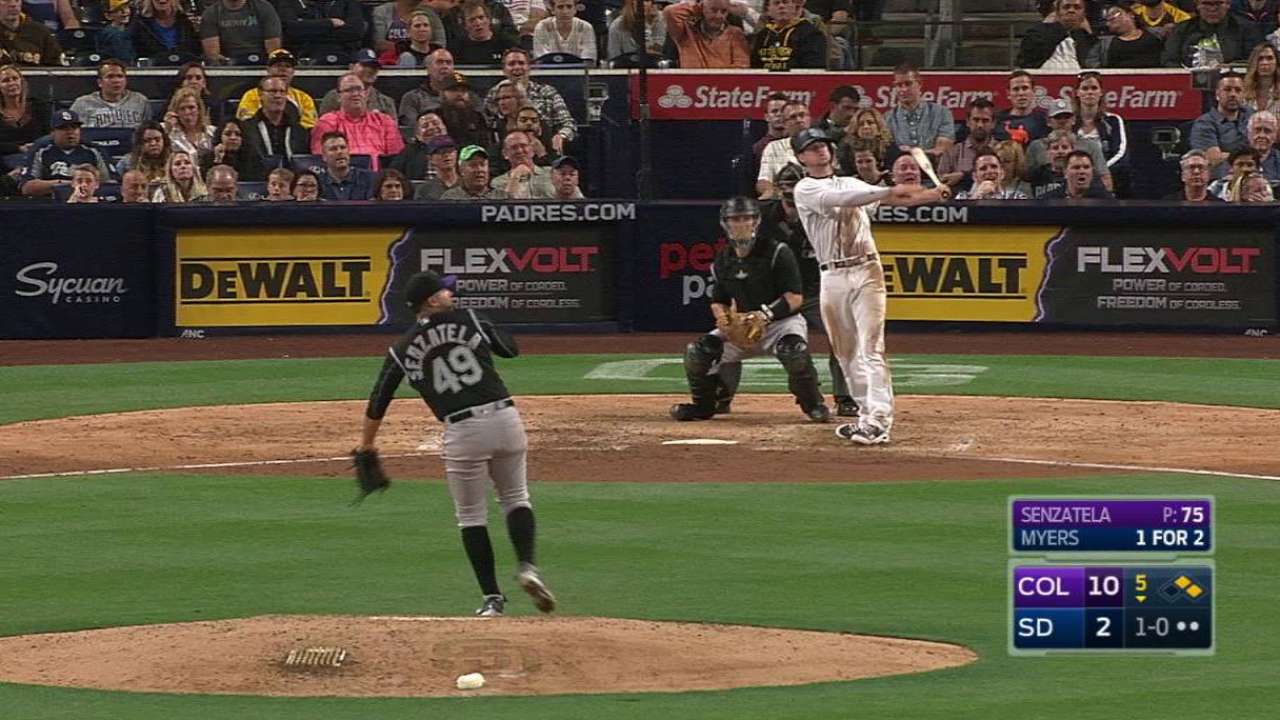 Bill Center, longtime sportswriter for U-T San Diego, is an employee of the Padres.
After 30 games, one of the biggest problems for the Padres in 2017 has been situational hitting -- specifically hitting with runners in scoring position.
The Padres had shown some improvement recently, but they were 0-for-11 Thursday afternoon with runners in scoring position in the 3-2, 11-inning loss to Colorado at Petco Park. They were 0-for-3 with the bases loaded.
On the season, the Padres are hitting .279 overall in RISP situations. But they are hitting only .167 (15-for-90) with runners in scoring position and two out and are 1-for-13 with the bases loaded.
The Padres' top three hitters in RISP situations are Yangervis Solarte, Wil Myers and Austin Hedges.
Solarte is hitting .438 (14-for-32) in RISP situations with 18 RBIs. Hedges is 5-for-17 in RISP situations with 10 RBIs. Myers is hitting .290 with runners in scoring position with 16 RBIs in 31 at-bats.
At the other end of the RISP spectrum, Hunter Renfroe is hitting .125 (3-for-24), Ryan Schimpf is hitting .167 (2-for-12), Erick Aybar is hitting .188 (3-for-16) and Manuel Margot is hitting .200 (3-for-15).
GAME NOTES:
• Colorado's win Thursday gave the Rockies their first series win at Petco Park since 2013. Over their past 41 games at Petco Park, the Rockies are 16-25. The National League West rivals are 3-3 after six games this season, with each team winning the series on the other team's home field.
• RHP Luis Perdomo went six innings Thursday for his second straight start. Padres manager Andy Green said Perdomo would have pitched the seventh had his spot not come up in the batting order. Over his last two starts, Perdomo has allowed four runs (two earned) on 11 hits and two walks with 10 strikeouts in 12 innings to lower his ERA to 4.03 from 6.97.
• LHP Brad Hand took the loss, giving up a run on three hits and two walks with a strikeout in two innings. Before Colorado scored in the 11th, Hand had pitched seven straight scoreless innings. His ERA jumped up from 0.64 to 1.13. Thursday marked the first time this season that Hand allowed more than two hitters on base in an inning.
• Myers was 2-for-4 for a second straight game and has 12 multihit games on the season. Myers also extended his hitting streak to five straight games (9-for-21). He didn't strike out, ending a stretch of 13 straight games with at least one strikeout. Myers has hit safely in 21 of his last 24 games, going 33-for-100.
• Renfroe drove an RBI double off the wall in right Thursday. He is now 2-for-7 since his run of 17 straight hitless at-bats ended Wednesday night. Renfroe had struck out 10 times during that drought.