Cubs recall reliever Pena, option Grimm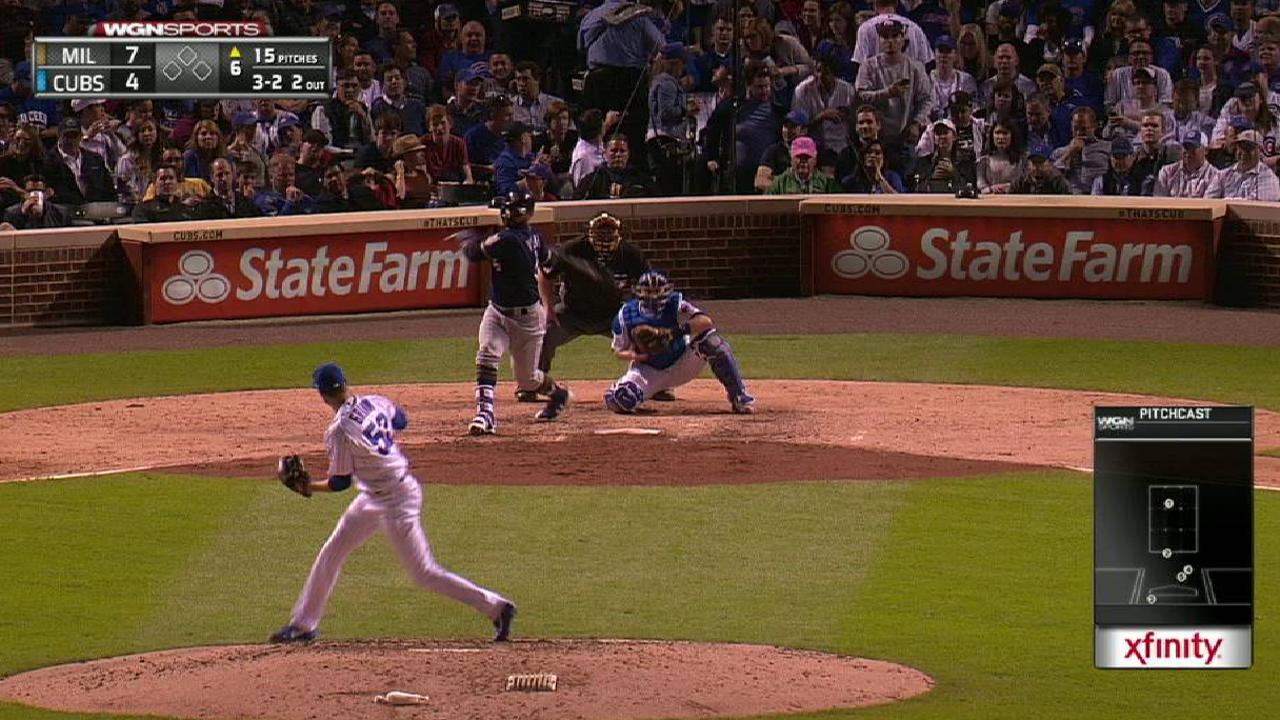 CHICAGO -- After using nearly everyone in the bullpen on Thursday in a 13-inning game, the Cubs recalled right-hander Felix Pena from Triple-A Iowa so they would have a fresh reliever. Justin Grimm was optioned to the Minor League team to make room.
"We had to do something, so 'Grimmer' is the guy," manager Joe Maddon said Friday. "He was really understanding and good about it. He'll be back relatively soon. In the meantime, we had to do something."
Grimm, 28, had a 7.30 ERA, giving up 10 earned runs over 12 1/3 innings in 12 relief appearances.
"I think his arm is great and he's throwing the ball well," Maddon said. "It's probably more execution and location more than anything, but he's fine. He just needs a little break and he'll be right back."
Pena has given up two earned runs over 9 2/3 innings in eight relief appearances at Iowa, and he was holding opponents to a .212 batting average.
Cubs reliever Mike Montgomery said the rules change in extra-inning games and everyone is available.
"It doesn't matter how you feel, you're going out there," Montgomery said. "We're all pretty healthy. It's worth pitching like that to get the win."
• Aroldis Chapman received his World Series ring on the field in a pregame ceremony. The Cubs acquired the left-hander last July in exchange for shortstop Gleyber Torres, who was the organization's top-rated prospect at that time. It was worth it, Maddon said.
"Not to denigrate anybody who was here, but he was one of the most important things we had last year," Maddon said of Chapman. "What he did in the World Series and playoffs was difficult to recreate. I've said it before, we could not have done it without him.
"The kid we gave up is very good," Maddon said of Torres. "I think you do that [deal] 11 out of 10 times."
• This Interleague series gives the Cubs' Kris Bryant and the Yankees' Chasen Shreve a chance to catch up. The two played in high school together in Las Vegas, and they hang out together in the offseason.
"He's my wife's brother's best friend," Bryant said of Shreve, a reliever on the Yankees. "My brother-in-law is here, too. [My brother-in-law] booked this trip a while ago. He saw Chasen was going to be here, I'm going to be here, so two of his really good friends would be here, and he wanted to be here, too."
Bryant doesn't recall ever facing Shreve in a game.
"In high school, he was such a different pitcher and now he's in the big leagues," Bryant said. "I think he's added a pitch he didn't have in high school. It's completely different. It's so fun to be here with him. I see him all the time in the offseason."
• Iowa infielder Jeimer Candelario and Class A South Bend pitcher Dylan Cease were named the Cubs' Minor League Player and Pitcher of the Month for April, respectively.
Candelario, 23, batted .306 with 10 doubles, two triples, three home runs, 18 RBIs, a .432 on-base percentage and a .625 slugging mark in 21 April contests for Iowa. He tied for the Pacific Coast League lead in doubles, while his 15 extra-base hits ranked second.
Cease, 21, posted a 1.90 ERA in five April starts for South Bend, striking out 37. He limited opponents to a .177 average, a .305 on-base percentage and a .278 slugging percentage. On April 29, he struck out 10 batters against Fort Wayne.
• Tickets go on sale Saturday for the Hot Stove Cool Music event in Chicago to benefit Theo Epstein's Foundation To Be Named Later. Daxx Nielsen of Cheap Trick, Scott Lucas of Local H, Jason Narducy of Split Single, the Blake Babies and other special guests will perform. The event will be June 2 at Wrigleyville's Metro.
Carrie Muskat has covered the Cubs since 1987, and for MLB.com since 2001. She writes a blog, Muskat Ramblings. You can follow her on Twitter @CarrieMuskat and listen to her podcast. This story was not subject to the approval of Major League Baseball or its clubs.