Machado rips 466-foot laser out of Fenway
O's slugger sets Statcast record for visiting player in Boston, then takes slow trot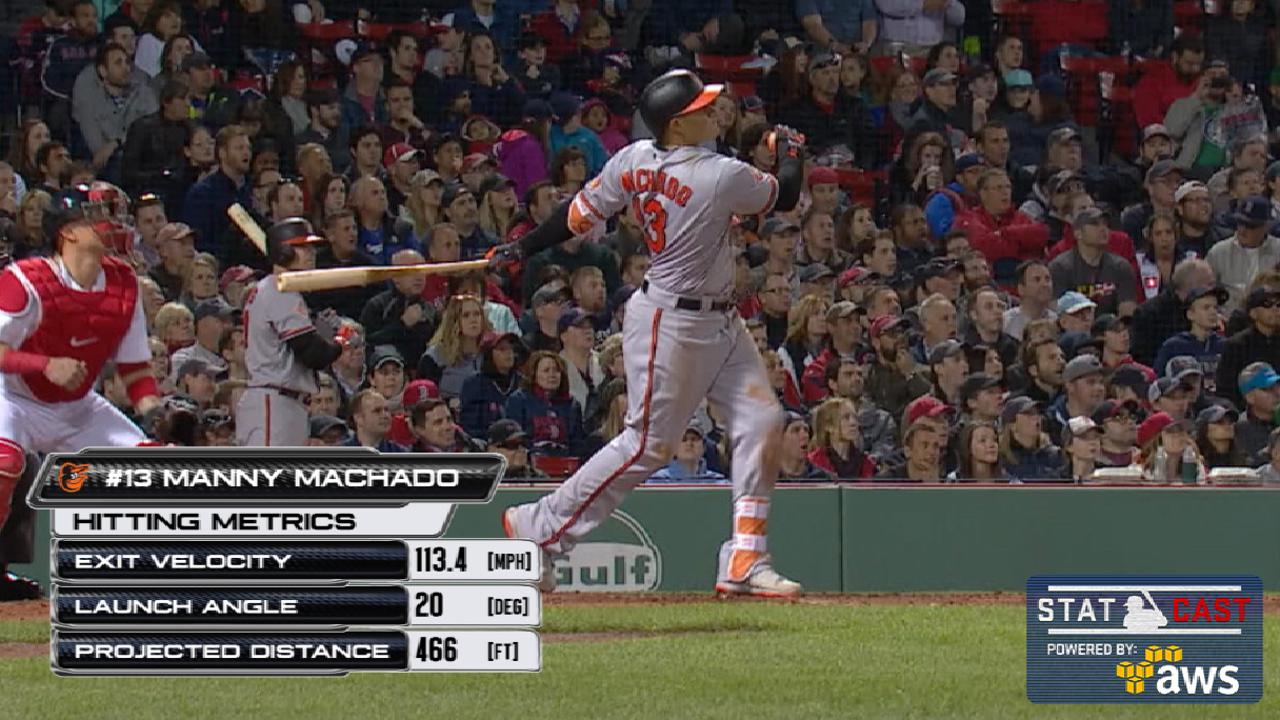 BOSTON -- The Fenway faithful enjoyed booing Manny Machado during this four-game series, and the O's third baseman has equally relished in quieting them, doing so in Thursday night's 8-3 win by launching a moonshot into the Boston night.
Following his spiking of Dustin Pedroia on a slide into second base during an April series in Baltimore, which set a tense tone between the two clubs, Machado was tagged with the "bad guy" label when the Orioles came to Boston.
While drama persisted throughout the four-game series this week at Fenway, Machado continuously answered the cat calls with great baseball execution to lull the crowds.
• Cast your Esurance All-Star ballot for Machado and other #ASGWorthy players
In the fourth inning on Thursday night, the slugger majestically silenced the masses when he took a 92-mph sinker from Kyle Kendrick and unleashed on it, launching it a projected 466 feet out of the ballpark, a record blast by a visiting player at Fenway in the Statcast™ era.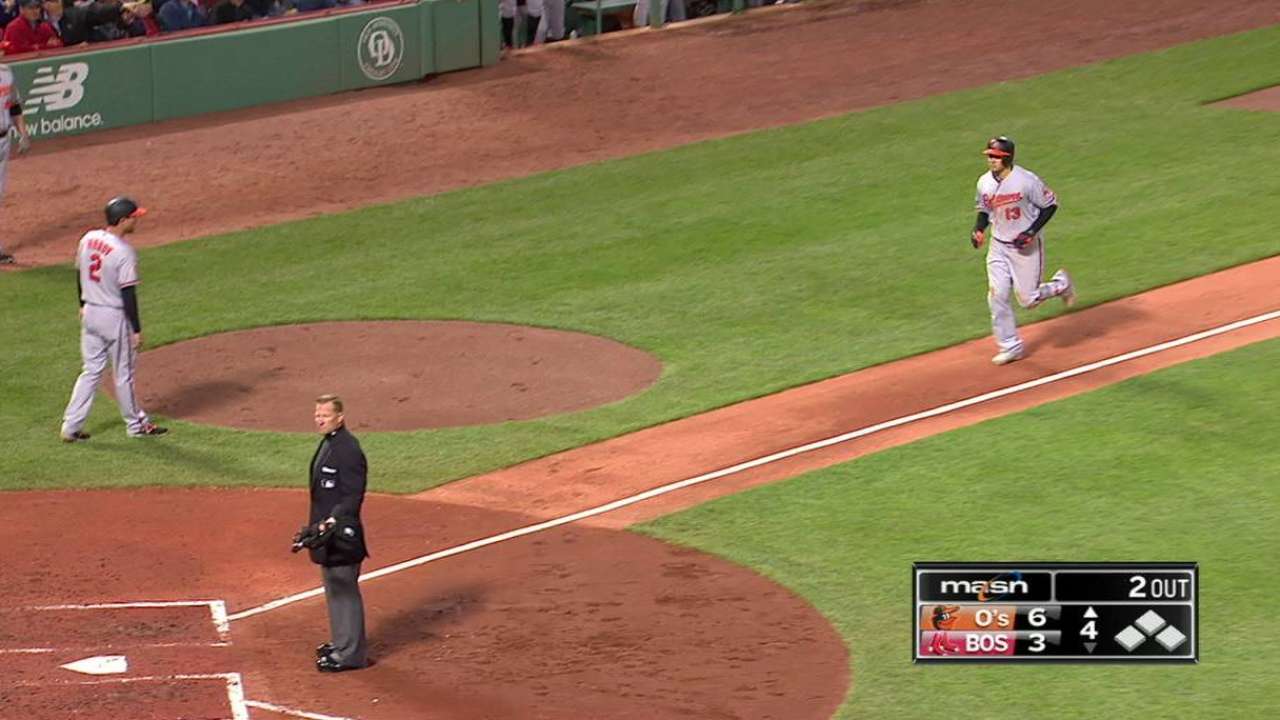 "It doesn't bother me," Machado said of the boos. "I try to zone in. I've got to face a guy throwing 98, 92 [mph] with nasty stuff up there. That's where my concentration is at, always."
The three-run blast gave the Orioles a 6-3 lead and was hit with an exit velocity of 113.4 mph, Machado's third-hardest homer of the Statcast™ era. It was the sixth-longest home run of the season, yet only the second longest for Machado, who hit a 470-foot blast at Yankee Stadium on Friday.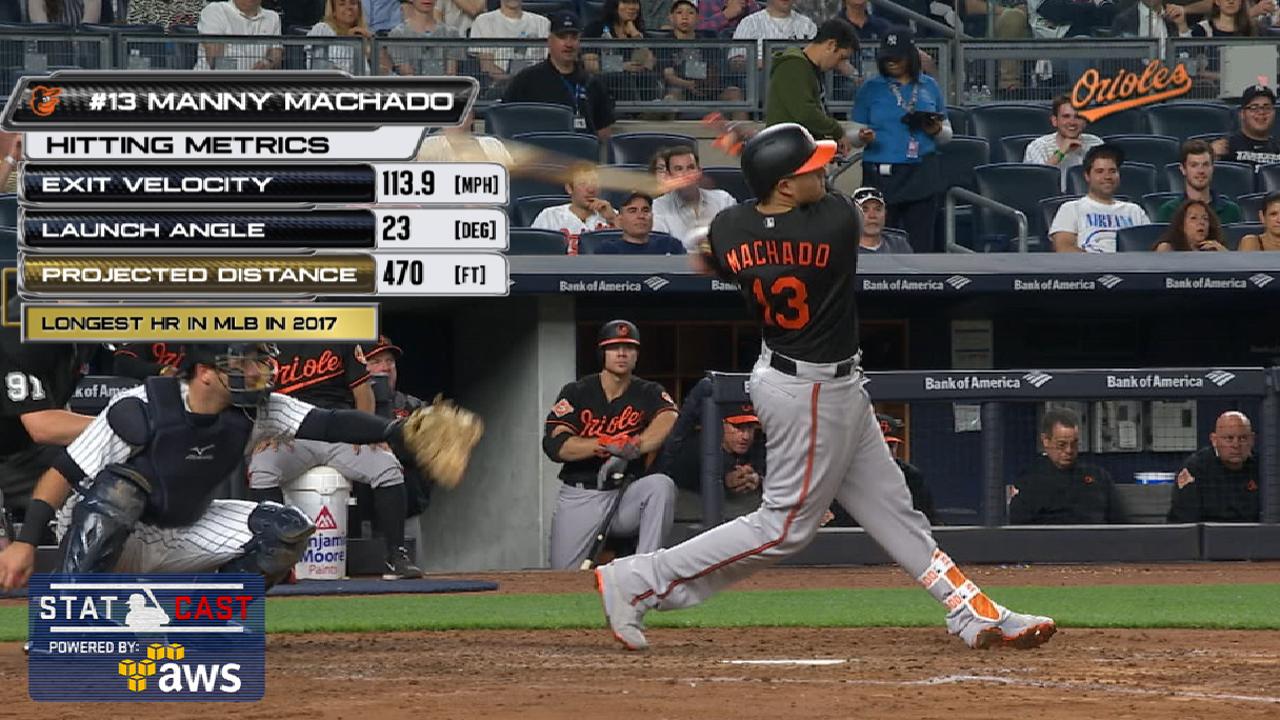 For his efforts, Machado made sure to take in the sights on his home run trot, which took 29.8 seconds, his second-slowest time around the bases on record.
"Go look at my home runs," Machado said. "I'm not a rookie. I've got a hundred-plus home runs in The Show. I do the same trot every time, wherever it is."
It was the seventh home run of the season for Machado, and third of the series, each one longer than the last, all totaling 1,319 feet.
After hitting just .159 with two home runs and seven RBIs over the first 12 games of the season, Machado has begun to heat up, hitting .294 with four home runs and nine RBIs over his last eight games to bring his average up to .223.
"I just feel I'm getting back in the groove," he said. "It's been a month now that I struggled a little bit, and I'm finally, little by little, taking baby steps, feeling better at the plate, seeing the ball a little better, and making some good contact with the ball."
From everything hit his way at third base to getting a 98-mph Chris Sale offering breezed by the back of his legs, the O's All-Star responded on and off the field and was a catalyst in helping his team grab a split of the series before heading back home to face the White Sox on Friday.
"Manny's our three-hole hitter, third baseman, and he's the guy that we expect to do the things he's doing -- hitting the ball real hard and making plays at third base," said Seth Smith.
"It doesn't surprise anybody," manager Buck Showalter added. "All the things that he's showed with a lot of the challenges that have come his way, so we're proud of him. He's going to answer the challenge. If anybody doesn't think that, they haven't been watching."
Craig Forde is a contributor to MLB.com based in Boston. This story was not subject to the approval of Major League Baseball or its clubs.