Mariners hope Iwakuma can make next start
Hernandez progressing well with his shoulder bursitis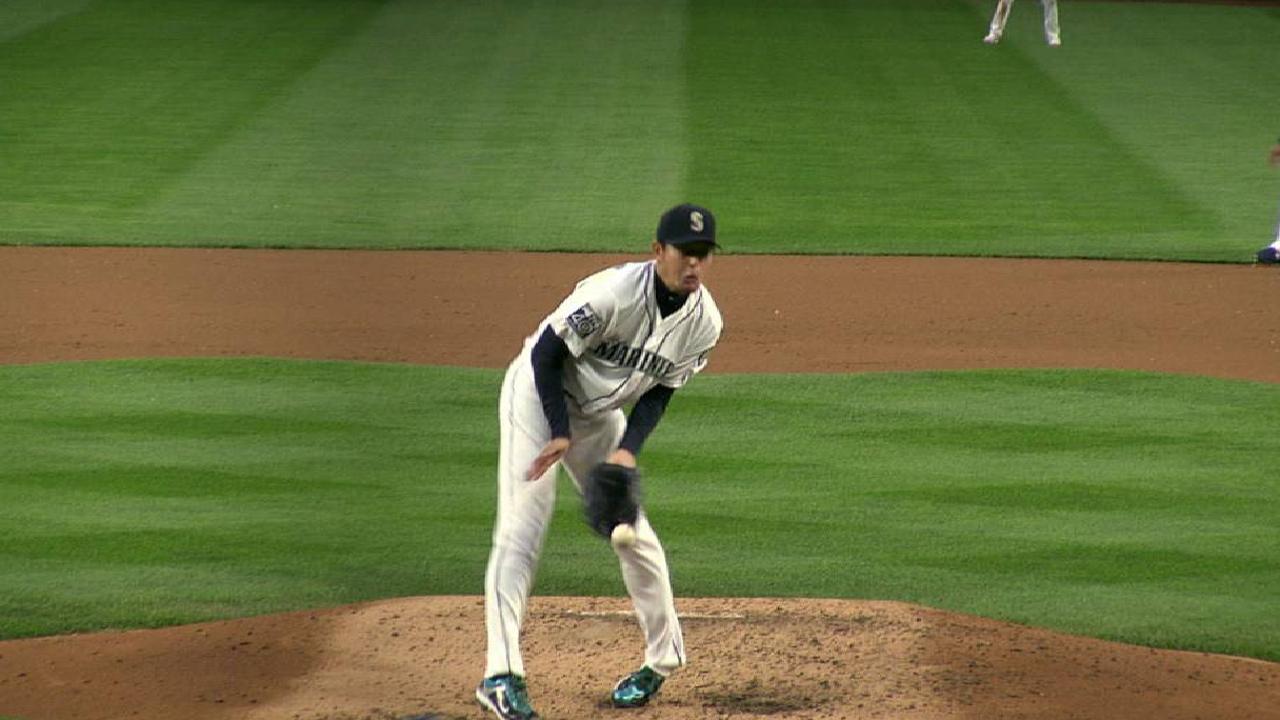 SEATTLE -- The news on the Mariners' lengthy injury list was mixed on Thursday, with manager Scott Servais acknowledging Hisashi Iwakuma's next start isn't certain after he took a line drive off his left knee on Wednesday, and reliever Evan Scribner saying he's headed to Los Angeles next week to get a second opinion on his injured elbow.
But Servais said the reports are good on Felix Hernandez as he works back from bursitis in his right shoulder, while outfielder Mitch Haniger is also progressing in his rehab from a strained oblique in his right side, and reliever Steve Cishek continues slowly moving forward in his return from hip surgery.
In other words, reinforcements are on the way, but it's going to take some time as the Mariners open their second month of play.
Iwakuma is the most immediate concern as he is scheduled to start again Tuesday in Philadelphia when Seattle opens a six-game road trip following this weekend's home series with Texas.
"Kuma is a little sore," Servais said. "He certainly feels it today. I don't have any status on whether he'll make his next start. At this point, I would suspect he would, but we'll wait and see how he feels at the end of the day."
The Mariners rotation is already thin with Hernandez and Drew Smyly sidelined. Hernandez is on the 10-day DL and likely out until at least late this month, while Smyly is on the 60-day DL with a strained left elbow that figures to keep him out until at least July.
Neither starter has been cleared to begin throwing again yet, though Hernandez could start throwing sometime next week.
"The reports on Felix have been good," Servais said. "He feels good and is getting his strength back in the shoulder. The range of motion, based on the tests they do there, is all getting back to normal. There's no date on him throwing, but it might be sooner than maybe other people anticipated. They're really excited with the report I got today. They like where he's at right now."
Haniger, who was hitting .342 with four home runs and a league-leading 20 runs scored when he strained his oblique on April 25, has to be careful in order to not set back his recovery with what can be a nagging issue.
Both he and Hernandez were initially expected to miss at least 3-4 weeks after getting hurt the same day.
"Haniger feels very positive and he's gnawing at the bit to get back in there," Servais said. "And who wouldn't with the start he was off to. But we have to be cautious and make sure he's 100 percent. So no definite timetable. He hasn't done any baseball activity yet, no quick-twitch type stuff."
Cishek and Scribner, two right-handers who figured prominently in the team's bullpen plans, are also on slow programs. Cishek had hoped to be back by May 1, but said he pushed so hard during his Minor League rehab stint that he physically "ran out of gas" when he made back-to-back appearances for Double-A Arkansas last week.
After taking time off to work with pitching coach Mel Stottlemyre Jr., he'll throw another bullpen Friday and then possibly head back to Triple-A Tacoma to resume game action.
The news isn't as good with Scribner, who went on the DL last Saturday with a right flexor bundle strain. Scribner struggled with his elbow much of April while posting an 11.05 ERA in eight outings. He threw 14 scoreless innings for Seattle last September after missing much of the season with a strained lat, but doesn't think his current problem is related.
Scribner has been shut down for now and could get a PRP injection to promote healing, but he'll fly to Los Angeles to get a second opinion Monday from noted orthopedic surgeon Dr. Neal ElAttrache at the Kerlan-Jobe Clinic.
Greg Johns has covered the Mariners since 1997, and for MLB.com since 2011. Follow him on Twitter @GregJohnsMLB and listen to his podcast. This story was not subject to the approval of Major League Baseball or its clubs.