Podcast: McKay on Draft hype, pitching vs. hitting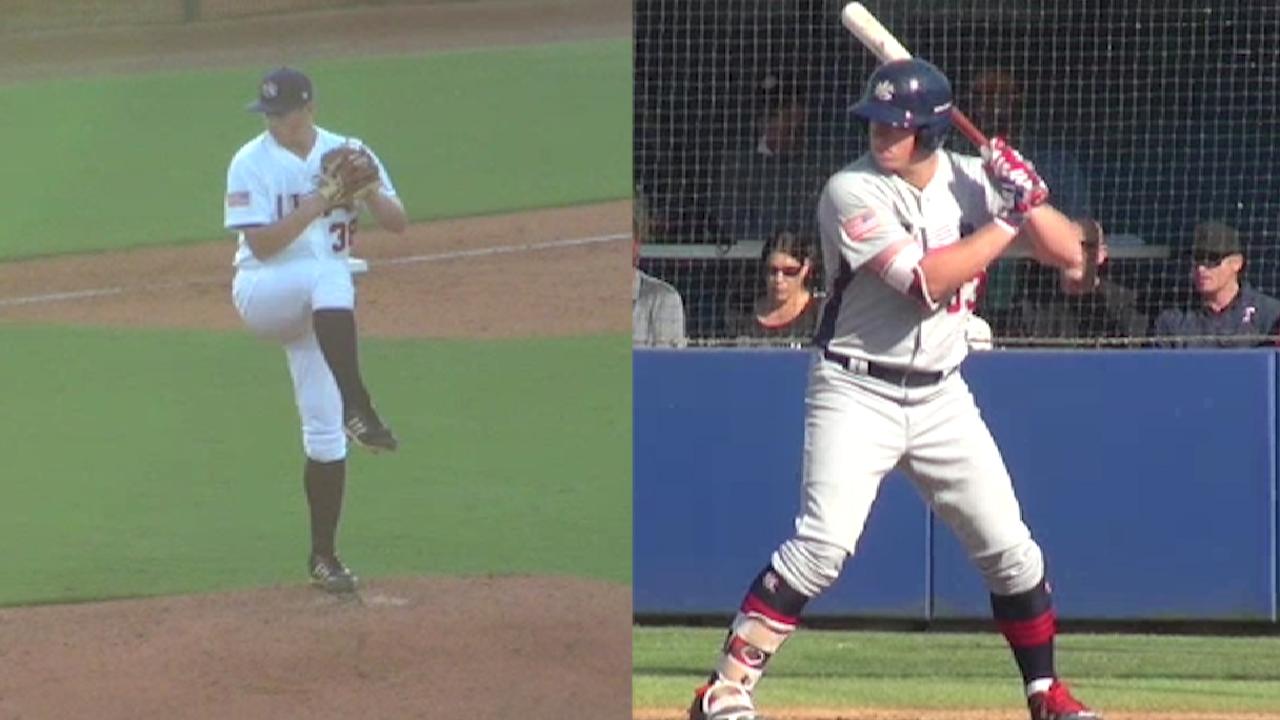 This week on the MLBPipeline Podcast, host Tim McMaster and resident prospect gurus Jim Callis and Jonathan Mayo speak with potential No. 1 pick Brendan McKay. The following is a transcript of a segment from this week's episode of the Pipeline Podcast.
McMaster: To sum up Brendan McKay the baseball player this season, you look at last week and Brendan, Tuesday you hit four home runs in a game, Friday you strike out 12 batters over eight and that's really all the talk is, your ability to do both those things. My first question for you is, when it comes down to it, I'm not going to ask you what you want to do at the professional level, but what do you get more of a thrill from, hitting a home run or coming up with a big strikeout in a big spot?
McKay: Honestly, I've been asked that question multiple times and it's hard to come up with a specific answer because you get the same adrenaline pumping, the same excitement hitting a home run or a big hit in a certain situation or striking out guys in a crucial situation, so that's tough to pick one in that situation.
Callis: Brendan, Jim Callis here, the first thing I wanted to ask you is how difficult is it to block out the Draft when you're in your Draft year and your case is a little bit different than most where you have a chance to possibly be the No. 1 overall pick. If not, you're going to go at the top of the Draft. I've got to imagine it's impossible to totally block it all out, but how much do you pay attention to that stuff that's been swirling around you this spring?
McKay: Yeah, I mean, it's obviously tough in today's age where you've got social media and everything you're connected to where you don't even have to go on it, somebody can mention you in a tweet or tag you in something and it pops up right on your phone and it's kind of hard to not go look at it because you've got to clear that notification or whatever, but really just you could read whatever comes up, or just look at it and see what people are saying, but you don't take anything too hard or too in depth of what people are saying. Just take it for what it is, read it, then put it aside once you're done with it and just move on and do whatever you've got to do to play your game or just get prepared to do your stuff.
Mayo: Well for our part, Jim and I apologize for putting you in the first pick for our mock Draft that went up the other day. So, sorry. But how much does it help you, if you were just pitching and had to wait a week, I would imagine some of that stuff could creep into your mind a little more. Does the fact that you do both things help sort of keep you focused on the field, because even if you're done pitching on Friday, you're still in the lineup Saturday and Sunday and Tuesday?
McKay: Yeah, it's helped a lot. You've got to push things past yourself quickly, you know. Playing a game on Friday, at six or seven o'clock at night and then you've got an early game at 1 o'clock the next day. If you have a bad game or a good game, do whatever you need to do for those next couple of hours until you fall asleep or whatever and then when you wake up it's a whole new day, clear your mind, clear your slate. Just get ready to play that next day or whatever.
Callis: Brendan, I'm sure another question you get asked a lot is what you would prefer doing professionally, whether it'd be hitting or pitching. I'm going to ask you a slightly different version of that. Has it entered your mind that you'd like to try to do both possibly and have you had any discussions with teams yet when you've met with scouts about possibly doing both? How has that been approached?
McKay: Yeah, that's one of the questions, one of the very questions that I've ever been asked in any scout meeting or any type of meeting like that. 'We know you're talented at both, but which one do you want to do or if you had to pick one,' and it's tough to pick one, more from the fact that you don't want to give one up because say, in my case, if I had just stuck to pitching, I think I'd get a little bit bored just throwing one day a week and not being involved in any outcome of the game unless say for some reason we get deep into extra innings and they've got to call some guy off the bench and it just so happens to be you to pinch hit or something. It'd be a little different than being a hitter playing four, five, six days a week.
Mayo: Brendan, I live here in Pittsburgh, and I remember when you were coming out of high school in this area and people were talking about you, obviously not quite in this neck of the woods of the Draft and some of that is because you had your mind set on going to Louisville, but clearly you've evolved and developed as a player on both sides of the ball. Can you talk a little bit about the player you were out of high school, compared to the young man you are now and the differences three years at Louisville, what that's meant to you as a baseball player?
McKay: Yeah, in high school, you're more focused on working to get that scholarship offer and just trying to figure out where you're going to school. So you're really focused on becoming the best player you can be, where once you get to school, you're set for three years until you can get drafted again or even if it happens this year, you're one year, two years, you're draft eligible as a freshman or a sophomore. You put in that work at that time to get better, get bigger, get stronger and just become a better person, a better player as well with all the help you can get from coaches, other players, other teammates, professional guys that come back if you're in a program where a lot of guys, like Louisville they come back in the fall into the early spring before they head off to Spring Training to get better, pick up things from them and just get to know about the game a little more.
Callis: Brendan how important is it to you personally, and I guess on a team level too, to get to the College World Series this year. Louisville has had one of the best programs in the country probably for the last decade or so, that they've been to Omaha three times, continual national championship contenders, but I was talking to Corey Ray in Spring Training and he still seems ticked off that you guys got upset by UC Irvine last year, how important is it to get back to Omaha and maybe win that first national championship for the Cardinals?
McKay: It's obviously important. We look at it every day, even at the College World Series sign on our wall that has the years that they've gone and with the teams we've had in '15 and '16 and then now, I think we've had some of the best quality of players and some of the best seasons we've probably ever had and I think that it's kind of upsetting that you have all these guys, you have all this success on the field and you get up to that point where you're on the brink of making it there, a couple plays here and there, a couple bad innings, it just really sucks that you put in all that work, you're so close and you have all those guys and then it just disappears from you in a moment.