Nova grinds through 6, but gets little support
Bucs are 3-3 in Nova's starts, despite his 2.14 ERA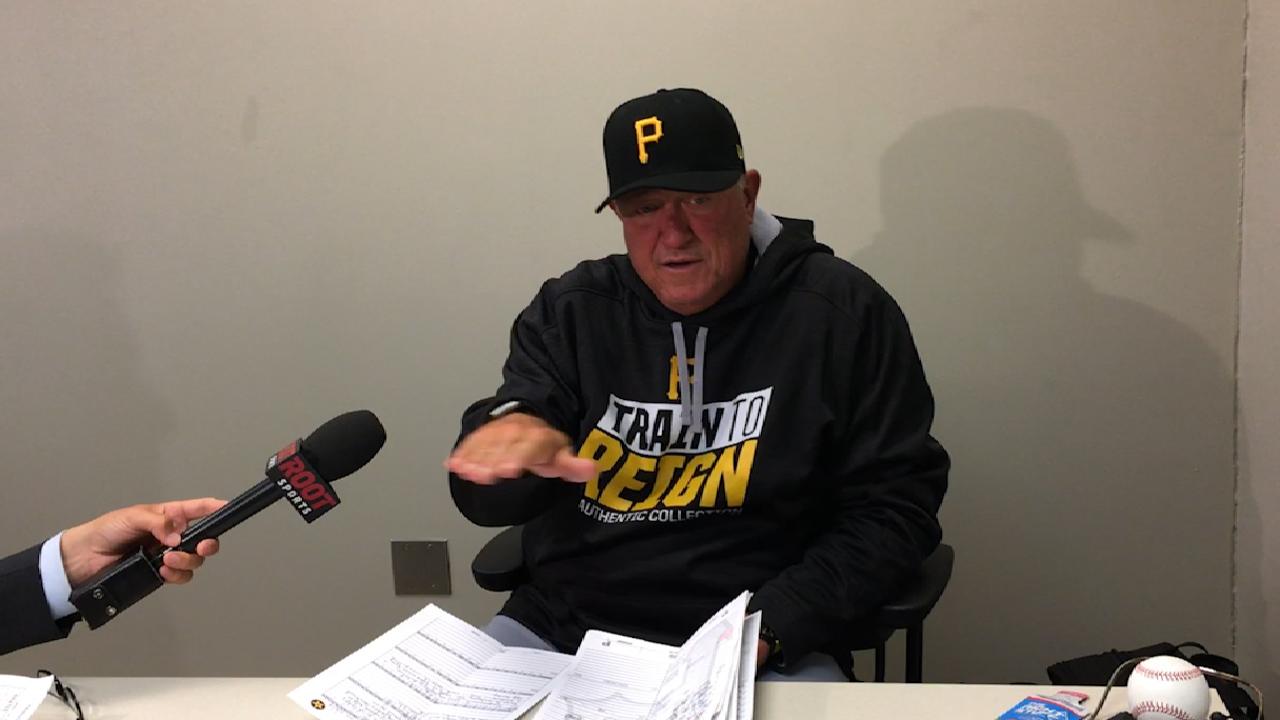 CINCINNATI -- The approach was the same for Ivan Nova. Throw strikes, try to force quick contact and pitch deep into the game. But after an outstanding April in which he was named National League Pitcher of the Month, the results did not follow in his first May start.
Nova gave up a season-high 10 hits and four earned runs but still managed to pitch six efficient innings Thursday afternoon at Great American Ball Park. He received little help from the Pirates' lineup, however, as they lost to the Reds, 4-2.
The lack of support has become somewhat of a theme, as the Bucs are 3-3 in Nova's six starts, despite his 2.14 ERA. In his three wins, Nova allowed a combined two runs -- and only one was earned.
"He always is capable to keep the game close for us, and we don't score runs. We've got to hit, man," catcher Francisco Cervelli said. "We've got to hit. We cannot put everything on Nova. This guy gave us six innings, and we couldn't score runs."
Still, Nova was not at his best Thursday. He got ahead of hitters, as he has consistently done since joining the Pirates, but the Reds took advantage of a few mislocated pitches.
Joey Votto hit a pair of doubles off Nova, Scott Schebler doubled to right field and Adam Duvall lined a triple to left. The Reds are the only team to give Nova much trouble this year. He allowed four runs (three earned) in six innings and took the loss against Cincinnati at PNC Park on April 12.
"They have a really good lineup. You've got to make good pitches against them," Nova said. "If you don't make pitches, you're going to get hit. It's the second time I've given up four runs against them. I've got to do something different next time out."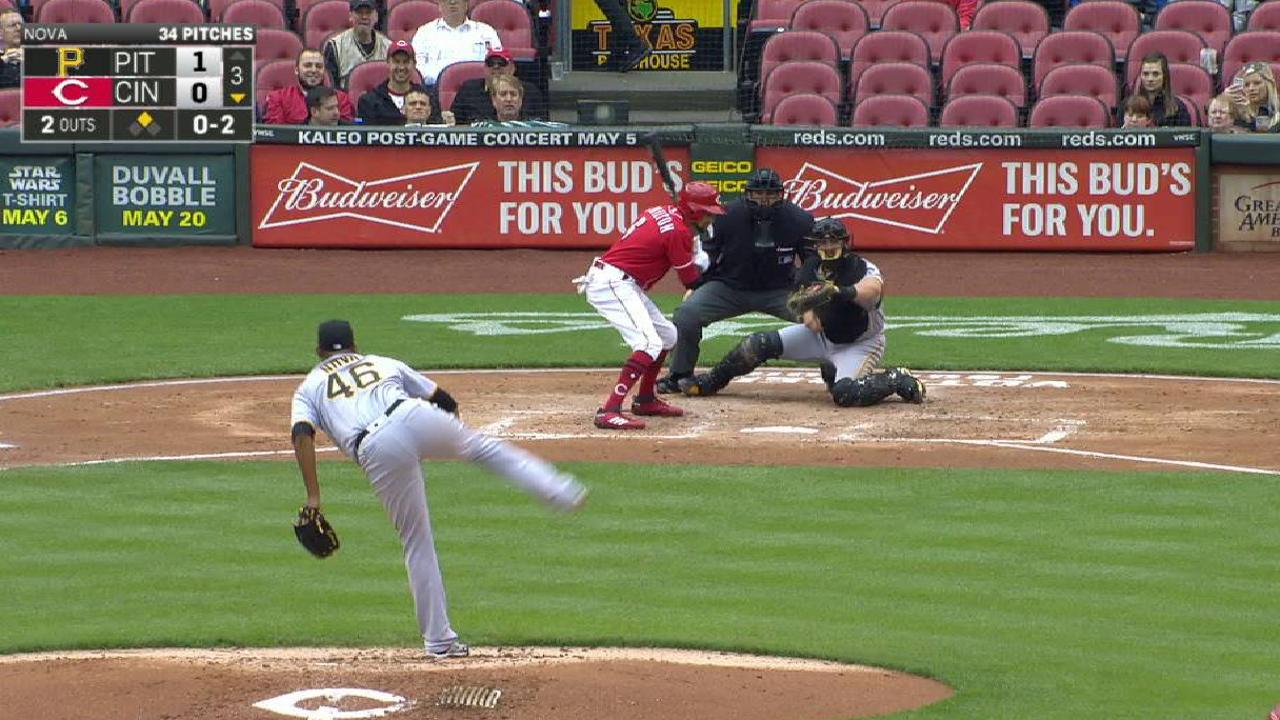 So much of Nova's success in Pittsburgh is due to his strike-throwing. He pounds the zone, and his pitches have enough late movement to induce weak contact more often than not. But Nova said his fastball was cutting too much on Thursday, so a handful of four-seamers wound up moving over the plate more than intended.
"In my opinion, it's almost like shooting threes in basketball," Reds catcher Tucker Barnhart said. "You live by the three, you die by the three. He throws so many strikes. His stuff is very good, but he throws so many strikes that you go up there and you're ready to hit.
"He's had a hell of a year. I don't know why it's just us that gives him a little bit of trouble, but hopefully that continues."
Even after giving up five hits and facing six batters in the fourth, Nova settled in to pitch two more innings. He finished the sixth with 88 pitches, 69 of them for strikes, and the Pirates trailing by two.
"He's competing. He was grinding," manager Clint Hurdle said. "His execution wasn't what he wanted it to be, but he maintained the mindset and battled through the game. Still kept us in position to fight and to win."
That was a point of pride for Nova, who has thrown at least six innings in each of his six starts this season. He also avoided additional damage by not walking anyone, his club record-tying 17th straight start with one walk or fewer, tying him with former Pirate Babe Adams, who set a team record with 17 consecutive outings with one walk or fewer from July 1, 1922-May 7, 1923.
"You've got to give the team a chance to win games," Nova said. "My job as a starting pitcher is to try to go the deepest I can."
Adam Berry has covered the Pirates for MLB.com since 2015. Follow him on Twitter and Facebook, read his blog and listen to his podcast. This story was not subject to the approval of Major League Baseball or its clubs.