Game delayed after fan is hit by bat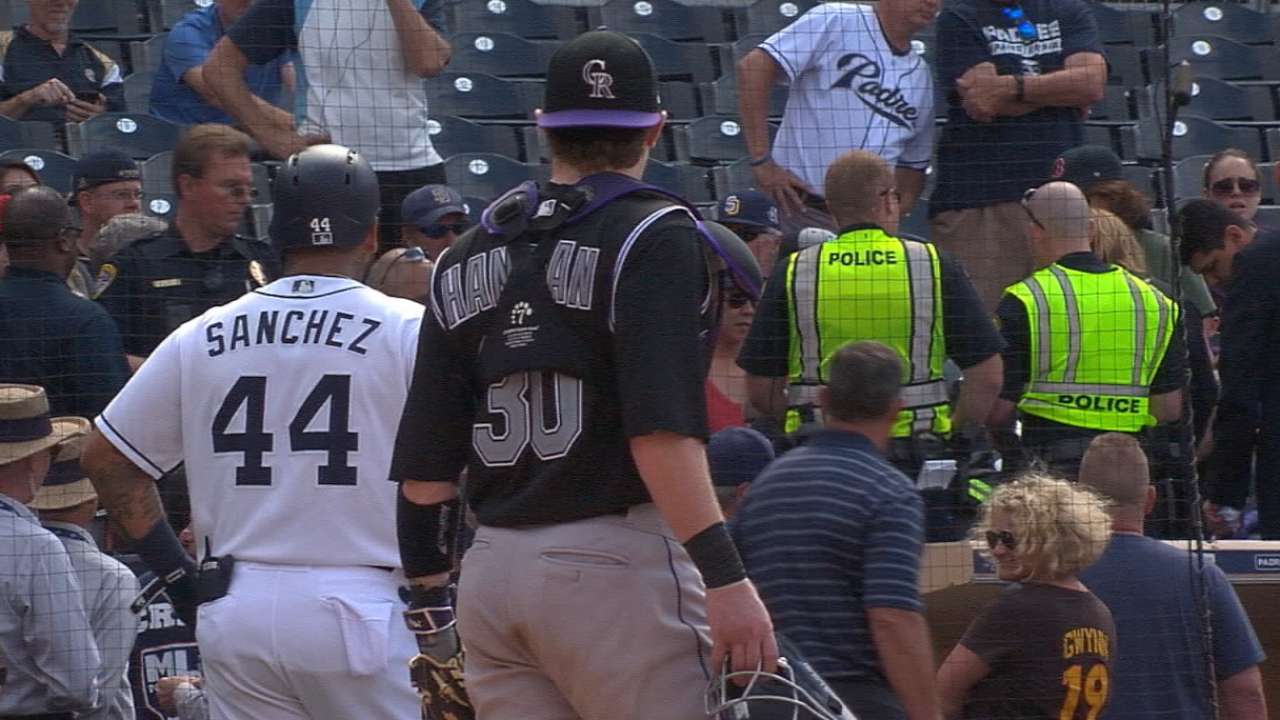 SAN DIEGO -- A female fan who was sitting behind the visiting dugout at Petco Park was struck in the head by a bat on Thursday, but her injuries "do not appear to be serious," according to a statement released by the Padres.
Padres catcher Hector Sanchez swung and fouled a pitch back in the bottom of the ninth inning and couldn't hang onto his bat, which went into the seats next to the Rockies' dugout and struck the woman in the head.
Medical personnel on site attended to her immediately. After a delay of 13 minutes, she walked up the steps under her own power before being wheeled out of the concourse with her head in a wrap. She gave high fives to other fans in attendance as she exited.
"I feel really, really bad about it," Sanchez said. "Especially when I saw it hit the lady, it's pretty sad. I just feel sorry for her. ... My best wishes for her. I hope she gets well soon. I hope she is well, and they take care of her."
Added Padres manager Andy Green: "That's heartbreaking. Thoughts and prayers go out to her and her family. Knowing that you come to a ballgame to enjoy it and then something like that happens, it's disheartening. I think everybody's heart hurts for her and her family. Very, very hopeful she's doing fine."
Her husband also was hit in the shoulder by the bat, but sustained only minor injuries. Both were taken to the hospital.
"We never want to see anybody injured while enjoying a game at Petco Park," the Padres said in a statement issued after the game. "The guests who were struck by Hector Sanchez's bat in the ninth inning have received medical attention and been transported to a local hospital. Both were in good spirits and their injuries do not appear to be serious.
"For the privacy of the guests, we cannot offer any further information.
"Last season, we extended our backstop netting in accordance with Major League Baseball's recommendations. Any injury at the ballpark warrants evaluation and discussion of current practices."
AJ Cassavell covers the Padres for MLB.com. Follow him on Twitter @ajcassavell. This story was not subject to the approval of Major League Baseball or its clubs.