'Pen, power help Reds stay in thick of Central
Despite rough stretch to end April and spotty rotation, Cincy at .500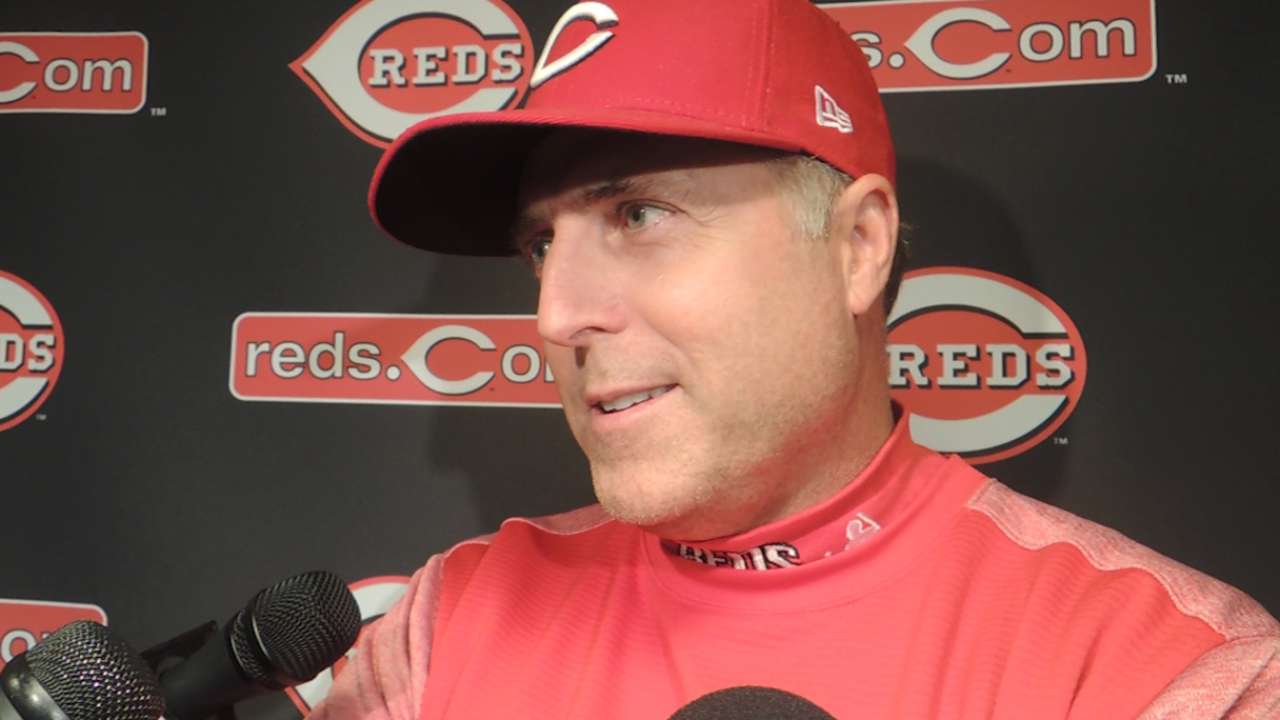 CINCINNATI -- No team is off to a flying start and separating itself from the pack in the National League Central this season. But the Reds were flirting with being left behind the group until a fortuitous series vs. the Pirates.
A 4-2 victory on Thursday gave Cincinnati three of four in the series and got the club back to .500 (14-14) and tied for second place behind the Cubs, heading into play Thursday night. That's been no easy feat considering multiple factors:
• While the Reds are 6-1 this season vs. Pittsburgh, they are 8-13 vs. the rest of the Major Leagues. That includes being 1-6 vs. the Brewers.
• Heading into this series, the Reds dropped eight of 10 games with two four-game losing streaks.
• The rotation owns a 5.72 ERA, worst in the Majors, while it has thrown the second-fewest total innings at 133 2/3.
• In the past nine games since April 24, the rotation has pitched six or more innings twice. That included Tim Adleman's six innings on Thursday.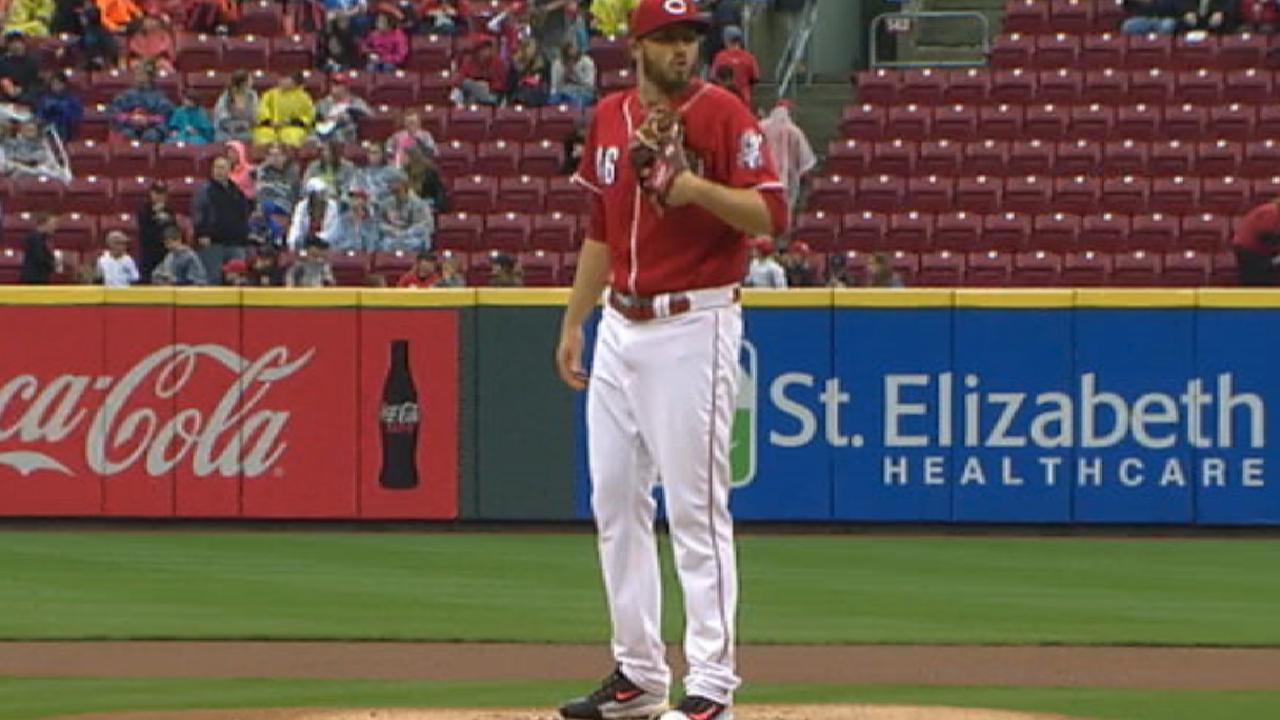 "If we're around .500 or at .500 at the All-Star break, we've got a good chance to be there at the end," Adleman said.
On the plus side, the Reds are the only team in the Majors that have at least three players with eight or more home runs. There is only one other team -- the Nationals -- that has two players.
The Reds are fifth in the NL in homers (38) and sixth in team batting at .253.
While the bullpen leads the Majors in innings at 117 1/3, it has the fourth-best ERA in the NL at 3.30.
"When you look at the lineup and the way it's playing out offensively, that helps," Pirates manager Clint Hurdle said. "Then they've rearranged their bullpen, they've got some starting pitching that's given them an opportunity to use the bullpen the way they want to versus when they need to. They're .500 right now, so yeah, they are a better ballclub and they've got some guys who can do some things. You've got to pay attention to them. They're going to go out and fight and play."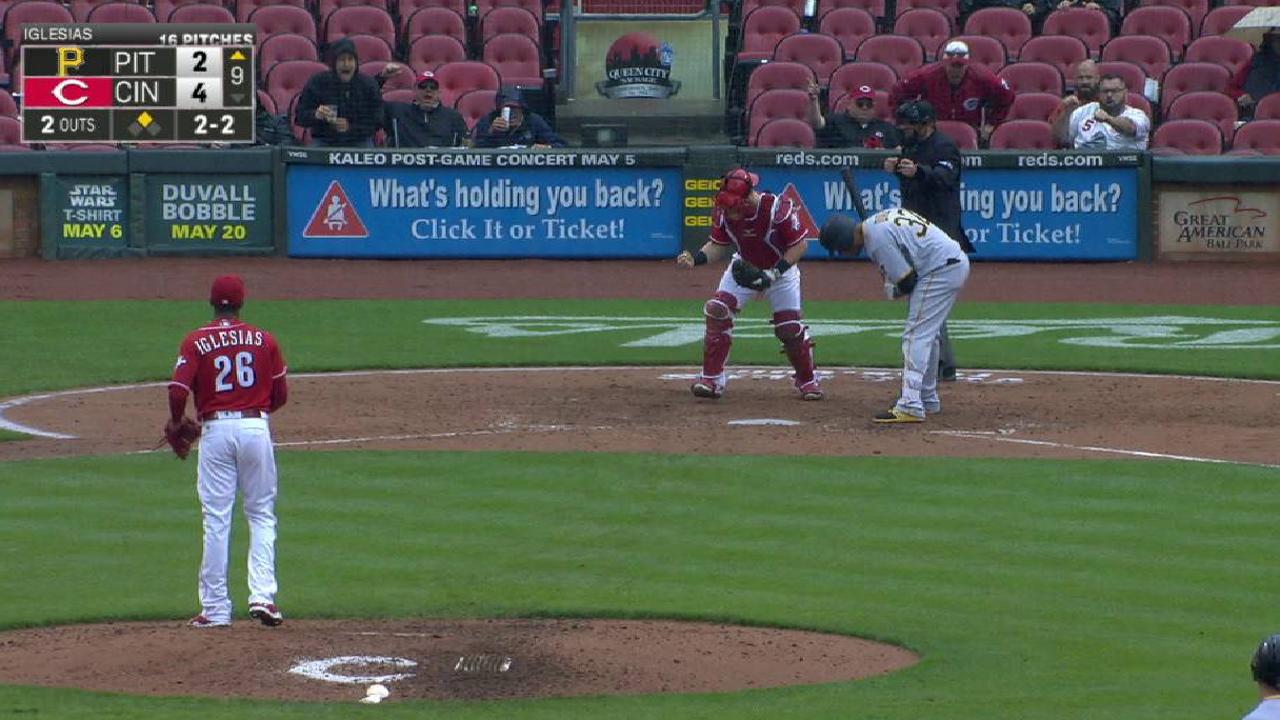 Following a 1-4 road trip with a rainout, it was important for the Reds to come home and play well, regardless of the opponent.
"We weren't playing poorly, but we might not get great pitching and score seven runs, but lose 9-7 or 11-7. Other times, we'd pitch well and lose, 2-1," Reds manager Bryan Price said. "They weren't matching up very well. And we struggled with Milwaukee, who beat us in six out of seven. That's been tough. But all in all for this point in the season, the guys are playing good. They're playing hard. They enjoy playing together and a lot of good things so far in these first 28 games or so."
Up next in the homestand are three games vs. the struggling Giants before a two-game series hosting the first-place Yankees.
"I was telling my friends that came in from Mississippi: Winning is fun. You can leave the clubhouse in a good mood," center fielder Billy Hamilton said. "When you lose, you're just ready to go home and not see anybody. They want to go get food, I just want to get to the house, because losing is not fun. Just for us to get back to .500 gives us a little more confidence moving on to the next series."
Mark Sheldon has covered the Reds for MLB.com since 2006, and previously covered the Twins from 2001-05. Follow him on Twitter @m_sheldon and Facebook and listen to his podcast. This story was not subject to the approval of Major League Baseball or its clubs.