Myers always finds room for improvement
Notes on Weaver, Renfroe, Solarte, Aybar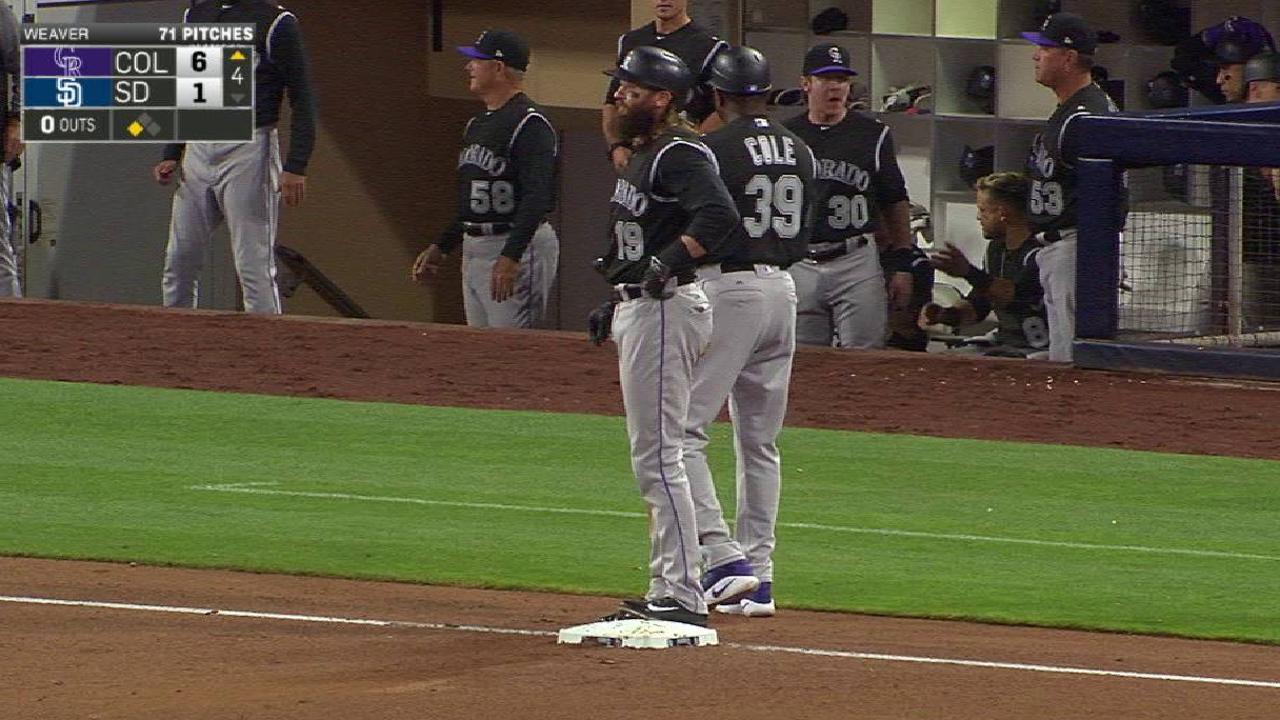 Bill Center, longtime sportswriter for U-T San Diego, is an employee of the Padres.
Wil Myers has been the Padres' offensive catalyst since the first day of the season.
Last weekend, for example, he hit three-run homers in back-to-back games to give the Padres a pair of wins in San Francisco. Through Wednesday night, he was 7-for-19 on a four-game hitting streak with two doubles, two homers, eight RBIs and four runs scored.
Myers has hit safely in 20 of his last 23 games, going 31-for-96 (.323) with seven doubles, two triples, six home runs, 19 RBIs and 14 runs scored.
But the 26-year-old first baseman is not content, particularly with his defense.
Myers made one error Wednesday and made another mental gaffe that helped result in three unearned runs. He took it personally.
"I have not been very good at first base this year," said Myers. "I've been playing below-average first base. I'm going to be working on it."
There is an interesting footnote to Myers' hitting. He has struck out in 13 straight games for a total of 22 strikeouts. He has struck out a team-high 36 times on the season while going 38-for-121 with nine doubles, two triples and seven home runs for 22 RBIs and 19 runs scored.
Game notes
• Right fielder Hunter Renfroe ended a 0-for-17 streak Wednesday night with a single. His batting average has slipped from .250 to .231 over his last six games while going 2-for-24 with 12 strikeouts.
• Shortstop Erick Aybar homered Wednesday night after his eight-game hitting streak ended Tuesday. The eight-game streak is tied with Yangervis Solarte for the second-longest by a Padre this season behind Myers' 11-game streak (April 9-20). Aybar is 11-for-36 over the past 10 games with two homers.
• Solarte was 1-for-2 with a sacrifice fly Wednesday. He has hit safely in 11 of his last 12 games, going 17-for-44 (.386).
• Jered Weaver's problems continue, although only five of the 10 runs he allowed in four-plus innings Wednesday night were earned. His ERA has skied from 3.71 to 5.51 over his last two starts. And he has given up 12 homers in 32 2/3 innings this season. Over his last two starts, Weaver has given up 15 runs (10 earned) on 16 hits and two walks in 9 2/3 innings.