Inbox: How does Diaz's fielding rate at SS?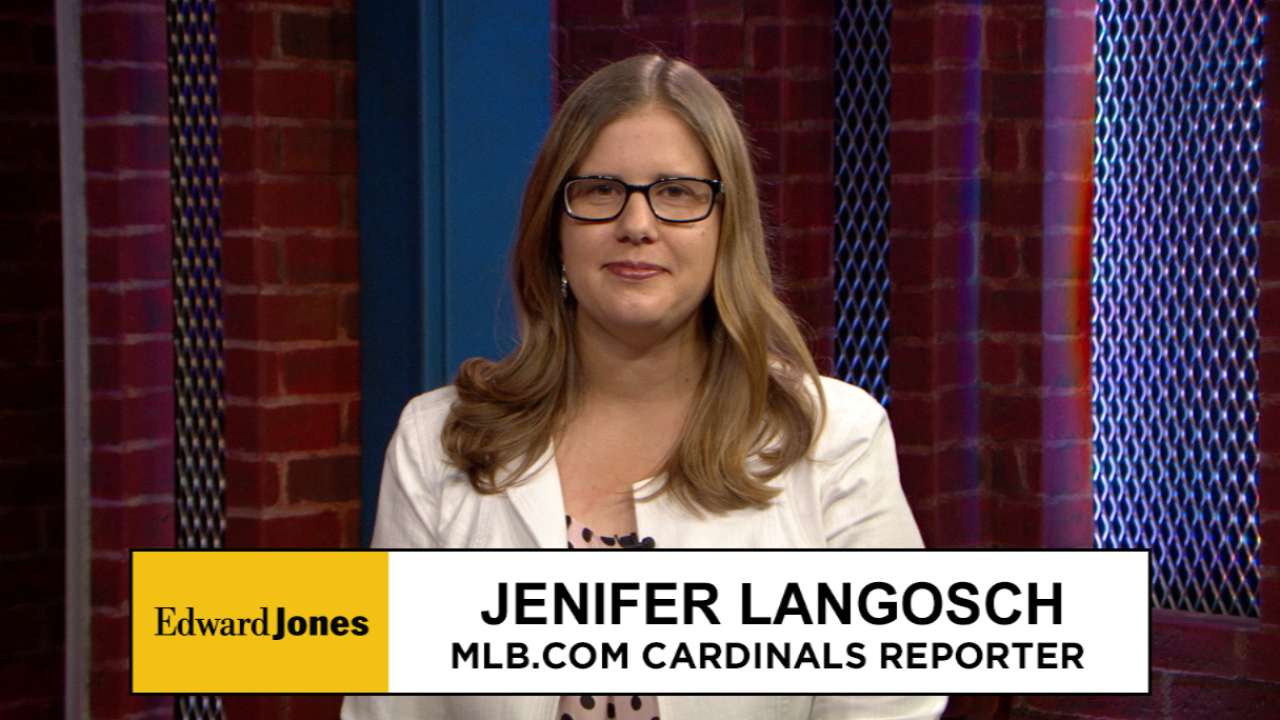 NEW YORK -- Thanks to all who participated in the Edward Jones Beat Reporter segment that I held earlier Thursday. I enjoyed getting to interact with many of you and answer your questions on camera.
Because I couldn't get to all the inquiries, I wanted to answer a few final questions here in this space. Remember to include your first name, last initial and hometown when submitting questions for future Inbox consideration. These will continue to be regular features on cardinals.com throughout the season.
How do you rate Aledmys Diaz at short? Sometimes it appears like his range is limited. What do the stats show about his effectiveness? I'm just not sold that the infield defense is going to be better this year.
-- Jack T., Baton Rouge, La.
It's early, but if you buy into the Defensive Runs Saved metric, Diaz has actually performed worse defensively this year than in 2016. He ranks last among all shortstops with a -7 DRS and has the lowest fielding percentage (.960) of any National League shortstop since the start of last season.
• Submit a question to the Cardinals Inbox
The Cardinals accepted some of the defensive growing pains last year given Diaz's inexperience and offensive production. But the expectation that he would be better in year two hasn't yet been met. In particular, Diaz's range continues to fall short of where it needs to be, and he's been especially vulnerable moving to field balls to his left. In the long term, he likely won't stick at short. But Diaz remains the best option the Cards have right now.
Why is the Cardinals' baserunning so dismal? I understand if you can't steal bases, but the pickoffs and baserunning decisions have been awful. Can we blame some of that on not having the 'Secret Weapon' coaching third base?
-- Larry L., Springfield, Ill.
One month into the season, baserunning still seems to be the Cardinals' most pressing concern. This was among the areas the organization wanted to clean up this year, yet what we've seen so far looks a lot like 2016. I can assure you the team put in plenty of work on fundamentals this spring, but it's evident that hasn't translated into improvement. While Jose Oquendo was an asset in St. Louis for many years, his absence can't explain away the team's poor execution on the bases.
Entering Wednesday, the Cardinals had been picked off five times, second most in baseball. They had run into the third-most number of outs (a total that doesn't include pickoffs or caught stealing) and had accumulated more outs at home (four) than all but three teams. Though the club never expected to steal many bases, players have not been wise in picking their spots to try. The Cards' stolen-base percentage (65 percent) ranked 23rd.
The aggressiveness has been borderline reckless at times, but let's acknowledge that there also have been instances of payoff. The Cardinals rank seventh in the Majors with 30 bases taken, which includes advancing on fly balls, passed balls, wild pitches, balks and defensive indifference. Nevertheless, the Cards will continue to get in their own way if they can't be smarter on the bases.
With Matt Carpenter's lack of success with runners in scoring position since the 2016 All-Star Game, will he still bat in the three-hole?
-- Bill J., Kirkwood, Mo.
It is surprising to see that Carpenter is hitting .146 (7-for-48) with runners in scoring position since the All-Star break. He had some success in such spots during this homestand, and that is encouraging. At this point, manager Mike Matheny does not seem to be seriously considering moving Carpenter to a different place in the order.
I do think, though, that an argument could be made for hitting Carpenter second. Not only is Diaz struggling to produce in that spot, but Carpenter's .381 on-base percentage (second best on the team) would fit nicely there. The issue, though, is finding someone to replace him in the No. 3 spot. The Cardinals lack a middle-of-the-order impact bat, and that limits their lineup options.
How much talent do you believe Carson Kelly could bring back in a trade? Now that Yadier Molina is signed through the 2020 season, it seems to me that Kelly is most valuable to the club as a trade piece.
-- John B., St. Louis
Kelly, ranked by MLBPipeline.com as the organization's second-best prospect, does have decent trade value. But if the Cardinals want an impact player in return, they'd likely have to package Kelly with additional pieces. Kelly has gotten off to an underwhelming start (.224/.328/.466) with Triple-A Memphis.
Do not assume, though, that just because Molina is locked up through 2020 that he can't coexist with Kelly. We're already seeing St. Louis be more proactive in resting Molina this year, and that's only going to happen more as he gets older. There's a strong chance that Kelly will be ready to serve as Molina's backup in '18, and the Cards do believe he could benefit from some time learning under one of the game's best.
Jenifer Langosch has covered the Cardinals for MLB.com since 2012, and previously covered the Pirates from 2007-11. Follow her on Twitter, like her Facebook page and listen to her podcast. This story was not subject to the approval of Major League Baseball or its clubs.