Almora exemplifies 'never quit' attitude in Cubs' win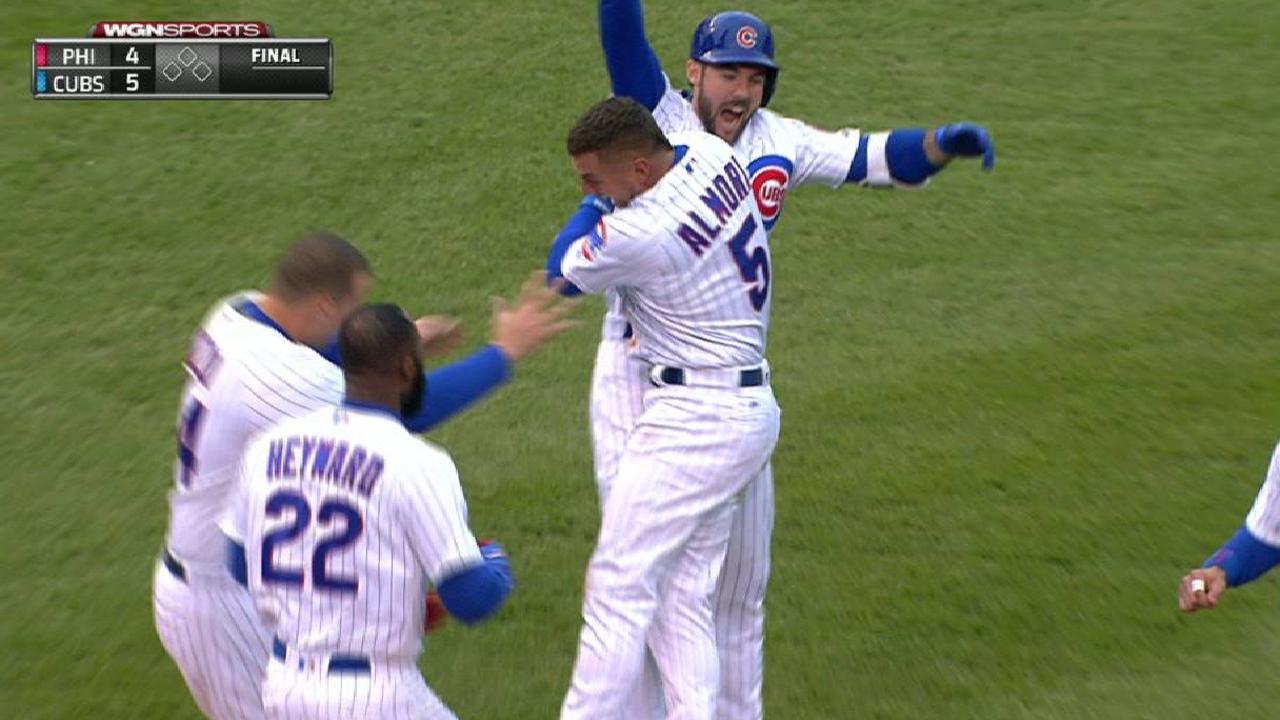 CHICAGO -- It was the 13th inning Thursday, and it was as good a time as any for the Cubs' Albert Almora Jr. to be aggressive on the basepaths.
"I've got to get on second base that inning," Almora said. "What happens if I don't? It'd be one out and we've got guys coming up who can hit it over the fence."
The Cubs didn't need a walk-off hit, but took advantage of a throwing error by shortstop Freddy Galvis which allowed Almora to score the game-winner and post a 5-4 victory over the Phillies. It was Chicago's 10th come-from-behind win, and fourth in its last at-bat.
The Cubs had plenty of chances earlier -- they stranded 11 and went 1-for-14 with runners in scoring position -- and missed a perfect opportunity in the 12th when they loaded the bases. But the Phillies brought Ty Kelly in from right field as a fifth infielder, and the strategy worked when Willson Contreras hit into a 6-9-3 double play.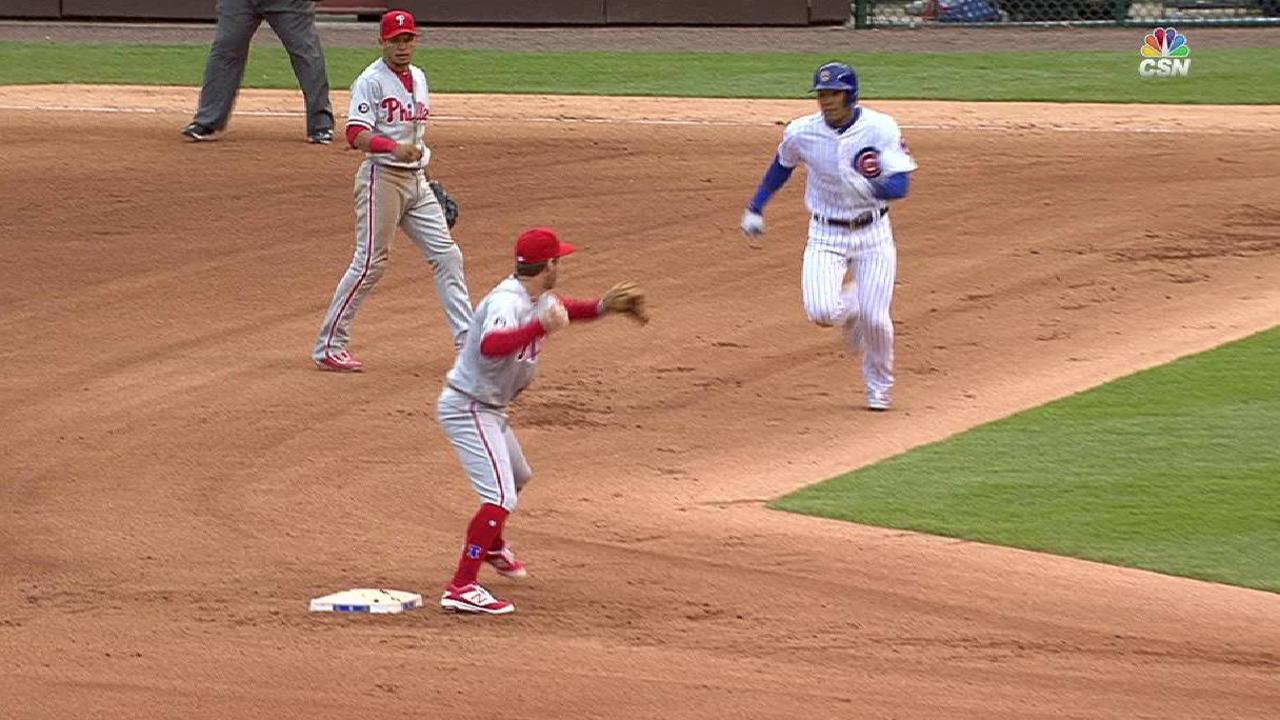 Kelly moved to left field in the 13th and couldn't get to Almora's hit quick enough.
"Albert seems to be in the middle of it a lot," Cubs manager Joe Maddon said. "Here's a guy without the greatest speed in the world, but he's a good baserunner, he runs good routes. It was just a crazy game."
How weird? Ben Zobrist was picked off at second in the ninth in what Maddon called a play that every pitcher works on in instructional league. Anthony Rizzo and Kris Bryant turned a nifty double play in the 12th when the Phillies had a runner at first and one out, and Brock Stassi lined out to Bryant at third. He threw in time to Rizzo for a double play.
Miguel Montero came up big with a sacrifice fly in the fifth and a game-tying home run into the basket rimming the center-field bleachers in the eighth.
Montero may have looked as if he was hurt after the homer, but he was OK.
"I just slowed down," Montero said. "I took off too quick."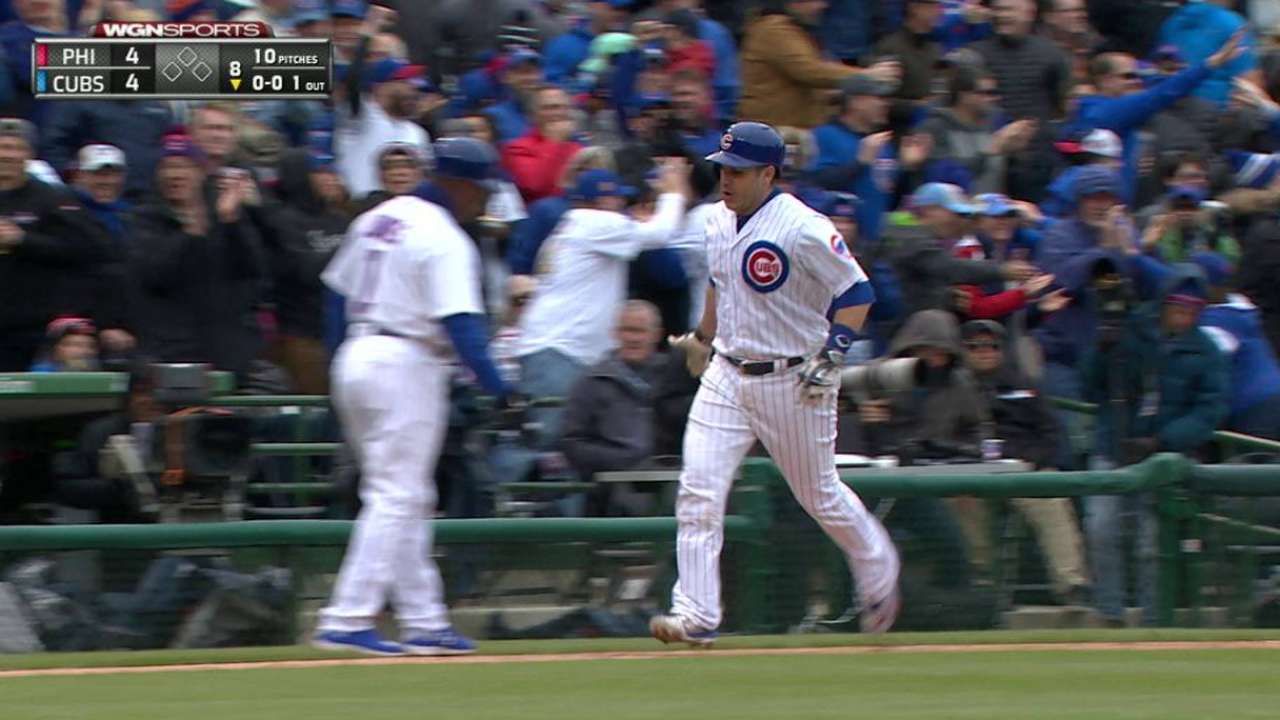 Then the crazy 13th. After Almora's hustle double, Javier Baez grounded out to pitcher Joely Rodriguez. Zobrist was intentionally walked, and Matt Szczur hit a potential double-play ball to second baseman Cesar Hernandez, who threw to Galvis, but his throw pulled Stassi off first base, and Almora scored the game-winner.
"In that situation [leading off the inning], I wanted to get to second base," Almora said. "When [Szczur] hit the ground ball -- you have it in the back of your head, 'What if something happens?' [Szczur] is a great runner, he could beat it out, the first baseman could be not paying attention and I could score, so it was in the back of my head, and fortunately, [Galvis] threw it away."
The Cubs needed that run. They were out of pitchers, and had talked to Saturday's scheduled starter Brett Anderson about possibly going to the bullpen.
"We never quit," Almora said. "It's on the World Series ring, and it really comes home and it really makes a lot of sense and it's our organization. We never quit until that last out. We're in that ballgame no matter what."
Carrie Muskat has covered the Cubs since 1987, and for MLB.com since 2001. She writes a blog, Muskat Ramblings. You can follow her on Twitter @CarrieMuskat and listen to her podcast. This story was not subject to the approval of Major League Baseball or its clubs.