With Cervy back, Bucs have roster decisions
If backstop proves to be healthy, Pirates likely to send Diaz down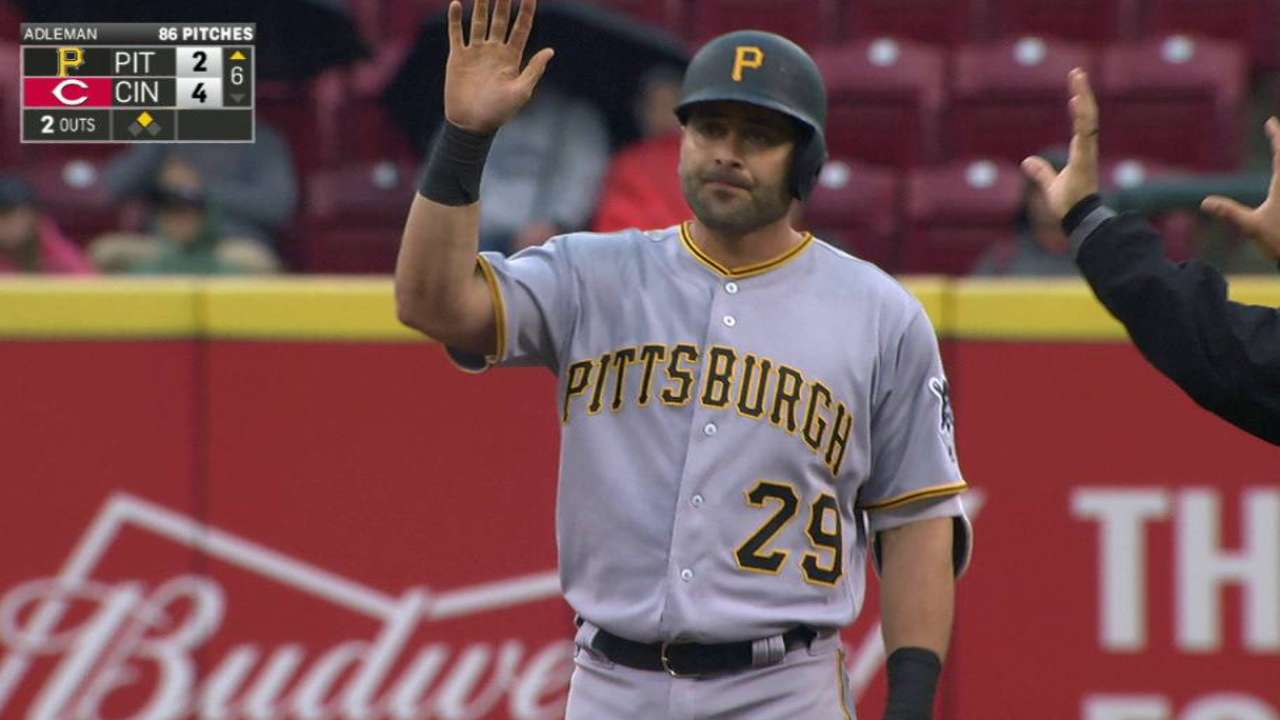 CINCINNATI -- Sidelined the last four days by a troublesome right foot, catcher Francisco Cervelli was back in the Pirates' lineup Thursday at Great American Ball Park. He went 2-for-4, posting an RBI and a run in the Pirates' 4-2 loss. In the second inning, Cervelli scored from first on Gift Ngoepe's one-out double.
"I felt like I had a piano behind me. But if I'm able to score, that's enough," said Cervelli, who was cleared to play on Wednesday. "I like to be there every day. That's my mentality every year. Sometimes we can't, but yeah, I'm happy to be back and help the team the most I can."
That is good news for the Pirates, who were forced to play the last four days with a short bench while carrying three catchers on their roster because Cervelli's soreness was not deemed serious enough to warrant a trip to the disabled list. If Cervelli's foot holds up, there may be a roster move in Pittsburgh's immediate future.
Manager Clint Hurdle is averse to the idea of carrying three catchers, as it limits his in-game flexibility, so rookie Elias Diaz could be sent back to Triple-A Indianapolis. But Cervelli's foot issues have come and gone since Spring Training, so the Bucs must first confirm he is healthy enough to play on a regular basis.
"Exciting to have him [Cervelli] in," Hurdle said. "I think once we find out if Cervelli's situation can be stabilized, we'll make [a corresponding] roster change."
Diaz started the past two games and caught starters Tyler Glasnow and Jameson Taillon. He guided Glasnow through his best start in the Majors, a six-inning win over the Reds on Tuesday night. Diaz, 26, is highly regarded for his defense behind the plate. He was hitting well in Triple-A, too, batting .305/.317/.441 in 15 games.
"I think there's great opportunities to learn and grow," Hurdle said. "The blocking, the throwing. The arm is visible, the strength. The receiving part of it. The last piece to come for every catcher's arsenal at this level is the game-calling and the knowing of the pitchers. That's always going to be a work in progress for a young catcher. [Diaz has] gotten to do that the last couple of nights.
"We like him a lot. We like the resume he's building. We believe he'll be a guy that will be able to catch up here and will be able to do it for some length of time."
But how might the Pirates fill out their bench? If John Jaso (right field) and Alen Hanson (second base) are starting, their reserves are Jose Osuna, Phil Gosselin, Ngoepe and backup catcher Chris Stewart.
Ideally, they could use a true outfielder. That's why they called up Danny Ortiz on Saturday, but they had to option him to Triple-A on Sunday to make room for emergency catcher John Bormann. That means they can't recall Ortiz, who is still on the 40-man roster, until next week. A player cannot be recalled within 10 days of an optional assignment unless he is replacing an injured player placed on the disabled list.
The Pirates have said that highly touted prospect Austin Meadows, batting .198/.253/.275, is not currently an option.
The Pirates could turn to super-utility man Chris Bostick, who is on the 40-man roster. He is batting .333/.361/.516 in 23 games for Indianapolis, and he has played second and third base, along with left and right field this season. Bostick, acquired from the Nationals last September, has no Major League experience and only 87 games played in Triple-A.
Day of rest
Shortstop Jordy Mercer was not in the lineup Thursday, a scheduled day off. Infielder Ngoepe made his first Major League start at shortstop.
"Give [Ngoepe] an opportunity to continue some play there," Hurdle said. "He's played a few innings at short. Very confident of his abilities out there."
Adam Berry has covered the Pirates for MLB.com since 2015. Follow him on Twitter and Facebook, read his blog and listen to his podcast. This story was not subject to the approval of Major League Baseball or its clubs.