Twins turning to Tepesch as fifth starter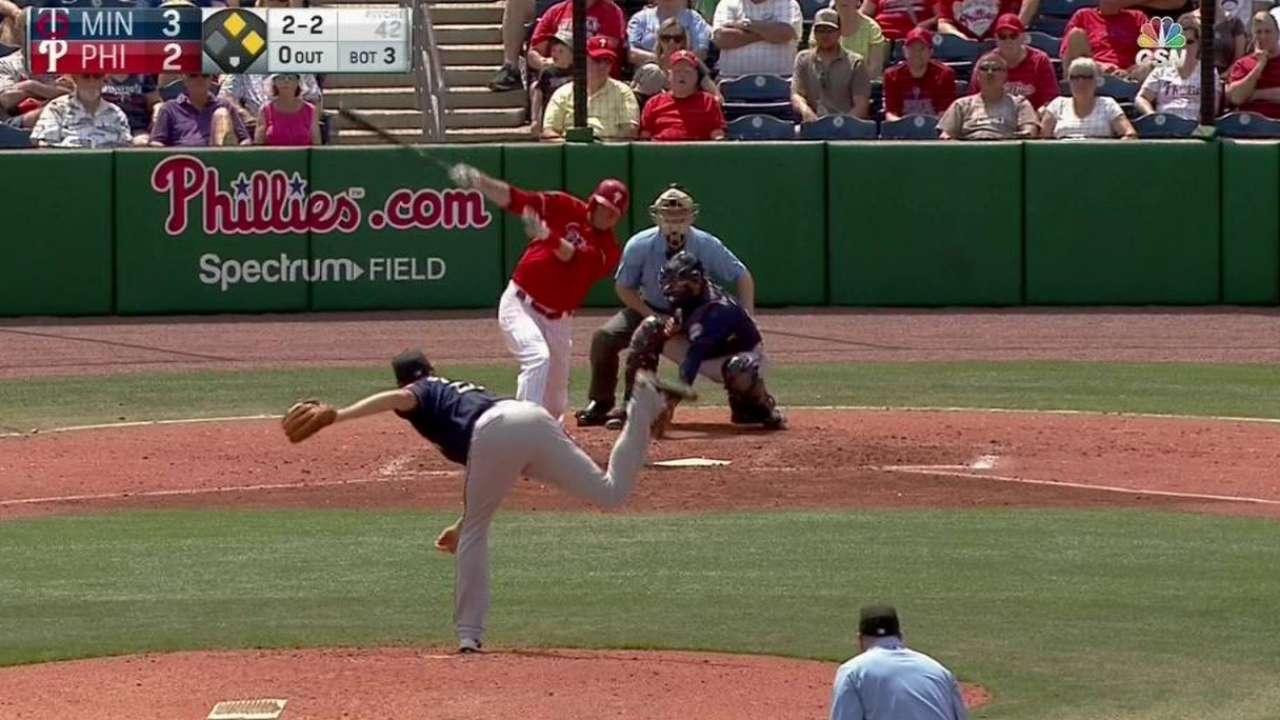 MINNEAPOLIS -- After going with four starters since lefty Adalberto Mejia was optioned to Triple-A Rochester on April 22, the Twins will turn to right-hander Nick Tepesch to be their fifth starter against the Red Sox on Saturday.
Tepesch pitched well at Triple-A Rochester, posting a 2.00 ERA in three starts, before getting his contract selected by the Twins on April 24. But he hasn't appeared in a game since starting with Rochester on April 20. He threw a simulated game of roughly 30 pitches on Tuesday, and he's expected to be available to throw 75 on Saturday.
"We're just kinda going with the guy with experience for now," manager Paul Molitor said. "It's going to be a little awkward just because he hasn't pitched with the drought as long as it's been. For now, he's going to get an opportunity."
Tepesch, 28, has a career 4.68 ERA in parts of three seasons with the Rangers and Dodgers, and was signed to a Minor League deal before the season. He beat out Jose Berrios, Tyler Duffey and Mejia to join the rotation, but it could be a short stay.
"I don't have anything locked in very far as far as the rotation," Molitor said. "I don't want to put too much on his performance on that given day because we all know the circumstances. I'd imagine there's a good chance he'll get more than one chance, but I can't say that as an absolute."
Berrios has been dominant at Triple-A Rochester, posting a 1.09 ERA with 35 strikeouts in 33 innings, but had an 8.02 ERA as a rookie last year, so the Twins want him to continue working on his command.
"He understands there's a difference between what he's doing at Rochester and what he needs to do up here," Molitor said. "He's really working hard on those things. I think we all think he can impact this team at some point, but it's just a matter of deciding on timing."
Mejia was impressive in his lone start with Rochester on Friday, throwing seven scoreless innings with six strikeouts, but Molitor believes he needs more time at Triple-A.
"I think common sense more than anything is that you want him to do that more than once," Molitor said. "I'd just like to see him string a few starts down there. But I really like Mejia, to be honest with you. He's got a pretty good feel for what he's doing, but he got a little over-amped up here."
Duffey has posted a 1.35 ERA in 13 1/3 innings in relief, and the fact he hasn't thrown more than 35 pitches in an outing this year worked against him.
"I think for now, it would take some fairly major attention to detail to get him back to starting," Molitor said. "Just because he doesn't have the outings that have been very long in terms of number of pitches. But it's not something we've crossed off."
Rhett Bollinger has covered the Twins for MLB.com since 2011. Read his blog, Bollinger Beat, follow him on Twitter @RhettBollinger and listen to his podcast. This story was not subject to the approval of Major League Baseball or its clubs.