Mesoraco accepts Barnhart sharing his spot
After dealing with injuries, backstop 'thankful' for fellow catcher's work behind plate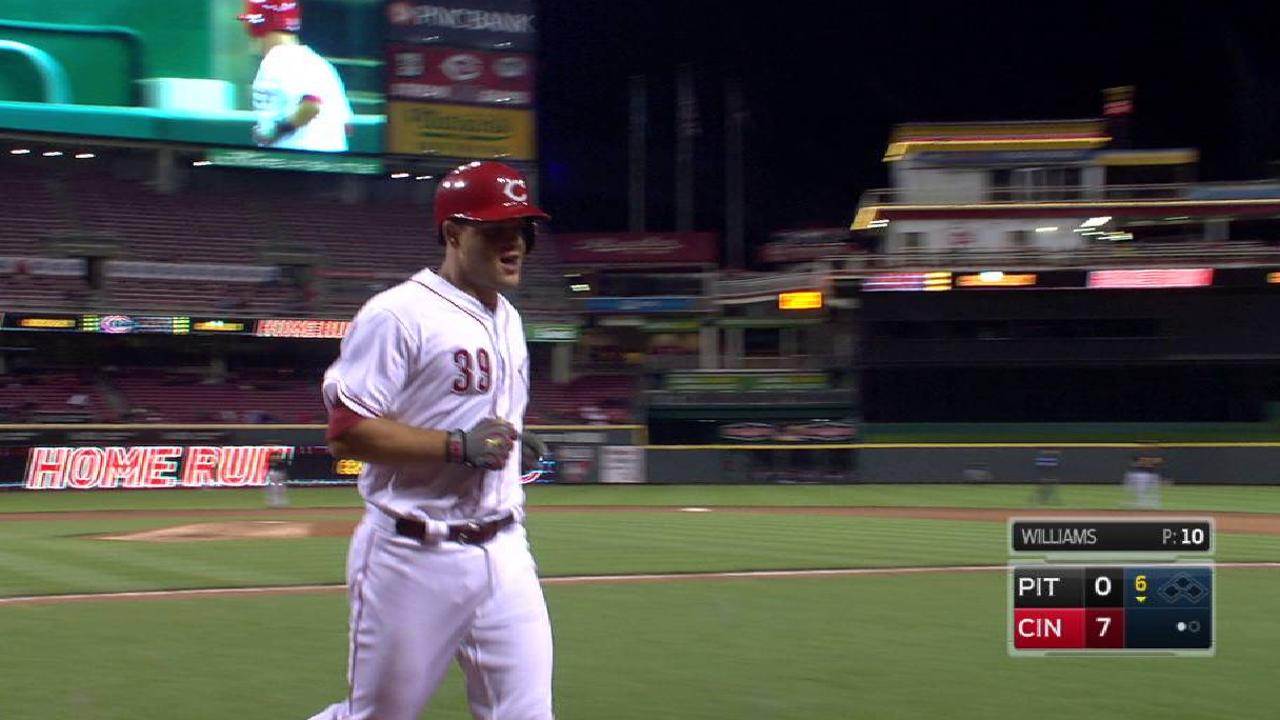 CINCINNATI -- Reds manager Bryan Price has made it clear throughout Spring Training and the early portion of the season: Devin Mesoraco will be sharing catching duties with Tucker Barnhart in a tandem where both players get a 50-50 split on starts behind the plate.
How long that plan is in effect is unclear. Price has no timeline established and left the question open as to who could eventually emerge as the primary catcher.
"It might be matchups, it might be any number of things that factor into who gets the start from day to day, but I'm not going to assign a No. 1 starter and a backup catcher at this point," Price said. "I'm just going to let them both play."
Mesoraco, who started the previous two games, was scheduled to sit on Thursday, while Barnhart was in the starting lineup. Mesoraco missed most of the past two seasons because of left hip surgery in 2015 and left shoulder and right hip surgeries in '16. All three procedures repaired labrums.
A 2014 All-Star who hit a career-high 25 home runs that season, Mesoraco understood the situation without complaint.
"Tucker's certainly earned the opportunity to play," Mesoraco said. "He's played great in my absence, and I haven't proven I can be that guy in a day-in, day-out basis. At the end of the day, you need two good guys, especially with all the concerns that I'm sure the team and organization has about me. They don't want to run me into the ground. It's great to have Tucker. We communicate great as far as the game plan and developing the pitchers and working in that regard.
"Nothing but good comes out of it. No team has ever had too many good players, especially catchers. I'm thankful Tucker has done what he does. I hope together we can combine to win a lot of games."
Mesoraco, 28, has two years remaining on his four-year, $28 million contract and is earning $7.3 million in 2017. He had a long road back, including a recently completed 20-game rehab assignment at Double-A Pensacola before he was activated on April 28.
"This year, we were really smart about it and really made sure there wasn't any issue," Mesoraco said. "I spent some time down there, probably more than I would have wanted to, but in the end, I think that was probably the best decision. You have to give credit to a lot of the people around here who put together that plan and with [head trainer] Steve [Baumann] and everybody. I'm just thankful that I do feel healthy. Truthfully, I feel fine, I feel normal, I feel like I can go out there and play ball and not worry about this or that. That's a pretty darn good feeling."
Mark Sheldon has covered the Reds for MLB.com since 2006, and previously covered the Twins from 2001-05. Follow him on Twitter @m_sheldon and Facebook and listen to his podcast. This story was not subject to the approval of Major League Baseball or its clubs.