White Sox place Jones on disabled list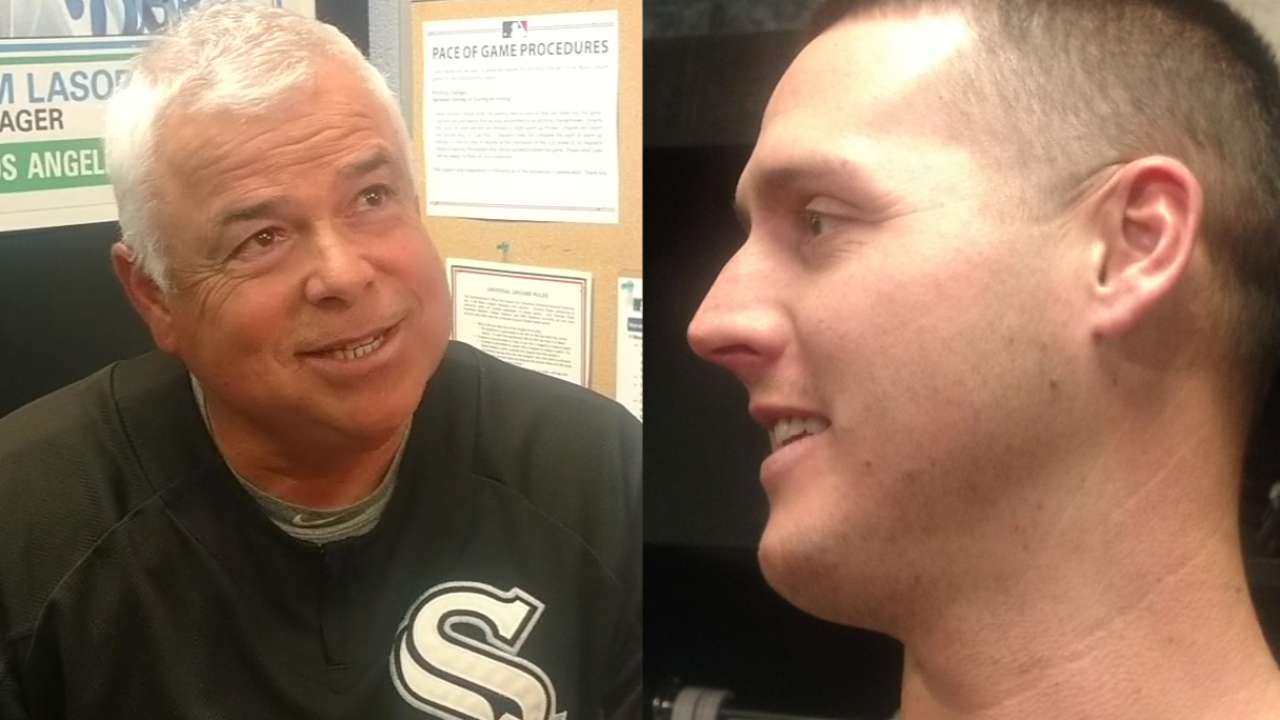 KANSAS CITY -- White Sox reliever Nate Jones already endured a microdiscectomy and Tommy John surgery, which cost him all but two games in the 2014 season and a good chunk of the '15 campaign.
So when the hard-throwing Jones recently began to feel sensations through his right arm and into his fingertips, he initially feared the worst.
"Absolutely, because that's one of the symptoms with the Tommy John," Jones said. "Once you start talking about the forearm/elbow area, it's a little scary."
Jones' fears were assuaged when a MRI taken showed the ligament completely intact. But the setup man still was placed on the 10-day disabled list on Thursday (retroactive to Monday) with right elbow neuritis.
Left-hander David Holmberg had his contract purchased from Triple-A Charlotte. To make room for him on the 40-man roster, Carlos Rodon was moved to the 60-day disabled list.
"I pitched through it probably four or five outings," said Jones, who has a 2.31 ERA and 15 strikeouts over 11 2/3 innings. "I felt like if I went out there, I couldn't be doing good for the team. I knew at that point I needed to get help and get it under control. It's just neuritis. Just let it calm down and get back after it."
"He's going to progress according to his symptoms," general manager Rick Hahn said. "Based on his diagnosis, we are optimistic he could be back pitching in games within the next two weeks."
Holmberg, 25, went 3-0 with a 1.76 ERA and 13 strikeouts over 15 1/3 innings for Charlotte. He didn't allow a run in his five relief appearances, allowing just two hits with 10 strikeouts over 10 2/3 innings.
"I've been working on a lot of stuff I worked on in Spring Training with the Major League staff, and I like where I'm at," said Holmberg, who rejoined the organization on March 31, 2016, when he signed as a free agent. "It's a lot of continuity to the staffs in Triple-A and the Major Leagues. We worked on the same kind of stuff. Worked on getting ground balls and just keep it rolling."
Rodon, who is on the DL due to left biceps bursitis, continues his throwing program in Arizona. His most recent effort came off the mound, marking his first time since being in Arizona, and his next outing also will be off the mound.
Hahn said that Rodon was transferred to the 60-day DL because his rehab starts through the program laid out won't be completed by June 1.
"He continues to progress," Hahn said. "At this point, we do not have a specific date when we know he'll begin a rehab assignment, but he's getting closer to that. As soon as he's ready to do that, we'll make an announcement.
"In these situations, we have to respond to the player's progress to accelerate or decelerate by a couple of days based upon how he's progressing. We do have a program in place that has the expectation of multiple rehab starts. But again, we don't have a specific date yet to say, 'He's going to be pitching for this club on this date yet.""
Scott Merkin has covered the White Sox for MLB.com since 2003. Read his blog, Merk's Works, follow him on Twitter @scottmerkin, on Facebook and listen to his podcast. This story was not subject to the approval of Major League Baseball or its clubs.