Inbox: Will Biagini start with Stro uncertain?
Beat reporter Gregor Chisholm answers fans' questions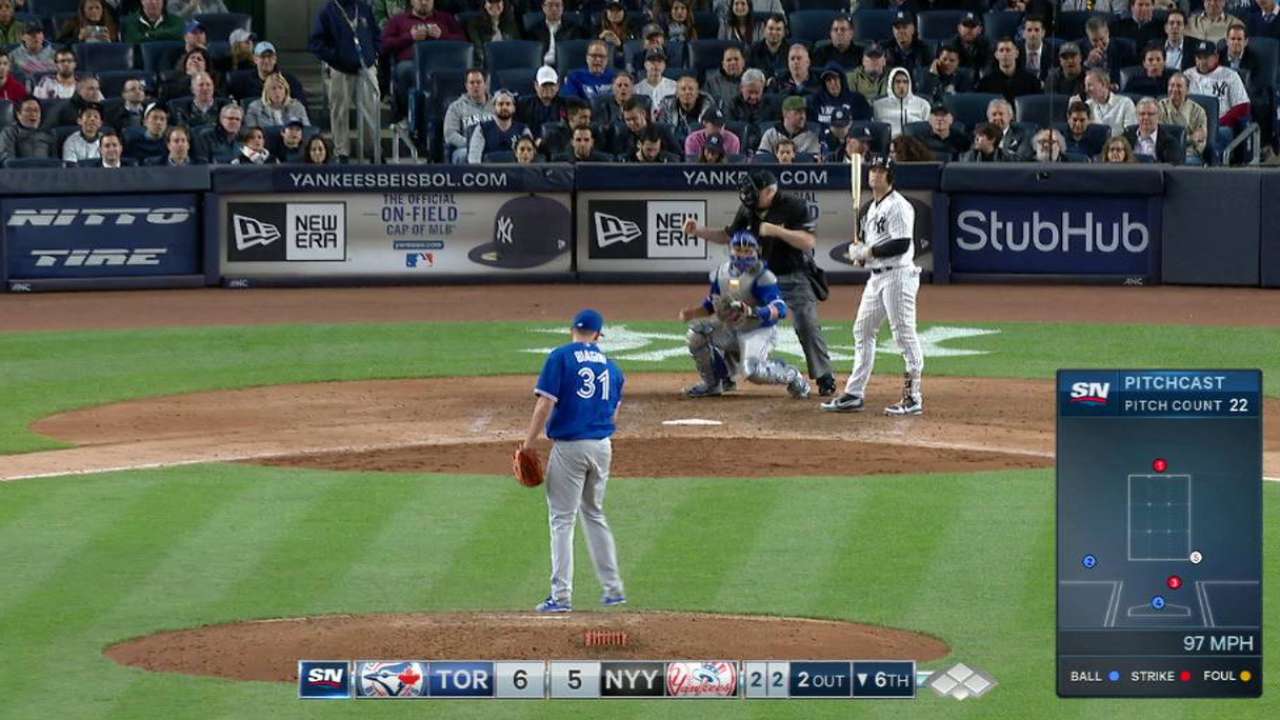 Will the Blue Jays transition Joe Biagini to the starting rotation with Marcus Stroman maybe out, as well as the others?
-- @SPENCE_JOHN via Twitter
The Blue Jays ruled this out when J.A. Happ and Aaron Sanchez got hurt, and odds are that will remain the case, but there may come a point when the club has no choice but to make that move. The only way it realistically would happen, though, is if any of the starters misses an extended period of time.
It would not make sense to move Biagini into the rotation for a start or two and then put him right back in the bullpen. He needs consistency, but Happ has yet to resume throwing off a mound, and while Stroman claims he'll be ready for his next start, that may prove to be overly optimistic. After throwing a season-high 41 pitches during Wednesday's loss to New York, Biagini also took the first step to being stretched out, and his preference has always been well known.
• Submit a question to the Blue Jays Inbox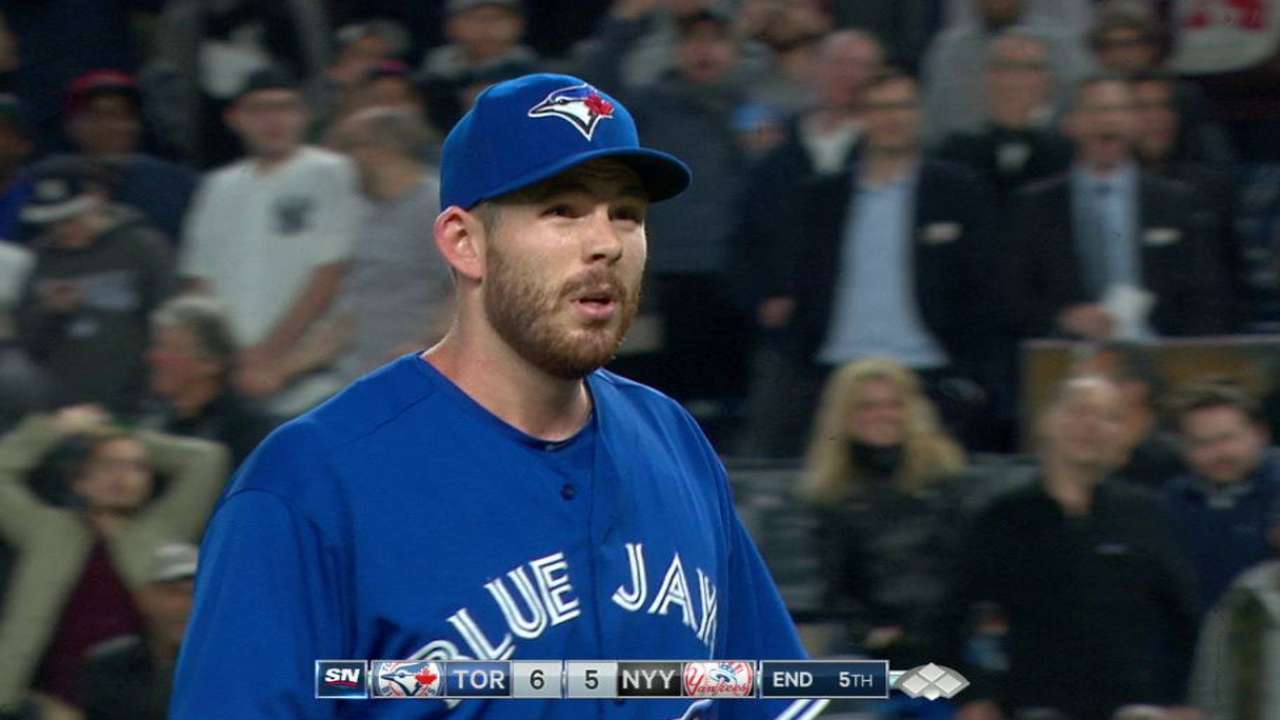 "I hope I can do it," Biagini said. "I used to be able to do it, albeit at Double-A, which doesn't really have the same weight. The only way you're going to find out is to be able do it, and to come into a game and pitch multiple innings is the best chance you have to see how it translates until you get a chance."
First Sanchez, then Happ, now Stroman. What are the Blue Jays going to do with this rotation?
-- Larry K., Collingwood, Ontario
Well, first thing's first, Mat Latos is going to get another start even though he surrendered seven runs over four innings on Tuesday in New York. Normally that would be cause for a demotion or a release, but in this case, Toronto pretty much has to stick with him because it doesn't have a lot of other options.
As mentioned above, Biagini is worth considering, and Triple-A Buffalo lefty TJ House also should be expected to get a look in the coming days. The Blue Jays need to add at least one starter for next week's series against Cleveland, and a second will be required if Stroman cannot pitch. If Biagini is not the answer, then right-hander Casey Lawrence likely will receive another shot.
Too many negative stories about the big league club lately. Anything positive happening down on the farm?
-- Richard B., Thunder Bay, Ontario
There have been quite a few positive developments. Vladimir Guerrero Jr. continues to establish himself as an elite-level prospect, and he's now batting .342/.457/.579 with four home runs, 14 walks and 12 strikeouts in 94 plate appearances for Class A Lansing. Max Pentecost is back behind the plate after the start of his professional career was derailed because of three shoulder surgeries. He's batting .338/.358/.623 with six homers and 17 RBIs in 18 games for Class A Advanced Dunedin.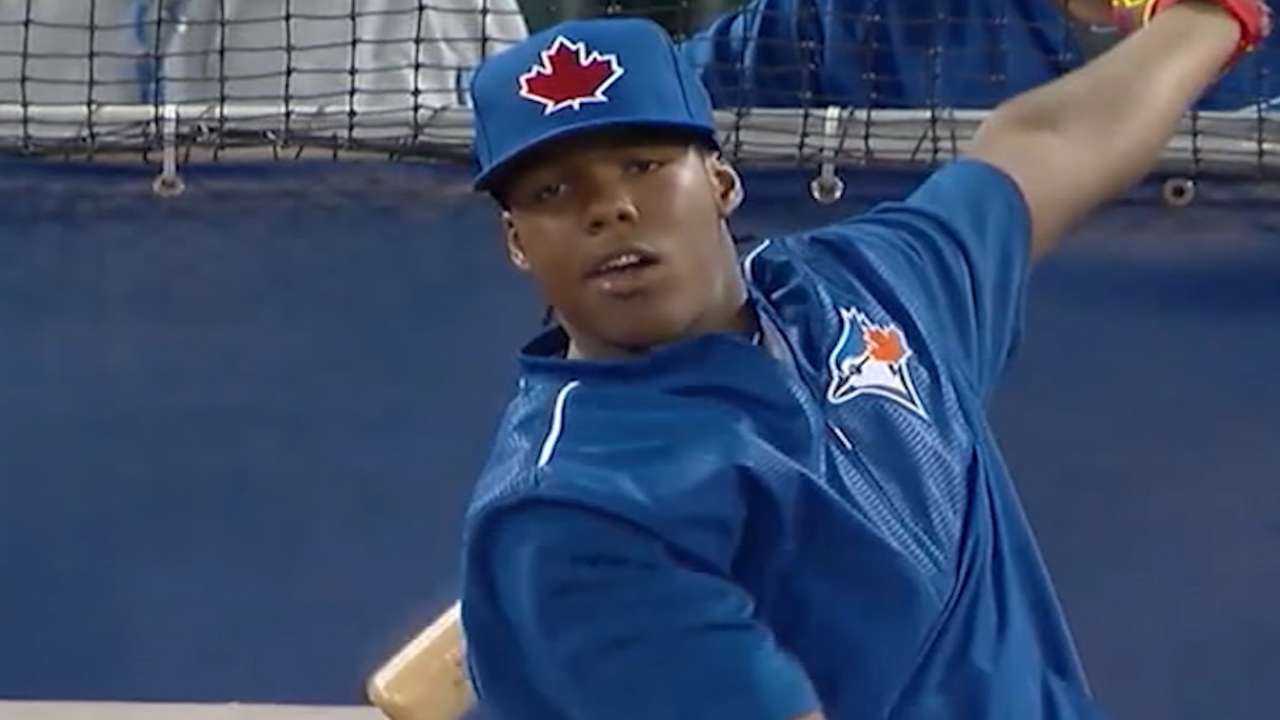 Bo Bichette has been hitting the cover off the baseball ever since he officially joined the Blue Jays last summer and has showed no signs of slowing down. Bichette is batting .354/.446/.570 with three homers, eight doubles and 16 RBIs for Lansing. Perhaps most encouraging of all is that outfielder Anthony Alford has bounced back after a rough 2016. Alford has displayed an all-around game at Double-A New Hampshire, and the five-tool talent has a .394 on-base percentage with seven extra-base hits and seven stolen bases.
When, realistically, is Josh Donaldson going to return?
-- Shane, Portland, Ore.
Donaldson and Troy Tulowitzki appear to be on a similar track back to the big leagues. Both players are rehabbing at Toronto's Minor League complex in Dunedin, Fla., where they are fielding ground balls, taking batting practice and running the bases. The fact that they are doing all three of those things means their return should be rather imminent, but it likely won't be this weekend in St. Petersburg. Realistically, a return for Monday's homestand vs. Cleveland seems within reach.
What's up with Russell Martin hitting third?
-- @spartacus1978 via Twitter
Martin got off to a really slow start, but he has since bounced back and the Blue Jays are riding his hot bat. Martin won't stick at No. 3 for long, but he's batting 11-for-39 (.282) with three homers, six RBIs and a .429 on-base percentage over his past 11 games, so at least for now, the move makes sense. That will change when Donaldson returns.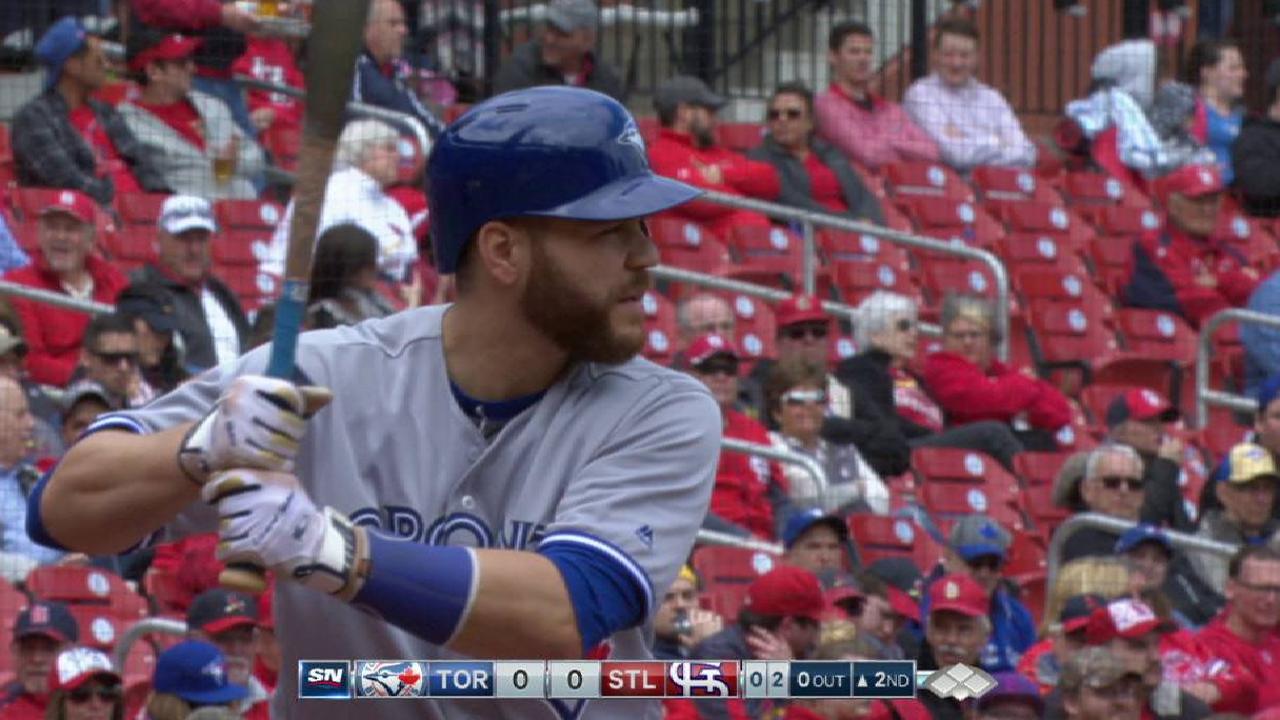 Angel Pagan is still on the market. I realize that he is 35, but he is a leadoff type hitter who hit .277 in 2016, so I am wondering why the Blue Jays don't sign him. They do need more offence, and it can't hurt.
-- Larry, Kamloops, British Columbia
That ship has sailed. The Blue Jays had some interest in Pagan during the spring, but he was looking for more money and a larger role than they were willing to give. Pagan did participate in the World Baseball Classic, but after that came to an end, the veteran outfielder announced he would be sitting out this season to spend more time with his family. Unless he has a change of heart, the door has been closed.
Gregor Chisholm has covered the Blue Jays for MLB.com since 2011. Follow him on Twitter @gregorMLB and Facebook, and listen to his podcast. This story was not subject to the approval of Major League Baseball or its clubs.