Tight hamstring delays Forsythe's return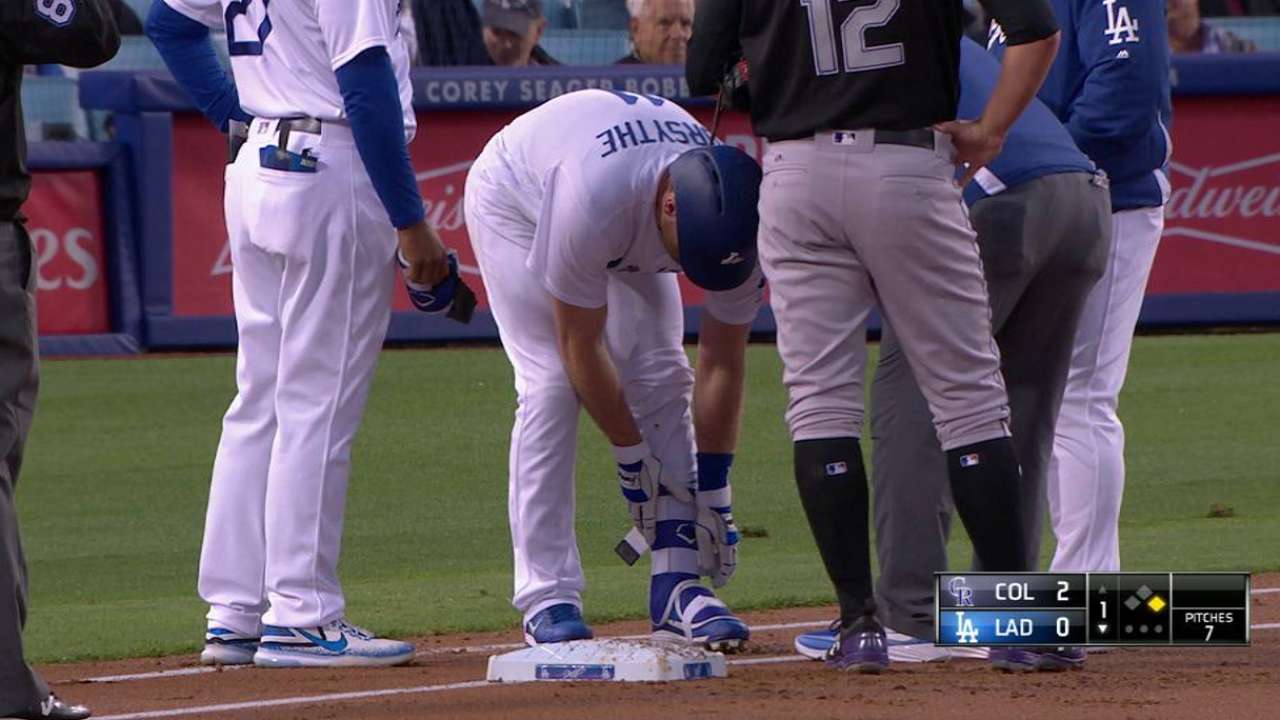 LOS ANGELES -- Dodgers second baseman Logan Forsythe is not expected to be activated for Friday's game against the Padres, as was originally planned, because he was forced out of a Minor League rehab game Wednesday with right hamstring tightness, according to manager Dave Roberts.
Forsythe was removed after two full innings in the field and one at-bat. He was rehabbing with Class A Advanced Rancho Cucamonga. Forsythe is on the disabled list because of a broken right toe, but he had been playing through a tight hamstring with the Dodgers before going on the DL April 19.
"Obviously for him to have to come out of the game, and we have a day off tomorrow, I just don't see him being activated on Friday," Roberts said after the Dodgers fell to the Giants, 4-1, in 11 innings Wednesday night.
In a bit of positive rehab news, the Dodgers expect to activate outfielder Joc Pederson from the disabled list Friday, when the club opens a three-game series in San Diego. Pederson, on the disabled list with a strained right groin, has played three rehab games with Ranco Cucamonga this week.
"I think Joc came out of it OK," Roberts said. "We expect him to be active on Friday, and the move we're going to make, I guess we have a day to think about it."
Dodgers management faces a tough decision to clear a roster spot for Pederson. Roberts has sent mixed signals this week about the likelihood of top prospect Cody Bellinger being sent down when Pederson or Forsythe is activated. Bellinger was promoted because of Pederson's injury.
"When we have to make a decision, it will be a tough one," Roberts said before Wednesday's game. "[Bellinger] got his opportunity because of injuries. I just can't make that decision right now. These tough decisions are a good thing for all of us.
"I just don't believe that when you have everyday players that are hurt, guys that have performed, when they're healthy that we don't have a spot for them. That doesn't make any sense to me. Yes, Cody has played great, small sample. Got his feet wet, which is great, but I'm not saying he's here to stay. That's not fair."
Austin Laymance is a reporter for MLB.com based in Los Angeles. This story was not subject to the approval of Major League Baseball or its clubs.