Colon missing his spots during rough stretch
Braves righty allows 5 runs on 7 hits over 4 innings in loss to Mets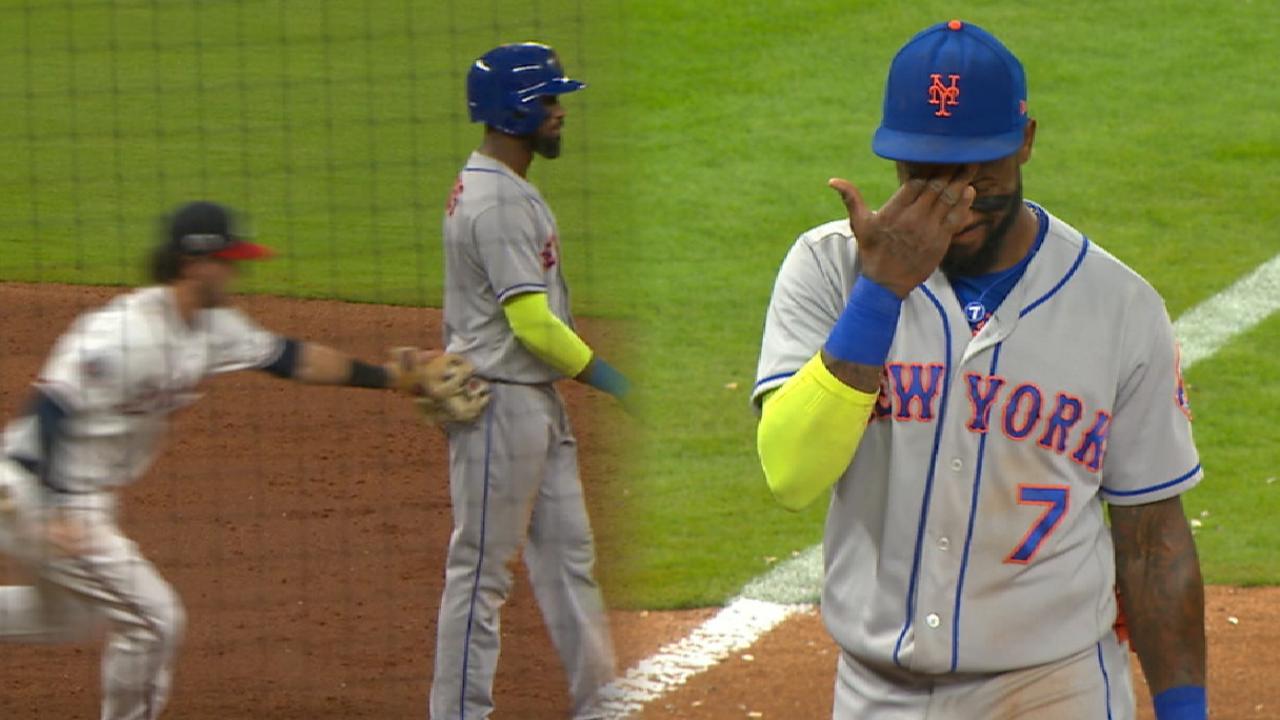 ATLANTA -- When the Braves gave Bartolo Colon a one-year, $12.5 million contract in November, they envisioned the veteran hurler would be a reliable innings-eater who would enrich their new-look starting rotation. But one month into the season, the 43-year-old hurler has left no choice but to wonder if he's lost that magic he had displayed over the past few years with the Mets.
Instead of halting his recent struggles on Wednesday night at SunTrust Park, Colon was battered early and often by his former teammates in the Braves' 16-5 loss. Much of the damage came against a bullpen that was pressed into early duty once the veteran starter exited before the fifth inning for the second time this season.
"He's just getting too much of the plate," Braves manager Brian Snitker said. "A lot of his pitches are right down the middle. It's just about the location for him."
When armed with an arsenal that includes little more than a fastball that rests around 90 mph, there is little margin for error in terms of location and command. Unfortunately for Colon, he hasn't found comfort with his sinker, as he has produced a 7.33 ERA and allowed opponents to hit .336 against him in the five outings that have followed since he limited the Mets to two hits over six innings in his season debut.
"I feel like I've been missing by a big margin lately," Colon said. "That's been it. I feel like my best pitch is my sinker and it feels like it hasn't been sinking lately. When that happens, that's what good teams will do to you."
It didn't take long for the injury-depleted New York lineup to take advantage of mistakes, as the Mets recorded three doubles before the first out was recorded and ended up battering their former teammate for five earned runs and seven hits over just four innings.
Going back to getting hit hard at Marlins Park on April 11, Colon has allowed at least five runs while completing four innings or fewer in two of his past five starts. He did this a total of just four times while making 95 starts for the Mets from 2014-16.
"A guy like that, you're not too worried about it," Braves right fielder Nick Markakis said. "He's just a little off here and there. He knows what he needs to do to get back on track, and I'm sure he will."
After being battered during that outing against the Marlins a few weeks ago, Colon bounced back to limit the Padres to just two baserunners over seven innings in his following start. But his next rebound attempt will be more challenging, as his next start will come during next week's two-game series against the offensively potent Astros.
"He'll go to work and try to figure it out," Snitker said. "I'm sure he's had to figure it out before. I hope he can do it."
Mark Bowman has covered the Braves for MLB.com since 2001. This story was not subject to the approval of Major League Baseball or its clubs.