Turning Points: Carter's bloop hit triggers rally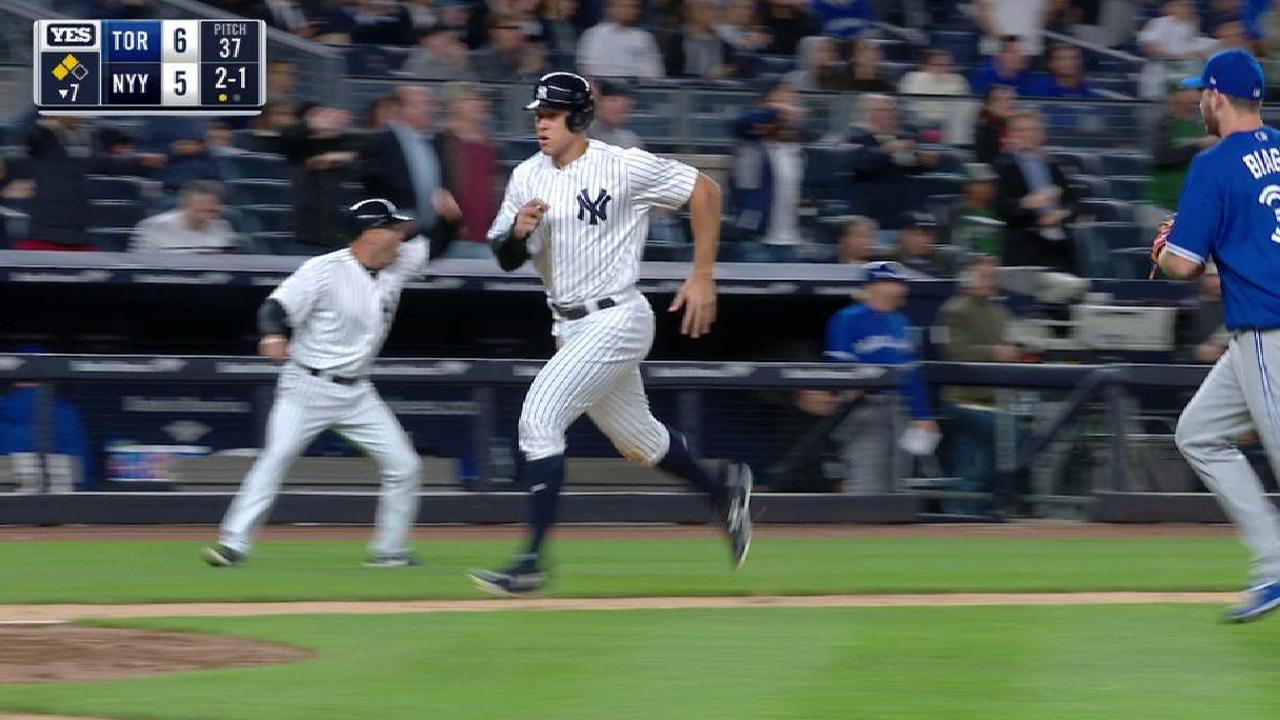 Every game has a turning point, where one team takes a big leap toward victory, whether it's a towering home run, a squeeze bunt, a bases-loaded strikeout or a run-saving catch.
Thanks to a metric called win expectancy, we can attach numbers to these swings in fortune. Win expectancy, expressed as a percentage, shows a team's chances of victory at a particular point in time. This is based on historical data showing how clubs have fared in different situations, based on factors such as the score, the inning, how many outs there are and which bases are occupied.
Using win expectancy as a guide, here is a look at three plays that served as turning points in Wednesday's games:
Carter's bloop advances Yanks' rally
Game: Blue Jays at Yankees
Situation: New York trailed, 6-5, with one out in the bottom of the seventh, when Aaron Judge singled and Chase Headley doubled him to third to bring up Chris Carter against Toronto reliever Joe Biagini.
Result: Carter got jammed with a 95.3-mph fastball well off the inside corner and hit a broken-bat flare. But with the Blue Jays' infield playing in to guard against the tying run, the ball floated over the head of shortstop Ryan Goins for a game-tying single. The Yankees scored twice more in the inning and won, 8-6.
Win expectancy for Yankees: +15.4 percentage points (55.1% to 70.5%)
Facts to know:
• The Yankees' win expectancy climbed from 31.4 percent after Starlin Castro's inning-opening strikeout to 86.4 percent at the end of the three-run frame.
• Carter's flare had just a 16-percent hit probability, and the 52.9-mph exit velocity was his second-slowest on a base hit in the Statcast™ Era.
They said it: Yankees third baseman Headley on the team's offense: "Obviously, Judge has been out of this world, but I just feel like we have good at-bats up and down the lineup. Even the outs, they're tough outs. We're battling the pitcher, we're getting guys on base, we're not swinging at a ton of pitches. There's a lot of guys that can hurt you up and down the lineup."
Dyson comes through for M's
Game: Angels at Mariners
Situation: With two outs and the bases loaded in the bottom of the eighth and the Angels leading, 6-4, Jarrod Dyson faced Halos reliever Blake Parker.
Result: On an 0-2 pitch, Dyson lifted a high fly ball down the right-field line. Angels right fielder Kole Calhoun had too far to travel, and the ball dropped for a two-run, game-tying double. Jean Segura followed with a two-run single, and Seattle pulled out an 8-7 victory.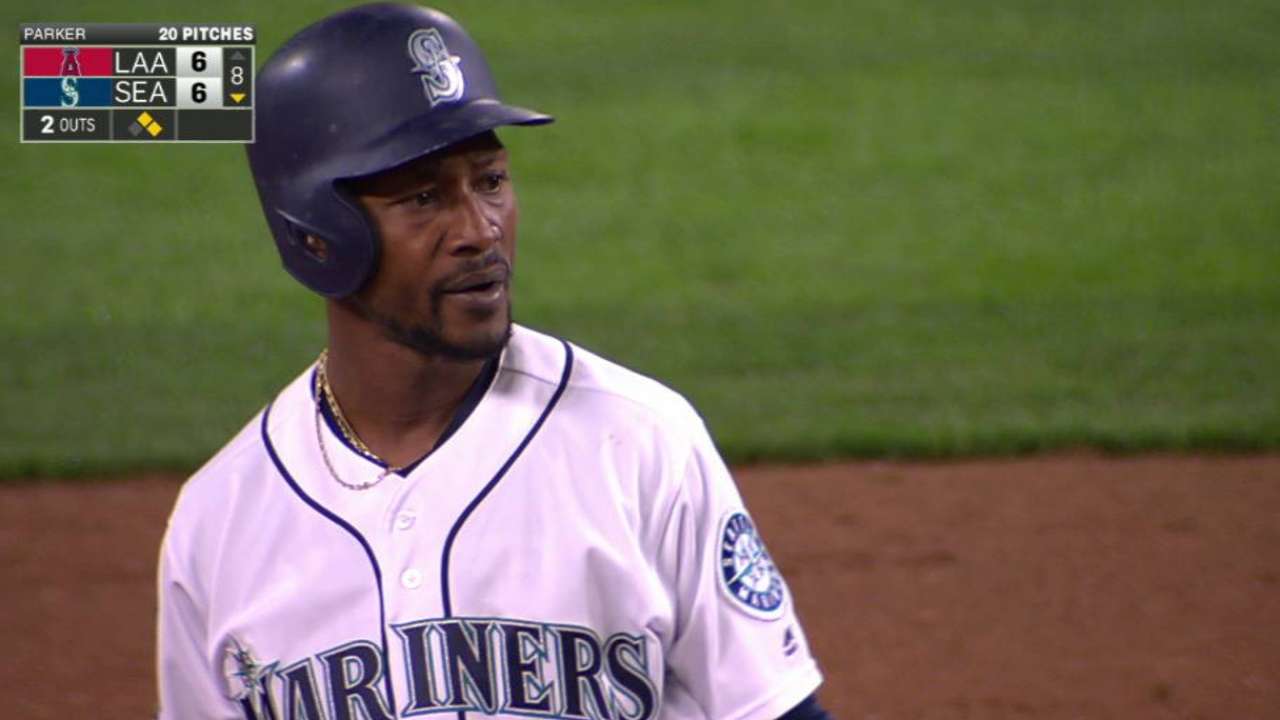 Win expectancy for Mariners: +39.5 percentage points (21.7% to 61.2%)
Facts to know:
• Batted balls with a similar exit velocity (66.6 mph) and launch angle (32 degrees) to Dyson's have gone for hits 83 percent of the time according to Statcast™ -- often dropping between the infielders and outfielders -- but for extra bases just 11 percent of the time.
• Seattle's win expectancy jumped by 72.1 percentage points thanks to Dyson and Segura's back-to-back hits.
They said it: Dyson: "That was tough, but you just keep grinding 'til the last out. We went out and just kept grinding out at-bats and good things happened for us. In that situation, you're just looking to pick up your pitchers right there. They came back, and you know what? We've got you guys. We're a team in here. Some nights they keep us in the ballgame. It's a grind for both of us. Hopefully things come together for us, and that's a great momentum builder for us."
Contreras delivers key double
Game: Phillies at Cubs
Situation: Willson Contreras pinch-hit against Phillies left-handed reliever Joely Rodriguez with two outs in the sixth inning and the Cubs trailing, 3-2. After a passed ball against catcher Andrew Knapp, runners stood at second and third.
Result: Contreras ripped a low slider into left field for a double, scoring both runners with ease as the Cubs jumped ahead, 4-3. He then aggressively came around to score on Matt Szczur's single to shortstop, and the Cubs went on to win, 5-4.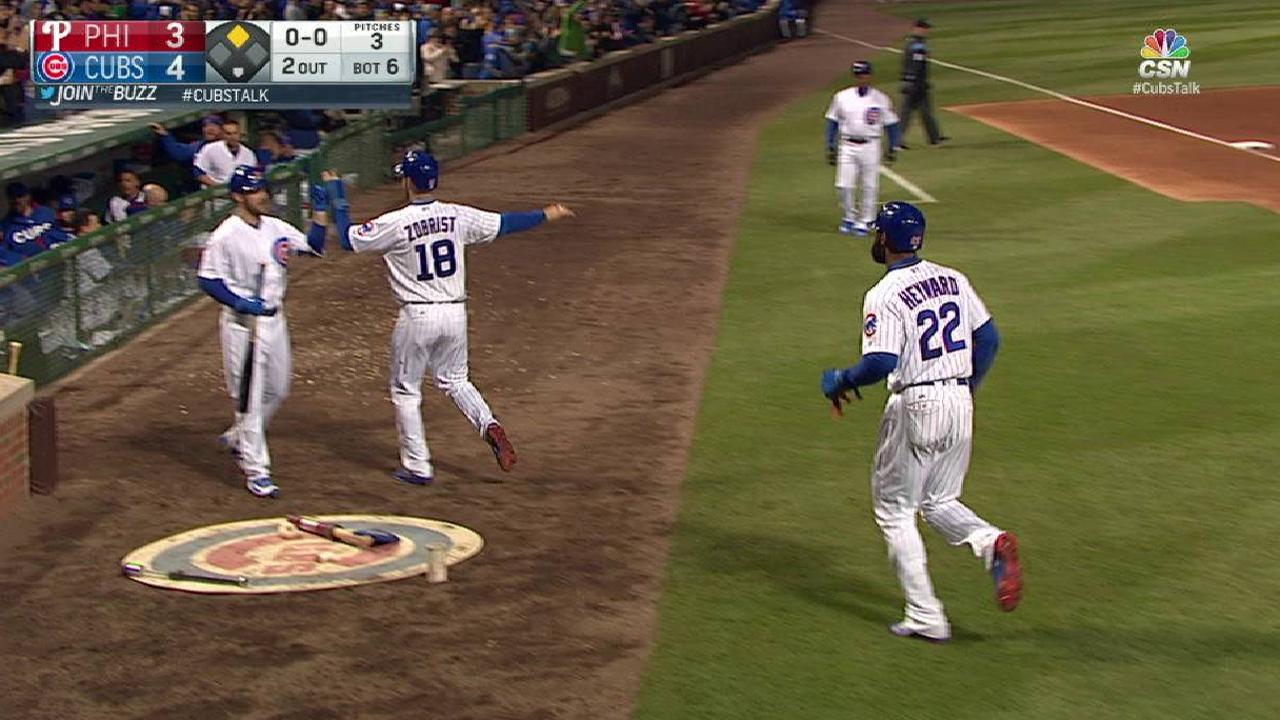 Win expectancy for Cubs: +32.0 percentage points (41.0% to 73.0%)
Facts to know:
• That was just the fourth time in his career that Contreras has picked up a hit on a slider below the strike zone.
• Contreras was in a 3-for-22 slump with no extra-base hits over his previous seven games.
They said it: Cubs manager Joe Maddon on Contreras: "You plug into this guy. He plays with his hair on fire. It can actually work against him. He gets a little over-assertive. As he learns to play with his hair on fire -- and not absolutely a forest fire, but slightly like a burning bush -- he's going to learn how to control that."
Andrew Simon is a research analyst for MLB.com. Follow him on Twitter @AndrewSimonMLB. This story was not subject to the approval of Major League Baseball or its clubs.