Vargas makes case for more starts vs. A's
Twins slugger has homer, five RBIs in win Wednesday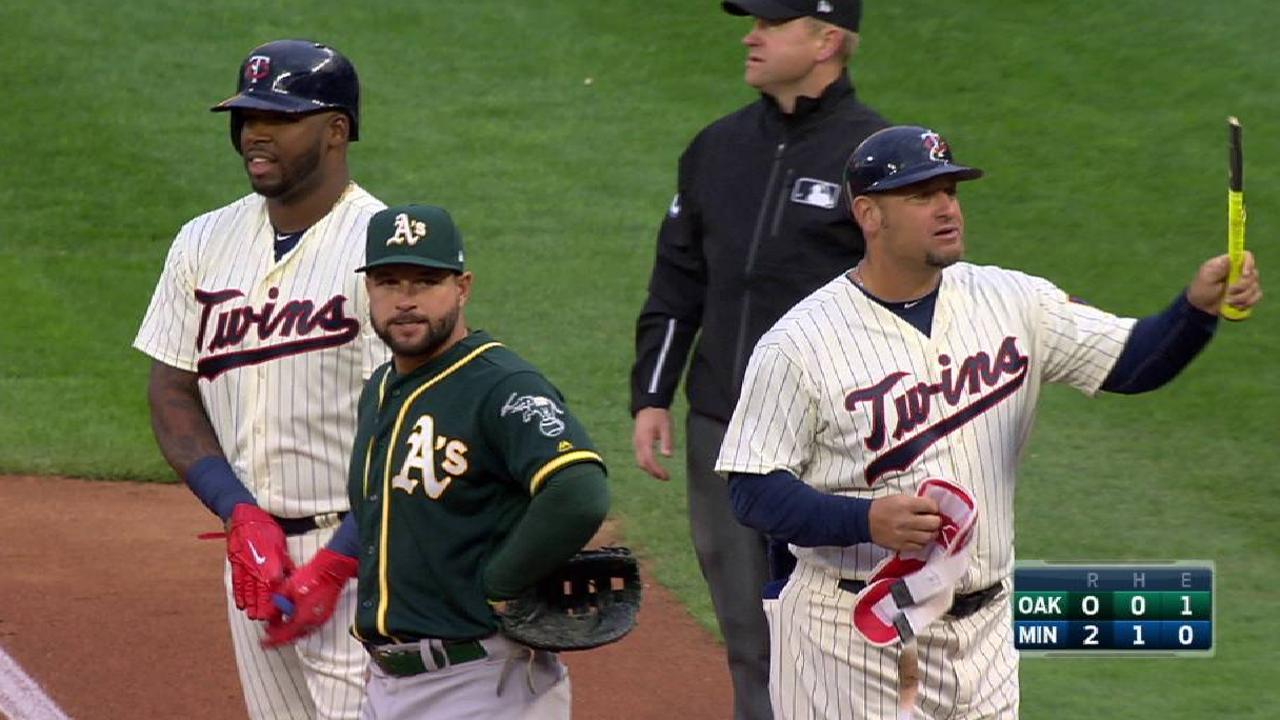 MINNEAPOLIS -- With regular designated hitter Robbie Grossman off to a hot start, ranking seventh in the American League in on-base percentage, Kennys Vargas hasn't gotten much playing time since being called up on April 23.
But Vargas has made the most of his limited playing time, especially in Wednesday's 7-4 win over the A's, going 2-for-4 with five RBIs, including a three-run homer off A's right-hander Kendall Graveman. Vargas drove in his first two runs in the first inning on a bases-loaded single off Graveman.
"It was a good night for Kennys," Twins manager Paul Molitor said. "The first time, he got a little bit lucky, getting jammed a little bit but put it in a good spot. With two strikes, he gave himself a chance. And we're trying to get him ready to be more aggressive in certain situations, and he was ready for that first-pitch [homer]."
Vargas made Graveman pay for walking the bases loaded with one out in the first, as he showed off his strength with a broken-bat two-run single into center field. The bat broke with so much force, part of it ended up in the stands near Minnesota's dugout.
"The bat got killed, but I still have two RBIs," Vargas said with a laugh. "It was a good bat."
But Vargas wasn't cheated on his three-run blast in the third, as he crushed a first-pitch 93.5-mph sinker to dead center. It left the bat at 105 mph, traveling a projected 417 feet.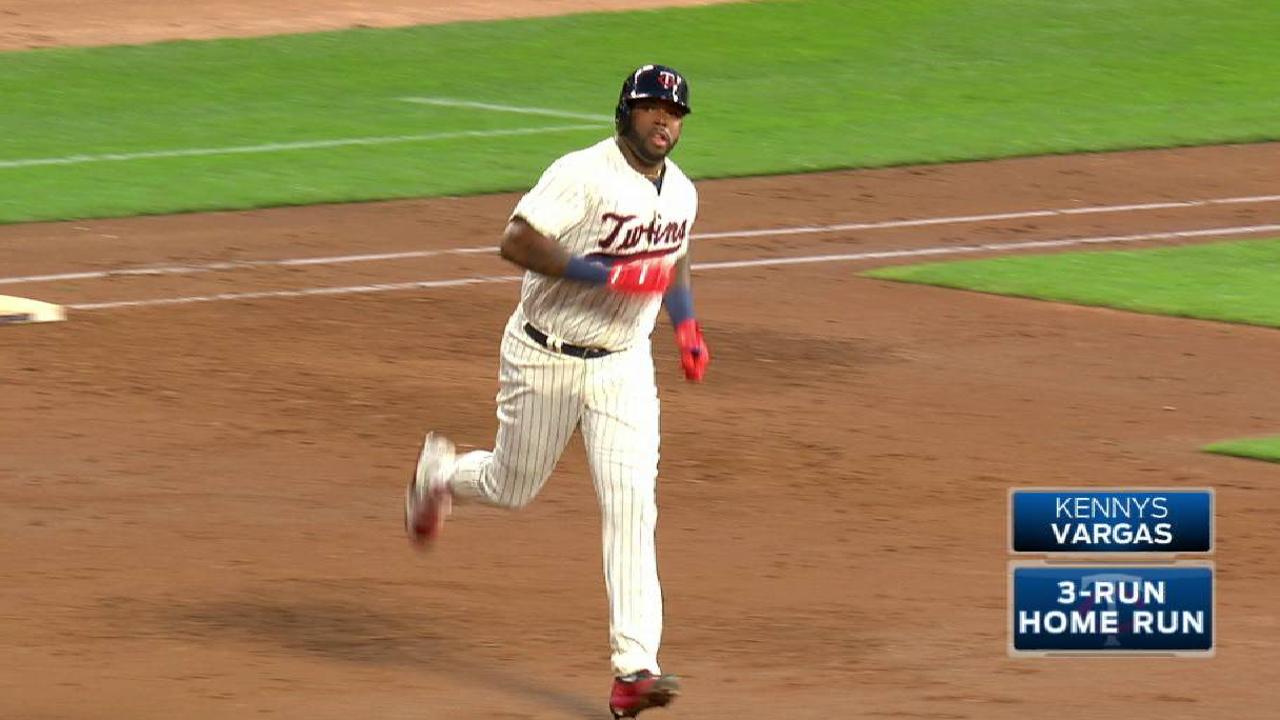 "I was thinking attack when on-deck, because he threw a couple fastballs to Joe [Mauer]," Vargas said. "I was thinking I had to be ready for the first pitch, and that's what I did. Aggressive and then boom."
In six games, the switch-hitting Vargas is batting .364/.417/.636 with two homers and six RBIs, making a case for more playing time. But Molitor said it's tricky because of the way Grossman has been playing.
"I think his at-bat quality has been good," Molitor said. "He's drawn some walks, got some hits and shown some power, kind of what we want to see from him. But we're kinda mixing and matching, because Robbie is playing well, too. But he's another threat in the lineup that doesn't have a big bat in the middle other than Miggy [Sano]."
Vargas said he's been working with hitting coaches James Rowson and Rudy Hernandez on being more aggressive early in counts. He believes that it's paid off so far, especially with his homer coming on a first pitch.
"I've been having a plan with Rudy and James, and they've told me if there's a fastball early in the count, go get it," Vargas said. "Don't wait for a strike. They told me to be aggressive with pitches and if you miss it, go for the next one."
Rhett Bollinger has covered the Twins for MLB.com since 2011. Follow him on Twitter @RhettBollinger and listen to his podcast. This story was not subject to the approval of Major League Baseball or its clubs.