Phegley goes on 7-day concussion disabled list
Ball hits A's catcher's face mask during sixth inning Wednesday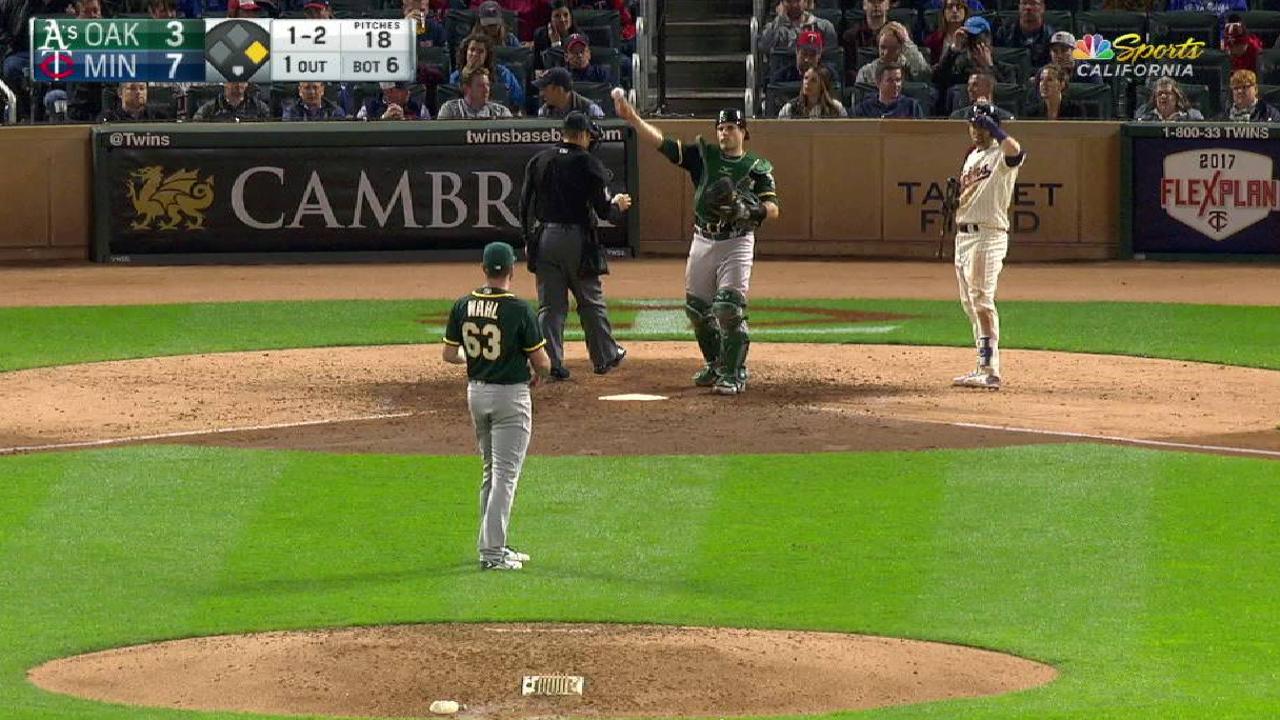 MINNEAPOLIS -- After taking a foul ball off his face mask the night before, A's catcher Josh Phegley was placed on the 7-day concussion disabled list Thursday morning.
The A's recalled catcher Bruce Maxwell ahead of Thursday's series finale at Target Field for his second stint this season, giving them two left-handed-hitting backstops.
Stephen Vogt drew the start against Twins' right-hander Kyle Gibson, while Maxwell settled in after taking an early-morning flight from Round Rock, Texas to join the A's ahead of game time. A's manager Bob Melvin said he is unsure how playing time will break down between the two catchers.
"Bruce has been a guy in the past that has handled lefties pretty well, and Vogter at times when he's swinging the bat well, too," Melvin said. "So we'll take all that into consideration."
Phegley was "doing better" Thursday, per Melvin, "but nowadays with the protocol and so forth, and a guy that's had it before, when you get it a second time, you want to make sure you're careful with it. But it does seem less severe, and he does feel better today."
In September 2015, Phegley was struck in the head by a bat during batting practice, suffering a concussion that ended his season. He's one of eight A's players stationed on the disabled list, with the club using it 12 times already this year.
Jane Lee has covered the A's for MLB.com since 2010. This story was not subject to the approval of Major League Baseball or its clubs.