Bucs woes against Reds continue
CINCINNATI -- Billy Hamilton has helped the Reds beat the Pirates in a variety of ways. He's hit .313, stolen 45 bases and scored 41 runs in 50 games against Pittsburgh. The thorn in the Bucs' side found a new way to vex them Wednesday night at Great American Ball Park.
Hamilton jumped on a first-pitch fastball from Jameson Taillon in the fourth inning, lining a three-run homer into the Pirates bullpen. It was his first career home run against the Bucs, his first of the season and, in fact, his first in 319 at-bats. Hamilton's homer put Pittsburgh in a six-run hole en route to a 7-2 loss to Cincinnati.
"He got the barrel to it," Pirates manager Clint Hurdle said. "He continues to be more than a rock in our shoe."
So do the Reds. After sweeping Pittsburgh at PNC Park last month, Cincinnati has taken two of three in this series. The season is far too young to fret about division races, but it's worth noting there has been little separation in the National League Central. The first-place Cubs (15-12) are only three games ahead of the last-place Pirates (12-15).
Yet the Pirates have not established any early momentum, in part due to their inability to solve their division rival. As was the case last month, when the Pirates went 0-for-24 with runners in scoring position against the Reds, the difference on Wednesday was timely hitting.
Cincinnati put men on base and hit a pair of three-run homers: Eugenio Suarez's first-inning shot to left, and Hamilton's blast to right.
"I know how they like to pitch me," said Suarez, batting .444 with two homers against the Pirates this season and emerging as another rock in their collective shoe. "I'm ready for those pitches. … All I do is see the ball and hit it."
The Pirates had their chances, but they finished 0-for-7 with men in scoring position and stranded 10.
"The difference in the game is that number at the end of the box score: 10," Hurdle said. "They hit a couple homers with men on base. We had shots at doing something in those middle innings and we weren't able to do it. That put us in a bad spot."
They loaded the bases in the second, but Gift Ngoepe struck out and Taillon grounded into an inning-ending forceout. They put runners on the corners in the third, then Josh Bell popped out.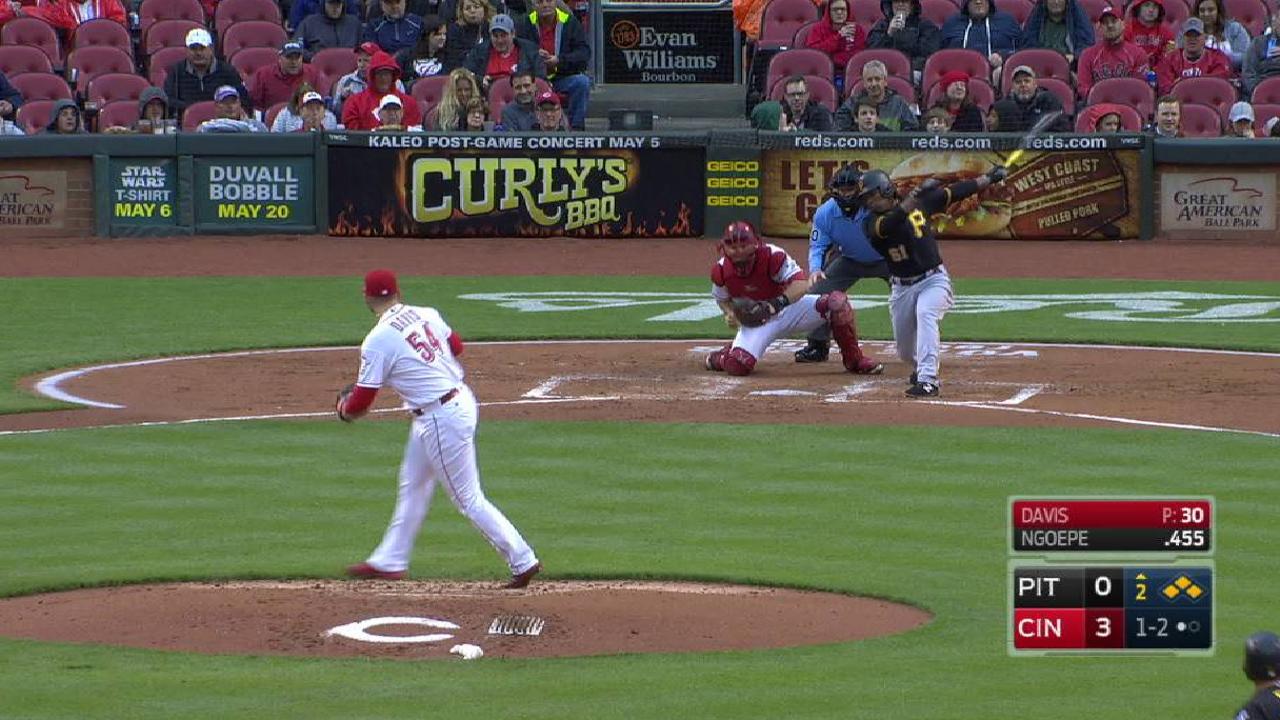 "Couple better swings here and there, different outcome," Bell said. "Just couldn't pull the trigger at the right time."
They missed another opportunity in the fourth inning, loading the bases with two outs. Up came John Jaso, batting .157 with a .534 OPS on the year, who went down swinging at a high fastball from Rookie Davis. With two on and one out in the sixth, pinch-hitter Jose Osuna grounded into a double play.
Taillon was not his typically sharp self, either, as he allowed a career-high six runs on eight hits in five innings. Suarez's homer came on a changeup that was low, but not low enough. Hamilton went deep on a fastball that was in, but not far enough in.
"He's seen us a lot. That's kind of his game, to be a rock in the shoe," Taillon said. "Put the ball in play, run, get ground balls, play good defense, be a little pain. … I'll try to take as much good as I can and just move on from it."
Adam Berry has covered the Pirates for MLB.com since 2015. Follow him on Twitter and Facebook, read his blog and listen to his podcast. This story was not subject to the approval of Major League Baseball or its clubs.