Emerging leader Carrasco takes one for team
With 'pen taxed and Kluber on DL, sick Tribe hurler gets through 6 in Detroit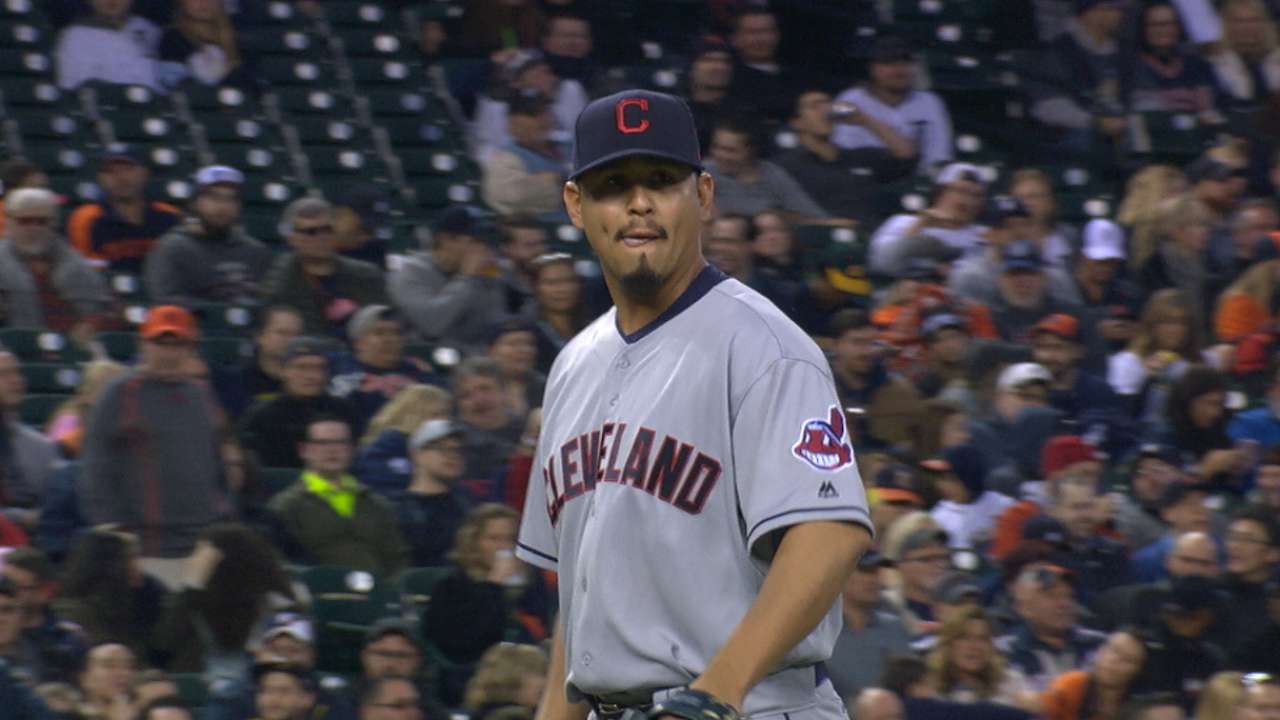 CLEVELAND -- Carlos Carrasco wore a fatigued expression in the moments following Wednesday's 3-2 win over the Tigers. Indians manager Terry Francona noted that the pitcher was fighting a fever, but he still took the mound at Comerica Park and went six strong innings.
"I thought we had asked enough," Francona said.
Out of necessity, Cleveland will continue to ask a lot from Carrasco.
The first three games of this series have served as a microcosm for the Indians' rotation situation this season. On Monday, Trevor Bauer continued to search for answers in an abbreviated effort. One night later, ace Corey Kluber tried to pitch through back pain, but exited after only three innings. On Wednesday night, Carrasco pitched like a rotation leader and paved the way for a much-needed win.
Prior to Wednesday's game, Kluber was placed on the 10-day disabled list, meaning he will miss at least one start, but potentially more in order to get his back right. Given that Cleveland's bullpen had worked a combined nine innings in the past two games, Carrasco knew -- fever or not -- he needed to take the hill and give everything he had.
"I was kind of feeling a little bit cold," Carrasco said. "But, it is what it is. I'm going to go out there and do my job."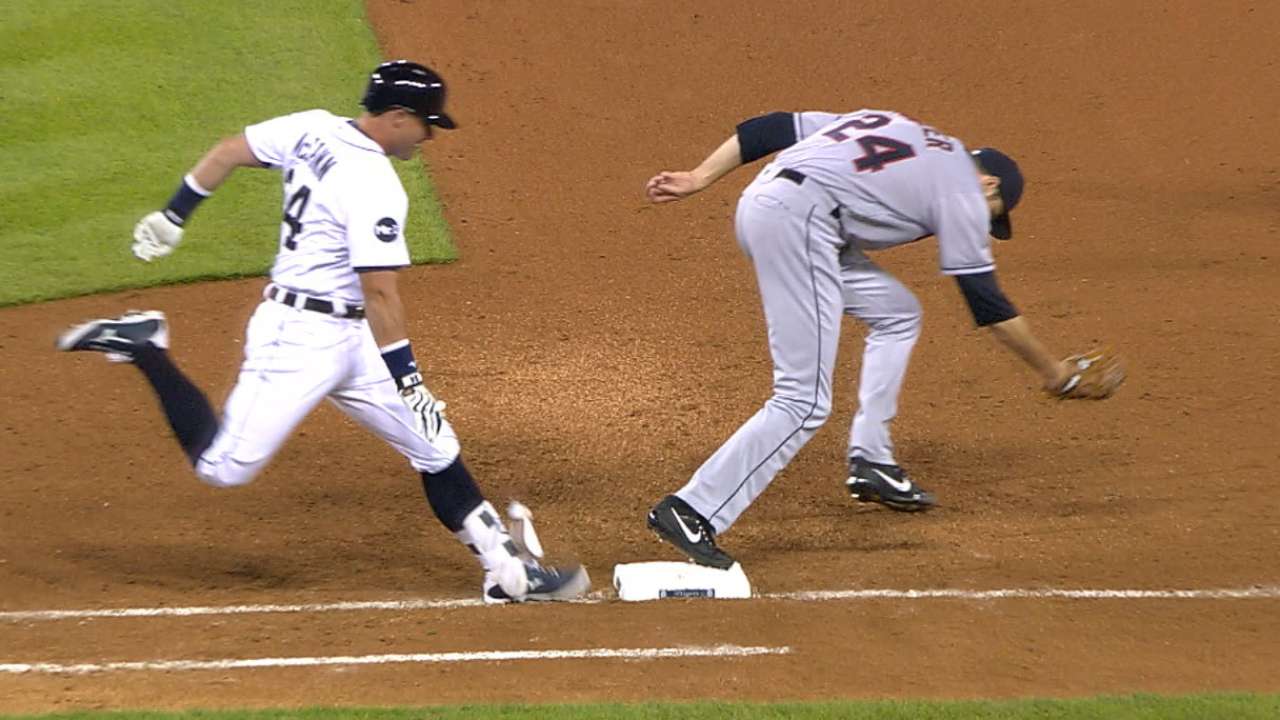 Carrasco held the Tigers to two runs during his time on the field, and then watched relief ace Andrew Miller and closer Cody Allen finish the job. That is the ideal formula for Cleveland's highly touted pitching staff, but there have been inconsistent results through the season's first six weeks.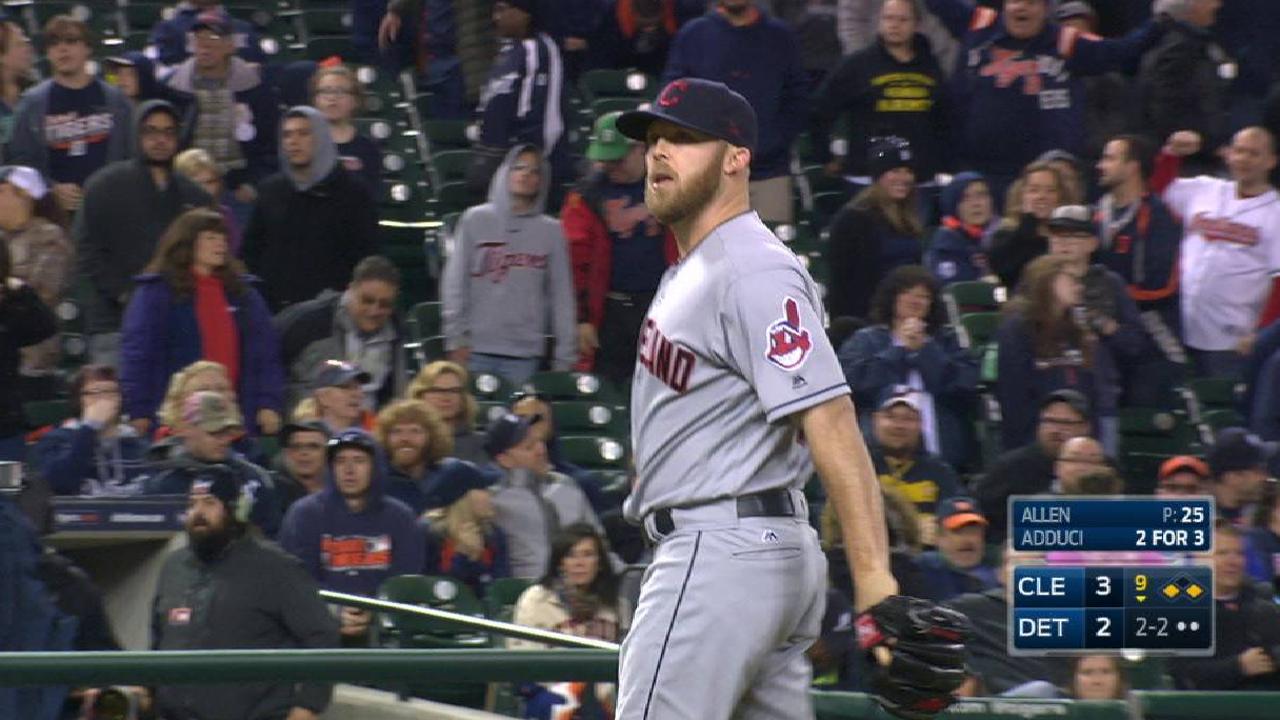 In six starts this year, Carrasco has turned in a 2.18 ERA, which currently ranks ninth among American League starters. Carrasco is tied with Dodgers ace Clayton Kershaw for the third-most innings (41 1/3) in the Majors. The rest of the Indians' rotation -- Danny Salazar, Josh Tomlin, Bauer and Kluber -- have combined for a 6.25 ERA over 116 2/3 innings.
"You like to get everybody on a roll," Francona said. "When you feel like that, when you show up like, 'OK today's a good day,' that's a good feeling. Carlos deserves that right now. He's been very good and he's been consistent. It's been fun watching him."
Given the current state of the rotation, Carrasco knows he needs to keep it up, too.
Down the stretch last year, Carrasco and Salazar were out with injuries, and the onus was on Kluber, Tomlin and Bauer to pick up the slack. With Kluber now on the DL, and both Bauer and Tomlin trying to find their rhythm, Carrasco and Salazar can return the favor.
"Their stuff is incredible," Miller said. "We've seen that this year. It's fun to watch them pitch. Our staff is pretty awesome. We have a lot of different looks and different stuff. We like our chances with all of them. Kluber carried us pretty far last year, and right now is going through something. We need him and want him out there, but we need him healthy.
"We have five pretty good guys. We'll take our chances with all of them any day of the week."
Jordan Bastian has covered the Indians for MLB.com since 2011, and previously covered the Blue Jays from 2006-10. Read his blog, Major League Bastian, follow him on Twitter @MLBastian and listen to his podcast. This story was not subject to the approval of Major League Baseball or its clubs.