First 4-strikeout inning of '17 caps Karns' win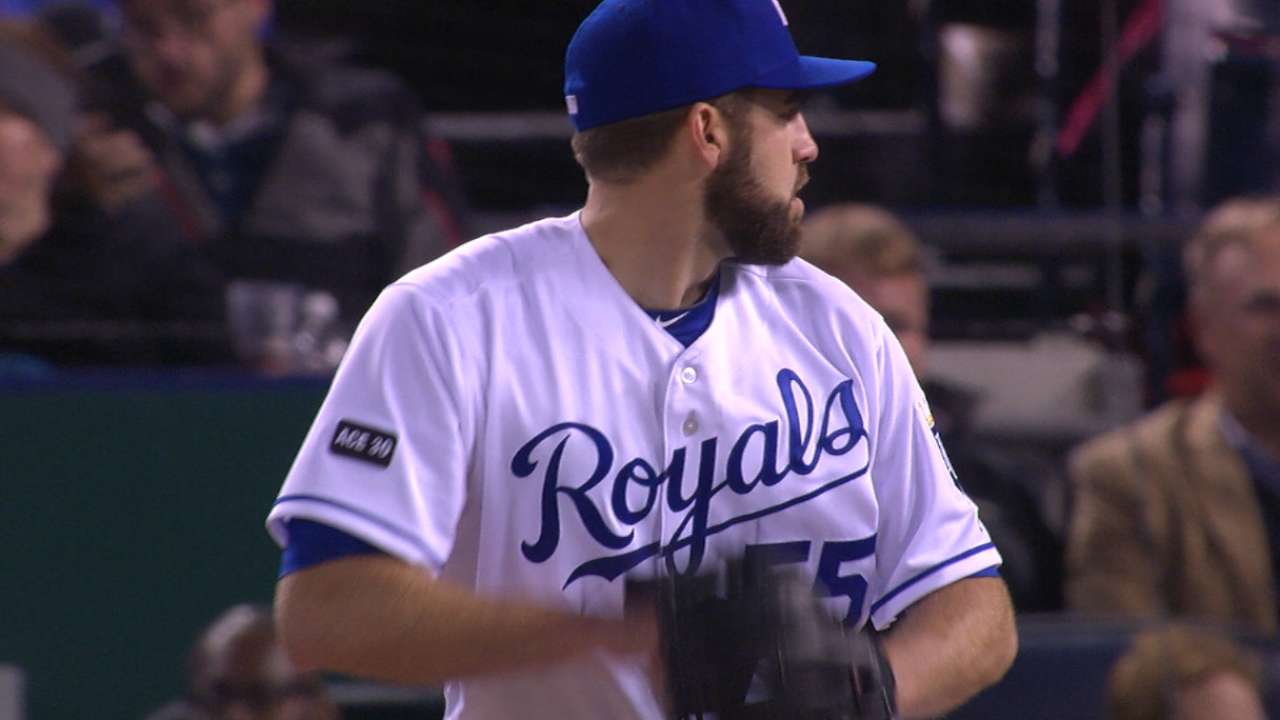 KANSAS CITY -- The biggest moment for right-hander Nathan Karns on Wednesday night came after he'd already struck out the side in the sixth inning of the Royals' 6-1 win over the White Sox.
In a scoreless game, the White Sox had runners on first and second after Yolmer Sanchez reached on a wild pitch on a dropped third strike and Melky Cabrera walked. But Karns struck out slugger Jose Abreu looking on a curveball.
"That is a confidence builder for me moving forward," Karns said. "To have their best hitter up, and grind through the at-bat and put him away. That was big."
Karns exited after that inning, having given up just one hit and striking out seven. His four-strikeout inning was the first by a Royals pitcher since Kevin Appier in 1996, and the first in the Majors since Rockies starter Jon Gray achieved the feat on Sept. 17, 2016.
Karns said he can't recall ever striking out four in an inning.
"Now I can say I've done it," Karns said.
Karns had no issues with catcher Salvador Perez after Sanchez struck out, but reached first when the ball skipped to the backstop.
"That was a really bad pitch on my part," Karns said. "It almost hit him. That was a tough one for Salvy to handle. I think [Sanchez] was just committed to swinging on that pitch."
Royals manager Ned Yost said he didn't even notice Karns' four-strikeout inning.
"You get so wrapped up in the game, I missed that fact until after the game," Yost said. "But he was fantastic. Had everything going. He just didn't make mistakes. He stayed locked in the whole game. He maintained his focus the whole game."
Karns said his bullpen session prior to the game wasn't particularly inspiring.
"But my command was good from the start," Karns said. "I was able to stay in the zone and get ahead, and then expand the zone with the curveball. It's just one of those days where everything was working."
An overpowering effort from a starting pitcher is exactly what the Royals -- and their struggling offense -- needed.
"We needed a start like that," first baseman Eric Hosmer said. "He threw really well, and worked really quick. To limit that team to one hit was really good. And he saved a lot of the guys in the bullpen."
Jeffrey Flanagan has covered the Royals since 1991, and for MLB.com since 2015. Follow him on Twitter @FlannyMLB. This story was not subject to the approval of Major League Baseball or its clubs.