Desmond shows off power with two homers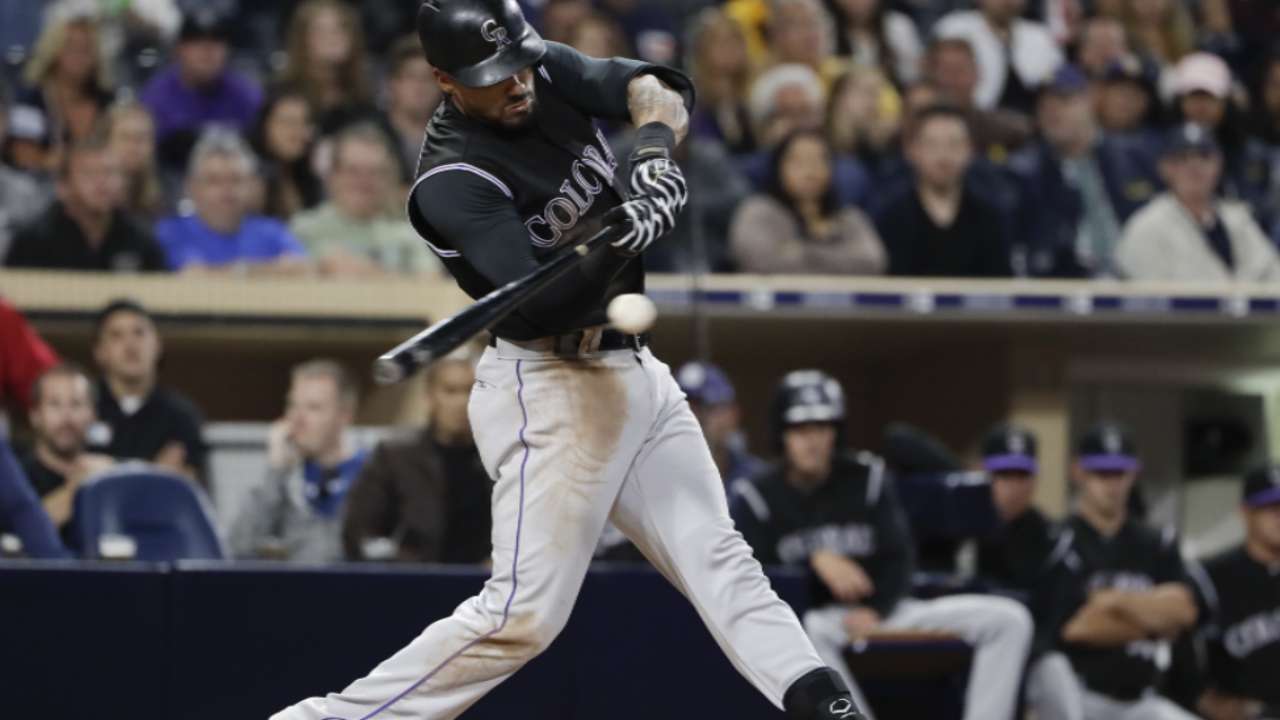 SAN DIEGO -- No wonder Ian Desmond was so eager to jump into action with the Rockies.
In his third game in purple and black after missing the first 25 games with a fractured left hand, Desmond homered twice -- and had a single in between -- in an 11-3 win against the Padres on Wednesday night.
Before making his Rockies debut during Sunday's 13-inning, 2-0 loss in Arizona, Desmond played 14 innings over two days in extended spring games in Scottsdale, Ariz., and declared himself ready. Padres starter Jered Weaver, however, probably wished Desmond had a longer rehab stint after his homers in the first and fifth innings.
Rockies manager Bud Black was glad to have Desmond in his lineup.
At one point, Rockies policy dictated players go on Minor League rehab assignments. It led to some interesting moments, such as in 2004 when Larry Walker and All-Star Preston Wilson showed up at Double-A Tulsa and helped the team qualify for the playoffs.
But it's a new day, and Black had no qualms with denying some affiliate the services of Desmond.
"He said to me, 'Buddy, why would you want me to play in a Minor League game when I can play in a big league game?' And it made sense," Black said.
Desmond slapped Weaver's 0-1 changeup into the left-field seats for a two-run shot in the first. Desmond repeated the feat while leading off the fifth by turning a first-pitch curveball into a souvenir.
The Rockies signed Desmond, 31, for five years and $70 million with the idea of converting him to first base. Desmond broke in as a shortstop with the Nationals late in 2009 and quickly became the primary shortstop through '15, with an All-Star Game trip in '12. He signed with the Rangers last season, began in left field, moved to center and found himself in another All-Star Game.
Desmond started in left field on Sunday in Arizona, as Black wanted to keep Mark Reynolds in the lineup at first base against left-handed pitcher Patrick Corbin, and went 1-for-5 in the 2-0, 13-inning loss.
Desmond made his first start at first base at any level Tuesday against Padres. In addition to making a leaping catch of an Austin Hedges line drive, Desmond singled in the second, stole second and came around to score on a wild throw.
"I believe in myself, I believe in what I do, I believe in my process," Desmond said. "And when I'm out there, I'm trying to compete with everything I've got.
"To expect two home runs? Maybe not. But to expect a good, competitive performance? Yeah, I expect that every single night."
Thomas Harding has covered the Rockies since 2000, and for MLB.com since 2002. Follow him on Twitter @harding_at_mlb, listen to podcasts and like his Facebook page. This story was not subject to the approval of Major League Baseball or its clubs.