Spangenberg holding his own in left field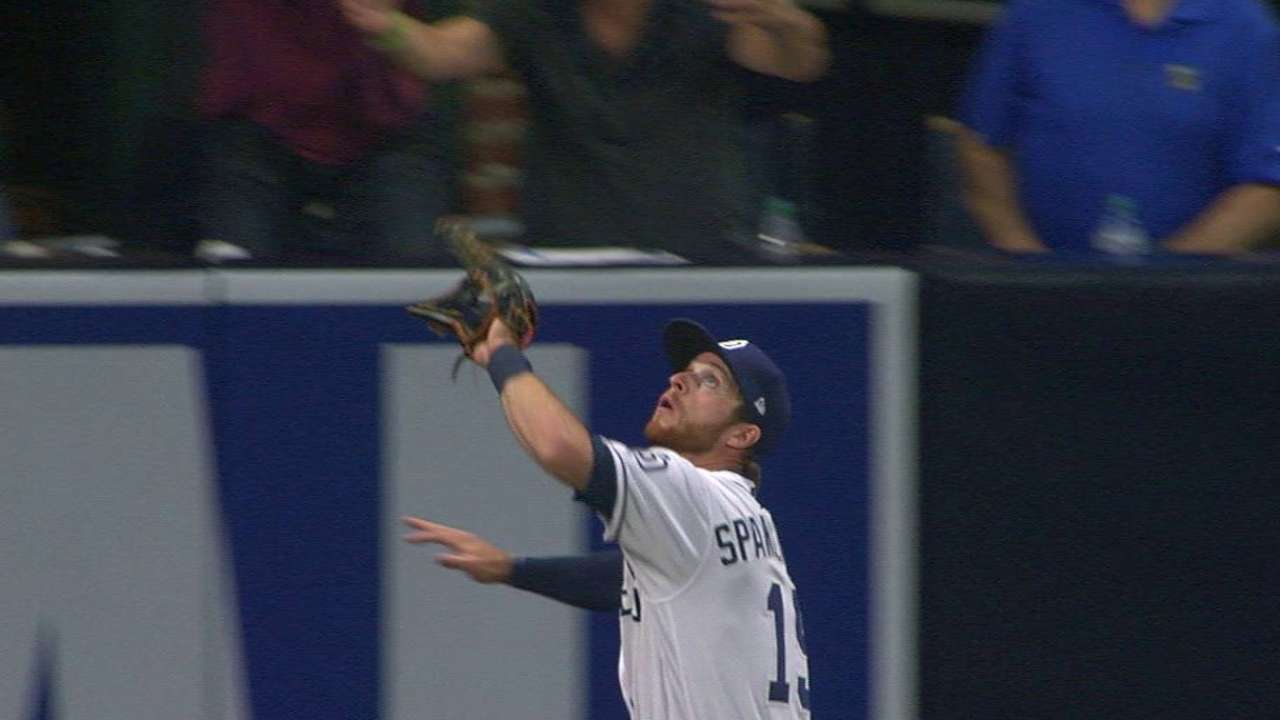 SAN DIEGO -- It's a bit premature to call Cory Spangenberg a "left fielder." He's only started seven games there in his career, after all.
Judging by his performance in left field over the past week, however, you'd never be able to tell. Spangenberg has made every routine play that's come to him. He even added a defensive gem in the second inning of Tuesday's 6-2 victory over Colorado, robbing Mark Reynolds of extra bases.
"I don't think I've really been tested out there, besides that ball yesterday," Spangenberg said. "It's early. I'm just trying to take every game in stride, really concentrate every pitch to be ready and anticipate balls being hit to me."
Spangenberg spent the past two seasons playing second and third base primarily. With Yangervis Solarte and Ryan Schimpf locking down those two spots, the Padres needed to find a place for Spangenberg, who was tearing up the Pacific Coast League with Triple-A El Paso.
Entering play Wednesday, Spangenberg was hitting .292 in seven games since rejoining the big league club. He'll continue to get the majority of his playing time in left field with some infield opportunities sprinkled in.
"Cory's done a great job," said Padres manager Andy Green. "He's added a dynamic to our offense that has been missing."
Spangenberg is still a neophyte in left, and the Padres have been cautious in the late innings. For now, Green will either replace Spangenberg or move him to third base when the Padres have a lead late in games.
But if Spangenberg continues to prove himself, that maneuvering may no longer be necessary.
"He's caught everything that's come his way," Green said. "That's really the goal. He's done a good job. That was a really good catch he made yesterday. That's not an easy catch for a guy that gets minimal exposure out there."
Padres mulling Cosart's options
Padres right-hander Jarred Cosart pitched two innings of one-run ball in a rehab outing for Class A Advanced Lake Elsinore on Tuesday night. He allowed three hits and walked a pair.
Cosart, who is recovering from a right-hamstring strain, is eligible to come off the disabled list. But the Padres are mulling the possibility of giving him a lengthier rehab outing instead.
"He feels good," Green said. "Probably in his mind, he's ready to go. We'll see if we want to lengthen him out another outing, so he can come back and really assume that long [relief] role again."
Cosart will almost certainly serve out of the 'pen upon his return, barring an injury to one of the Padres' starters.
Worth noting
• Lefty reliever Buddy Baumann underwent an MRI on his sore left shoulder Wednesday morning. It revealed no structural damage, but there is a pocket of swelling that has not yet subsided. He won't begin throwing until it does.
• Jamie Romak took home Pacific Coast League Player of the Month honors for April after batting .372 with 11 homers and a 1.274 OPS. The 31-year-old Romak has mostly split time between first and third base this season.
AJ Cassavell covers the Padres for MLB.com. Follow him on Twitter @ajcassavell. This story was not subject to the approval of Major League Baseball or its clubs.