Parker's misstep costs Angels
SEATTLE -- Blake Parker has been one of the bright spots in an Angels bullpen that has been tested by overwork and injuries this season, but the 31-year-old journeyman faltered on Wednesday night, surrendering four runs in the eighth inning and allowing the Mariners to rally for an 8-7 win at Safeco Field.
"It's real frustrating, especially because the team has been doing so well and you want to keep it going," said Parker, who suffered his first blown save of the season. "It hurts. You never want to hang a crooked number. You always want to minimize the damage, but sometimes the balls just find a hole, and that's the way baseball goes."
Parker entered the game in the eighth and was charged with protecting the Angels' 6-4 lead, but he fell into a jam after yielding back-to-back singles to Kyle Seager and Danny Valencia with one out. Parker coaxed a groundout from Guillermo Heredia to record the second out but then walked pinch-hitter Taylor Motter to load the bases.
Jarrod Dyson followed by blooping a two-run double to right field, tying the game at 6. Jean Segura then put Seattle ahead, 8-6, with a single to left.
"He started off great and then got two ground balls that found holes," Angels manager Mike Scioscia said. "Motter had a good at-bat, couldn't finish him. Give Dyson credit, he put the bat on the ball and blooped one in."
Parker earned a spot in the Angels' bullpen as a non-roster invitee after recording his final 17 outs of Spring Training via strikeout. He entered Wednesday with a 2.19 ERA over 12 1/3 innings and had emerged as one of the Halos' more reliable relief options, particularly following the injuries to Cam Bedrosian, Huston Street, Andrew Bailey and Mike Morin.
But he couldn't shut the door on the Mariners on Wednesday, spoiling what was setting up to be another dramatic come-from-behind victory for the Angels. The Halos fell behind early, 4-0, but then erupted for six runs in the sixth to take their first lead of the night.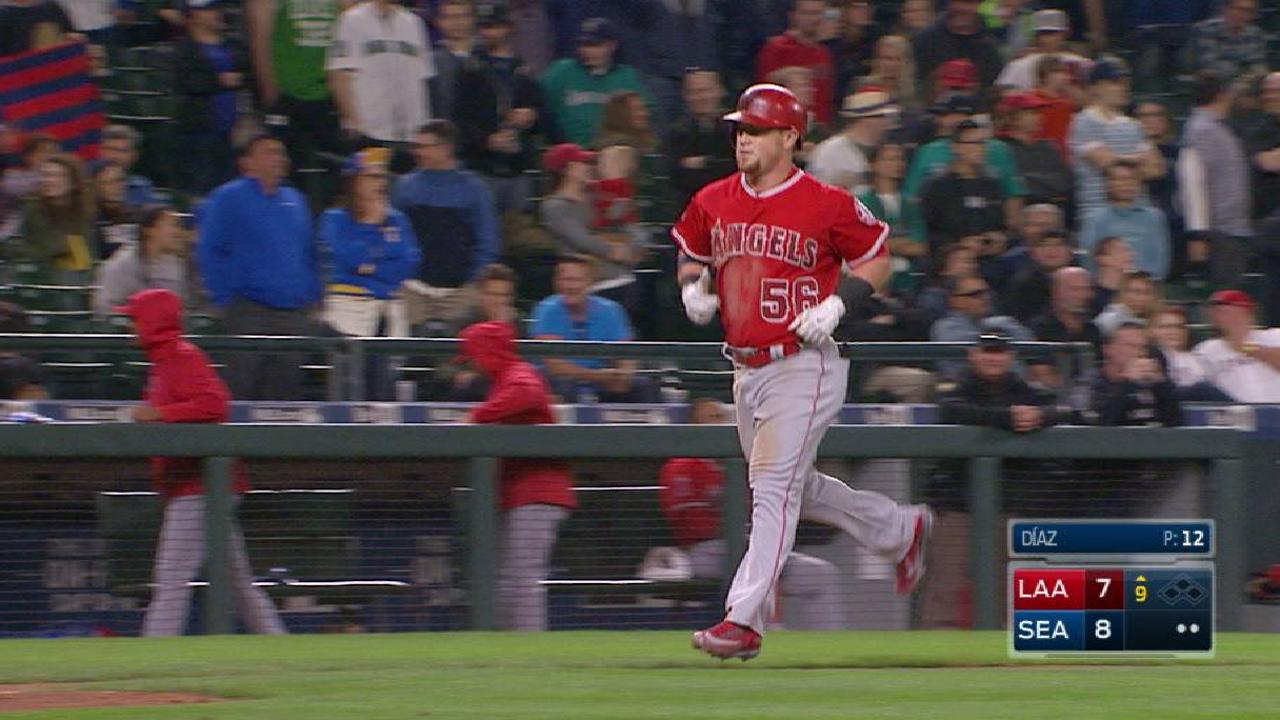 Even after Seattle seized an 8-6 lead, the Angels threatened again in the ninth, as Kole Calhoun homered off closer Edwin Diaz to cut the deficit to one and Mike Trout reached on a hit by pitch to put the tying run on first with two outs. Still, the Halos' comeback magic ran out, as Diaz subsequently struck out Albert Pujols to end the game.
"All losses are tough, but we battled back and put ourselves in a position to get the game on our terms, and we just couldn't get that one pitch to get out of that eighth inning," Scioscia said. "Give those guys credit. They came back and got it."
Maria Guardado covers the Angels for MLB.com. This story was not subject to the approval of Major League Baseball or its clubs.