MLB.com Columnist
Phil Rogers
Cubs hoping for better defensive play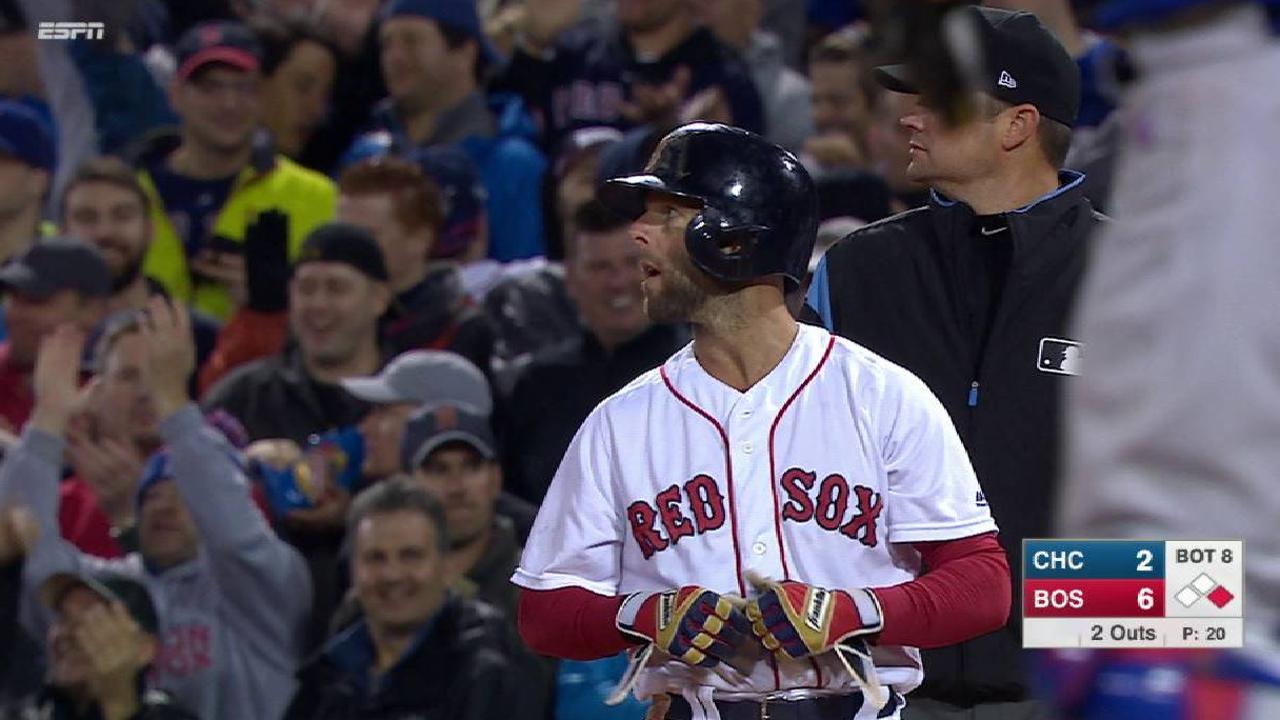 CHICAGO -- Joe Maddon doesn't need rankings or a chart to know that the Cubs' defense has sprung a leak after playing to historic levels last season. He was parked at the end of the dugout on Sunday night at Fenway Park, when two eighth-inning plays spoke loudly.
First, Koji Uehara was slow in covering first base on a grounder to Anthony Rizzo, allowing Boston to put the go-ahead run on base. The Red Sox took advantage to take the lead, but it got worse when sure-handed shortstop Addison Russell handcuffed Rizzo with a low throw, allowing two more runs to score.
"Russell makes that play 10 out of nine times,'' Maddon said a couple days later. "Koji not getting to first base … that's not an error, but that's a play we should have made. There might have been a couple of balls in the outfield that we should have caught, but we didn't, and it's not an error. We're just not making plays we normally make.''
What happened in Boston wasn't a one-night outlier. It continued a trend since Opening Day, as the Cubs have dropped into the middle of the pack in defensive metrics after using their athleticism, defensive positioning and precision pitching to put up a Defensive Efficiency ratio of .731.
Not only did that lead the Major Leagues, but the gap between the Cubs and the second-place Blue Jays (.705) was bigger than the one between the Jays and the 25th-place Cardinals (.680).
That's landscape-changing play in the field. But so far this season, the Cubs are 16th in Defensive Efficiency, which is among the reason that they've hung around .500.
What's changed?
"We're getting to some balls and we're just not completing the play,'' Maddon said. "The ball might just be off the end of the glove. We're getting to it and not making a good throw. We're not making the play. … I don't have a solid explanation [why]. I really don't. The work's great, nobody's hurt, arms are all really good.''
Statcast™ data points to two areas for the slippage:
One is that the rearranged outfield -- with Kyle Schwarber in left and a mix of Albert Almora Jr., Jon Jay and Jason Heyward in center -- isn't tracking balls like the Cubs did last year. Heyward won his fourth Gold Glove Award in right, Dexter Fowler made some big catches in center and Maddon got away with shuffling left fielders, thanks in part to the versatility of Kris Bryant, Ben Zobrist and Willson Contreras.
Last year, the Cubs' outfield turned 86.2 percent of opportunities into outs, second best in the Major Leagues to Kevin Kiermaier's Rays. The Cubs have an overall ratio of 77.6 percent this year, 28th in the Majors (ahead of the Blue Jays and the Brewers).
There's been no regression by Heyward. Discounting the easiest 25 percent of chances, he caught 46 percent of balls he could get to last season, in the top 20 among outfielders. He's at 50 percent so far this year, according to Statcast™, which again, is in the top 20 of outfielders.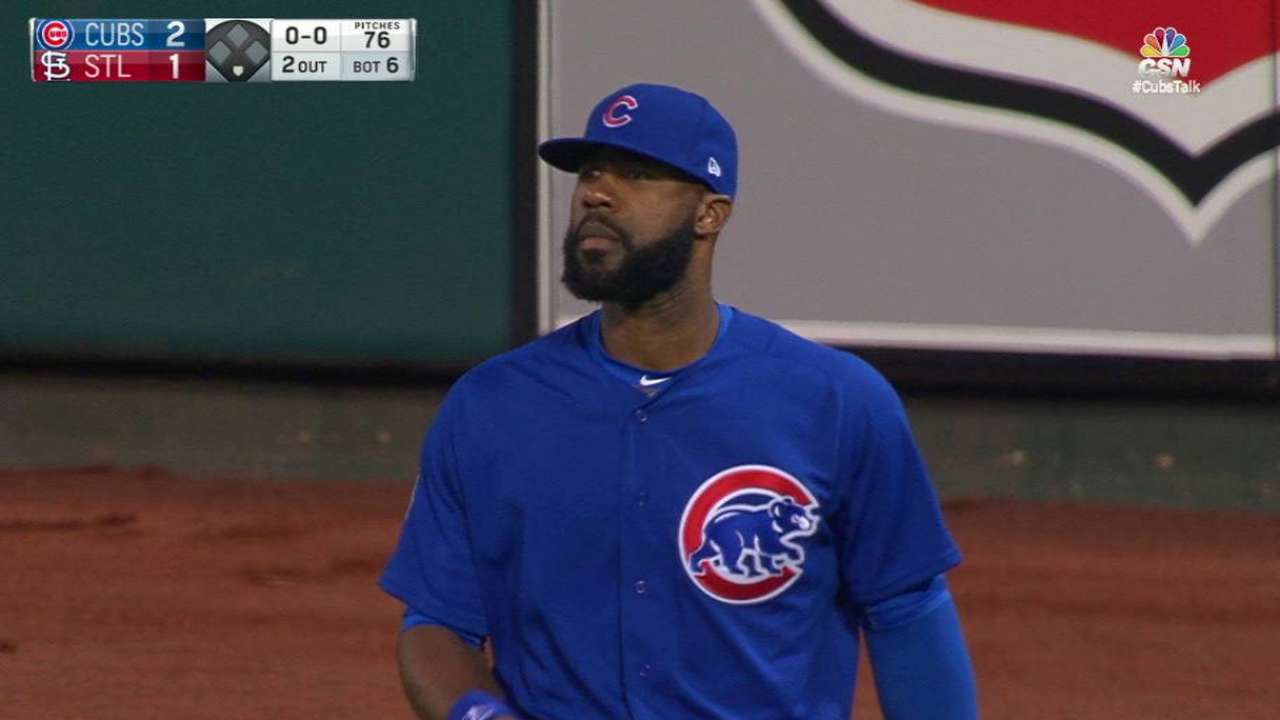 Schwarber has been a weak spot, which won't surprise the legions of armchair general managers who see him as suited for designated hitter. Statcast™ indicates he hasn't made a catch this year that would rank in the top 25 percent, based on difficulty. Yankees left fielder Brett Gardner already has six, and the Brewers' Ryan Braun has five.
The second difference is that the Cubs' starting pitching hasn't been nearly as sharp as it was in 2016, leading to tougher plays and less effective defensive positioning. Jon Lester has been the only one of the top four starters with consistent command, and it's tough to put fielders in the right place when the pitcher doesn't hit his target.
"One of our concepts is we catch line drives by being in the right spot,'' Maddon said. "That's a pretty good connection. To this point, our starters haven't nailed it down like they did last year. Kyle Hendricks is a perfect example. The contact appears to be harder. … There might be a direct correlation. I've always said that soft contact makes defenses bigger. You're probably right on with that.''
Based on strikeouts and Statcast-measured exit velocity and launch angle, the Cubs' pitching staff delivered an Expected Batting Average of .229 last season, the third-best figure in baseball (the actual opponents' batting average was .212, which shows just how strong the defense was). The Expected Batting Average is .246, which ranks 20th in the Major Leagues.
"I feel like last year was almost perfect in everything,'' Bryant said. "We started off good, 25-6. We were almost spoiled with the whole year last year. It's going to be hard to kind of turn the page on that and stop comparing it to last year. But that's something we would love to do. It's a new year. We still feel good about where we're at. I think our defense is fine, our pitching is fine and our hitting is fine. It's just a matter of time.''
Phil Rogers is a national columnist for MLB.com. This story was not subject to the approval of Major League Baseball or its clubs.