Cervelli out Wednesday, hopes to avoid DL
Catcher dealing with sore foot; Kuhl to start Friday; Frazier, Freese getting closer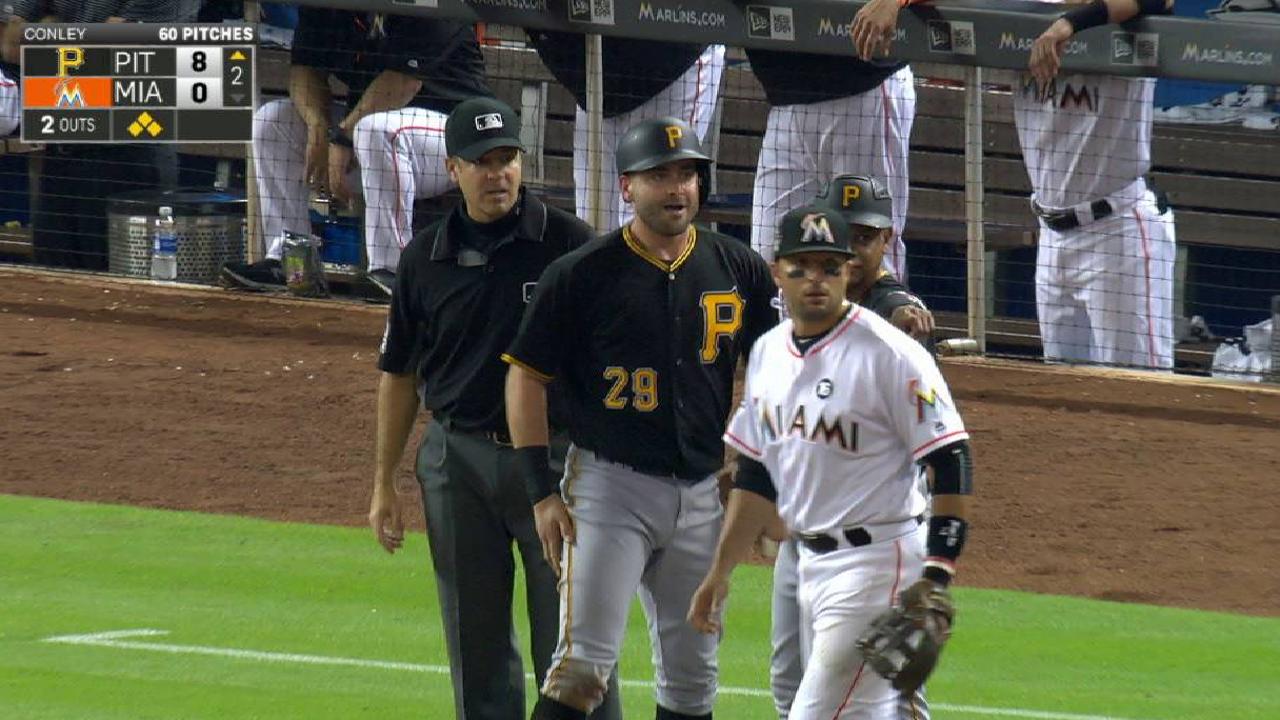 CINCINNATI -- Pirates catcher Francisco Cervelli was out of the starting lineup Wednesday for the fourth straight day due to a sore right foot that's bothered him intermittently since Spring Training. As a result, the Bucs are carrying three catchers on their roster. Is it time to think about putting Cervelli on the 10-day disabled list?
The Pirates aren't there yet, and Cervelli has no interest in additional time out. Cervelli planned to hit in a batting cage Wednesday at Great American Ball Park, testing his ability to pinch-hit if needed against the Reds.
"This is something that we identified early in spring, and it's going to come up now, it's going to come up again at some point throughout the season," head athletic trainer Todd Tomczyk said. "But we do believe, with all our doctors and therapists and our performance team, that it's manageable.
"No player wants to go on the disabled list, and we try to honor that the best we can. … In Francisco's particular instance, we as a club -- including Francisco -- don't feel the 10-day [DL], at this point, is in play."
Catcher Elias Diaz, recalled from Triple-A Indianapolis on Monday, started his second straight game Wednesday night. Backup catcher Chris Stewart, also dealing with the variety of dings and dents most catchers sustain, is available as needed, Tomczyk said.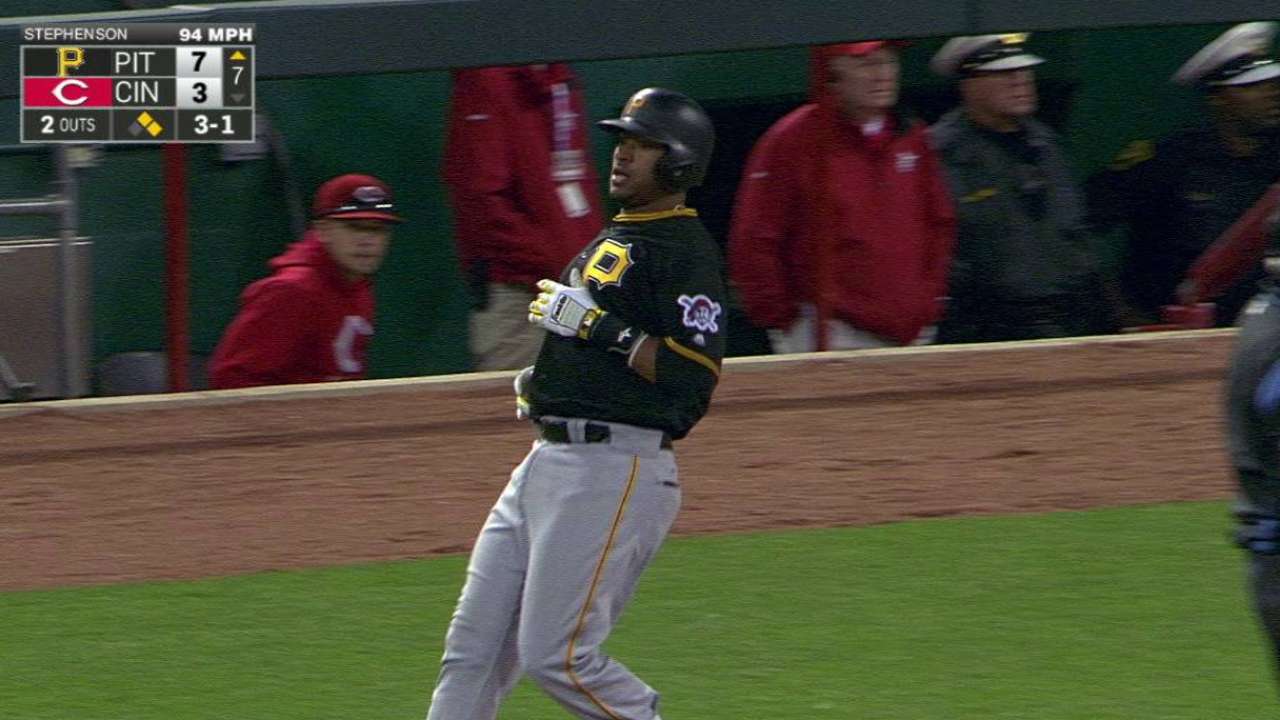 Trainer's room

• Right-hander Chad Kuhl, who exited his start Sunday after being struck in the right knee, is healthy and set to make his next start Friday at PNC Park.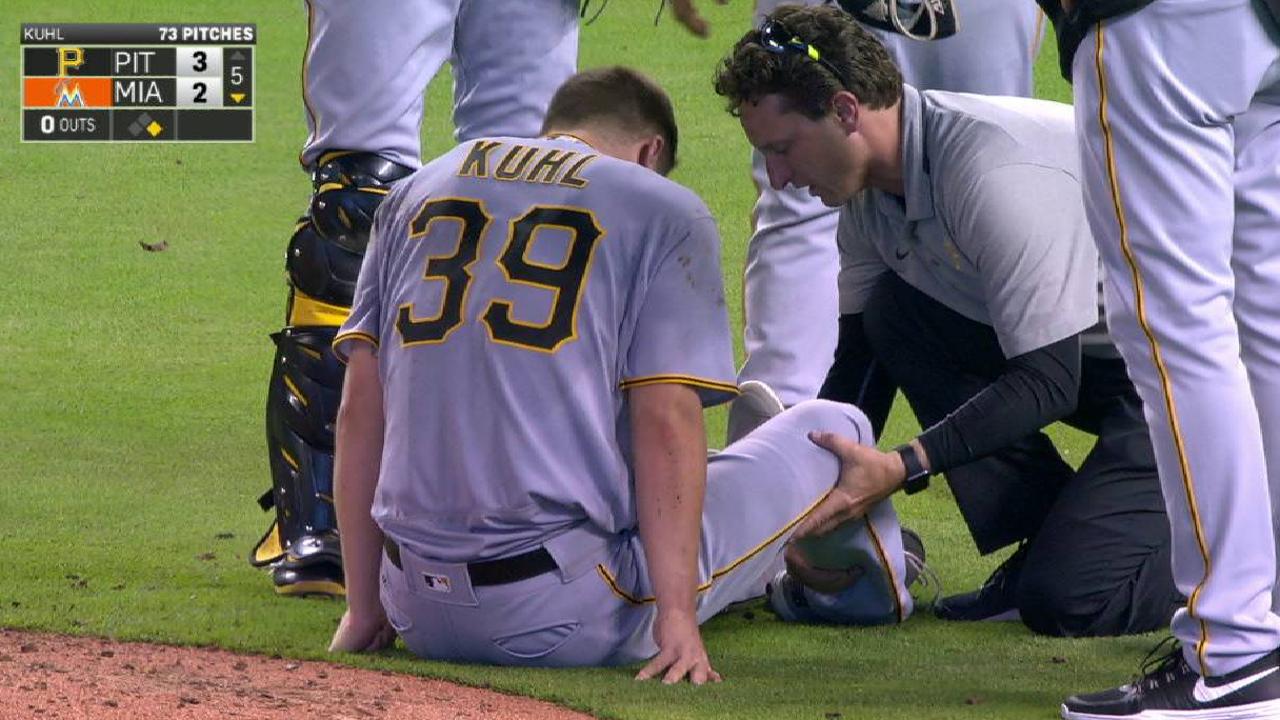 • Utility man Adam Frazier (left hamstring strain) was eligible to come off the disabled list on Wednesday. He is participating in most baseball activities, but he is not yet running the bases, sprinting or doing agility work in the outfield. Manager Clint Hurdle said Frazier could start a Minor League rehab assignment later this week, and Tomczyk said that timeline is "still possible."
"We are still in the early stages of seeing how his body responds to [running and jogging], and we will keep moving him forward," Tomczyk said.
• Infielder David Freese (right hamstring strain) is "a little bit behind" Frazier, Tomczyk said. He is playing catch, hitting and jogging. He is eligible to come off the disabled list Saturday but realistically won't return then.
• Left-hander Antonio Bastardo (left quad strain) is playing catch on flat ground at the Pirate City complex in Bradenton, Fla. The Pirates on Friday will determine whether he is ready to throw off the mound.
• Pitching prospect Nick Kingham (ankle) is "going back through the innings-buildup progression" in extended Spring Training, Tomczyk said. When his arm is back at full strength, Kingham should join the Triple-A rotation.
Adam Berry has covered the Pirates for MLB.com since 2015. Follow him on Twitter and Facebook, read his blog and listen to his podcast. This story was not subject to the approval of Major League Baseball or its clubs.