Manfred weighs in on Orioles-Red Sox feud
Outcome of conference call with teams: Enough is enough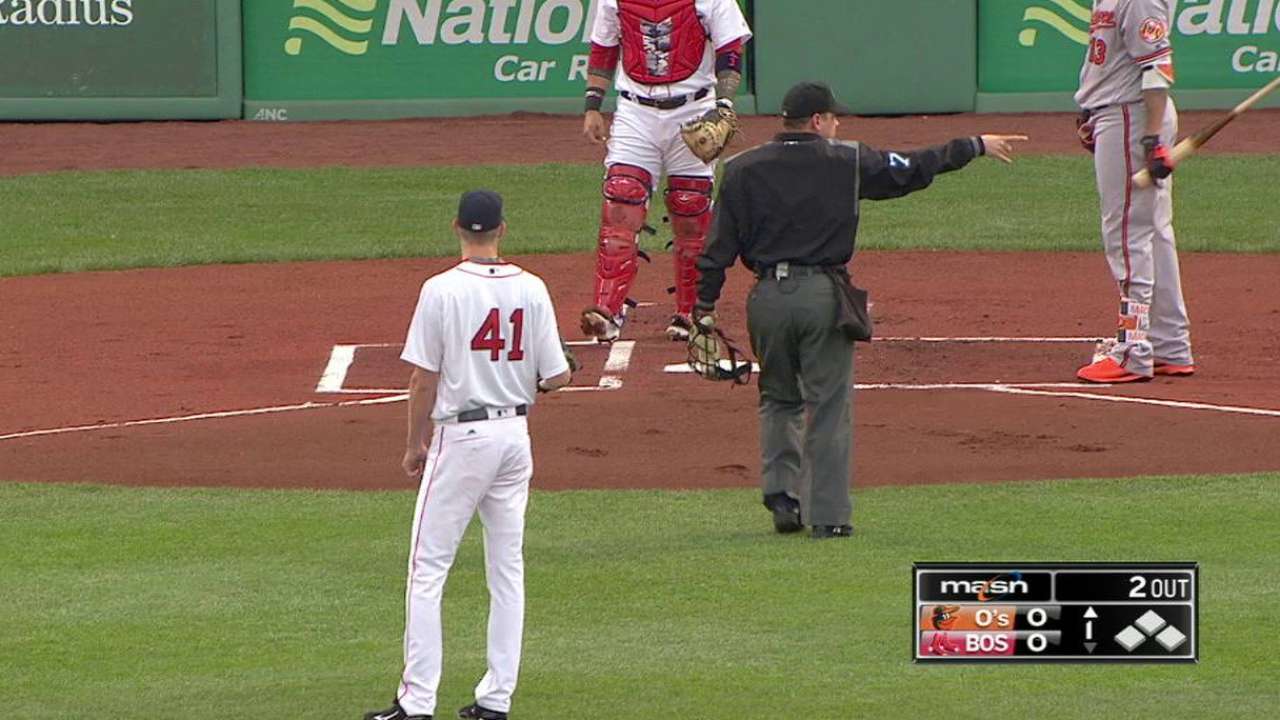 BOSTON -- The recent tensions between the Red Sox and Orioles reached the point that Commissioner Rob Manfred got involved on Wednesday, holding a conference call with both teams that included managers John Farrell and Buck Showalter.
"I guess the best way to describe it is to confirm there was a call that happened with both clubs to basically address the last two weeks, and to say 'enough is enough,'" said Farrell, manager of the Red Sox.
In the bottom of the second inning of the Red Sox's 4-2 win over the O's on Wednesday, yet another development unfolded. Orioles right-hander Kevin Gausman hit Red Sox shortstop Xander Bogaerts in the lower back with a 76.6 mph curveball and was immediately ejected by home-plate umpire Sam Holbrook.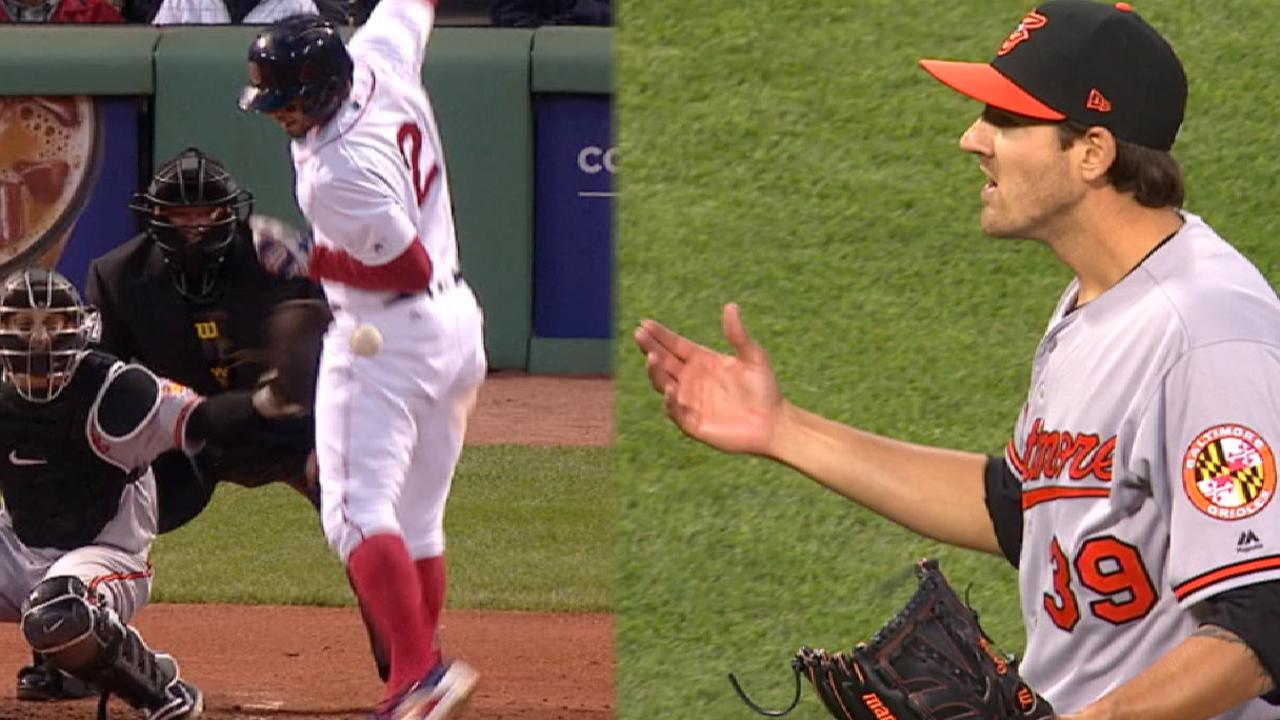 Gausman appeared to say to Holbrook, "You've got to be kidding me. It was a curveball."
But Holbrook was at the ready at the first sign of any possible escalation.
"Major League Baseball has obviously seen the tensions that have escalated between these two clubs as the rivalry has developed over the last couple of years," Orioles vice president of baseball operations Dan Duquette said before Wednesday's game. "And they've seen some behaviors in the last couple of series that they'd obviously like to see stopped."
Tuesday night, Red Sox ace Chris Sale threw a fastball behind Manny Machado, and warnings were immediately issued to both sides.
After Boston's 5-2 win over the Orioles, Machado went on a profanity-laced tirade to the media in which he accused Sale of throwing at him and criticized the Red Sox for their handling of the situation.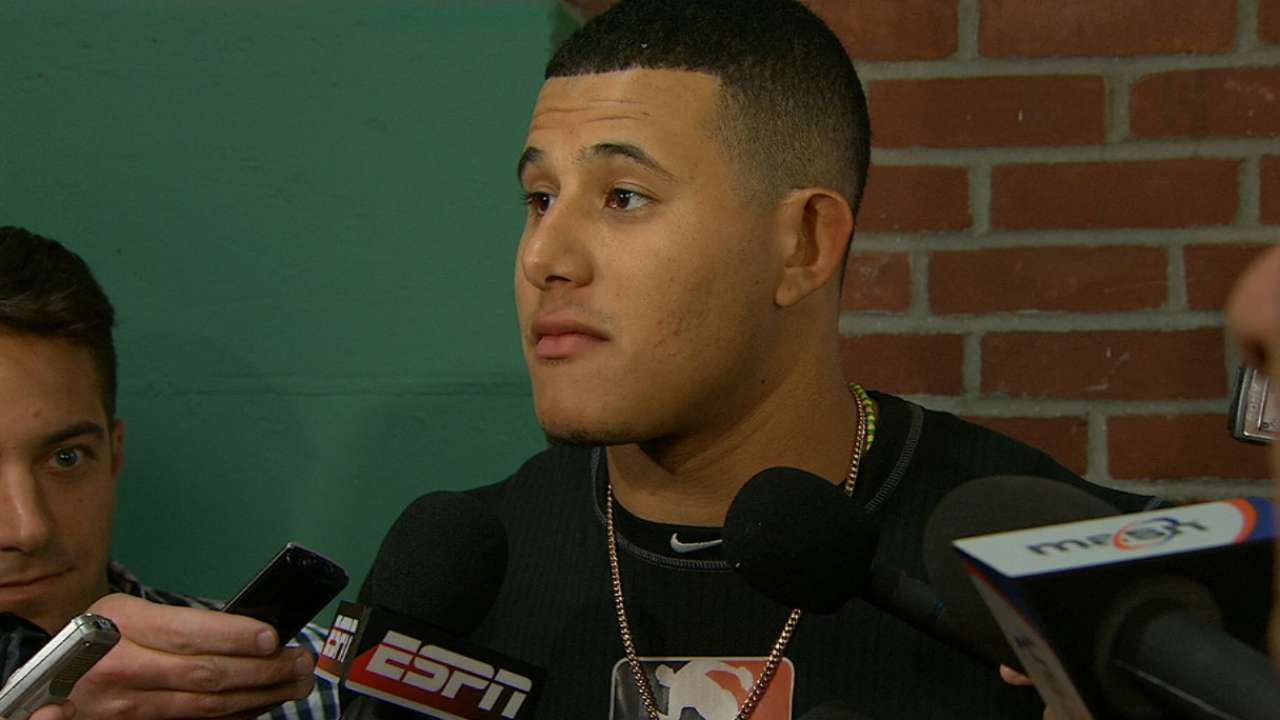 Ken Rosenthal of the MLB Network and FOXsports.com reported Wednesday that Sale could receive discipline from MLB for the pitch to Machado.
"At this point, I am unaware of what might come down or what might not come down," said Farrell. "During the call there was nothing specific to that end."
"The Commissioner's Office made it clear that they'd like to see the behavior stop," said Duquette. "Should they continue, they'll be dealt with, with a sanction."
Interestingly, Showalter contemplated taking Machado out of Tuesday's game after the brushback pitch by Sale.
"I took Manny down the runway there after the first inning because I was leaning towards taking him out of the game," Showalter said. "It was obvious that it didn't seem like he was going to be protected by the umpires in that situation, and I didn't trust them not to do it again. I had a good long talk with him.
"If he gets thrown out of the game or does something that gets him suspended, then they win. I just didn't want that to happen. Those are the type of things that I police and try to talk about, try to do. Those are important things."
The friction between the clubs started on April 21 at Camden Yards, when Machado injured Red Sox second baseman Dustin Pedroia on a hard slide into second base.
Though Pedroia went on record several times saying he didn't feel Machado was trying to injure him, Red Sox reliever Matt Barnes threw a pitch close to Machado's head area on April 23. Barnes received a four-game suspension.
"To me that's not acceptable when you throw at a guy's head," said Duquette. "It's just not acceptable under any circumstances. These guys should be able to come and do their job at the plate without having their livelihood threatened night in and night out. It's not good for any hitter in the league. Our guys, of course I'm concerned about our guys, we can't have the pitchers in this league throwing at the hitters. It doesn't work."
In Monday night's opener of the current four-game series between the clubs, Orioles right-hander Dylan Bundy hit Red Sox right fielder Mookie Betts on the left leg with a fastball.
Sale's pitch behind Machado certainly could have been construed as sticking up for Betts.
"I mean, you like it when anybody sticks up for your team," said Betts. "So, like I said, we're 25 guys going against their 25 guys and we have to have each other's back no matter what. It's just kind of my perspective on it."
Betts hopes the situation doesn't fester any longer.
"You would say it's over," Betts said. "I mean it's gotta be over. Gotta go out and play the game. The most important thing is to win, you know what takes place in between is whatever takes place. But as long as we win at the end, that's all that really matters."
Ian Browne has covered the Red Sox for MLB.com since 2002. Follow him on Twitter @IanMBrowne and Facebook. This story was not subject to the approval of Major League Baseball or its clubs.