K-Rod tweaks repertoire, good results follow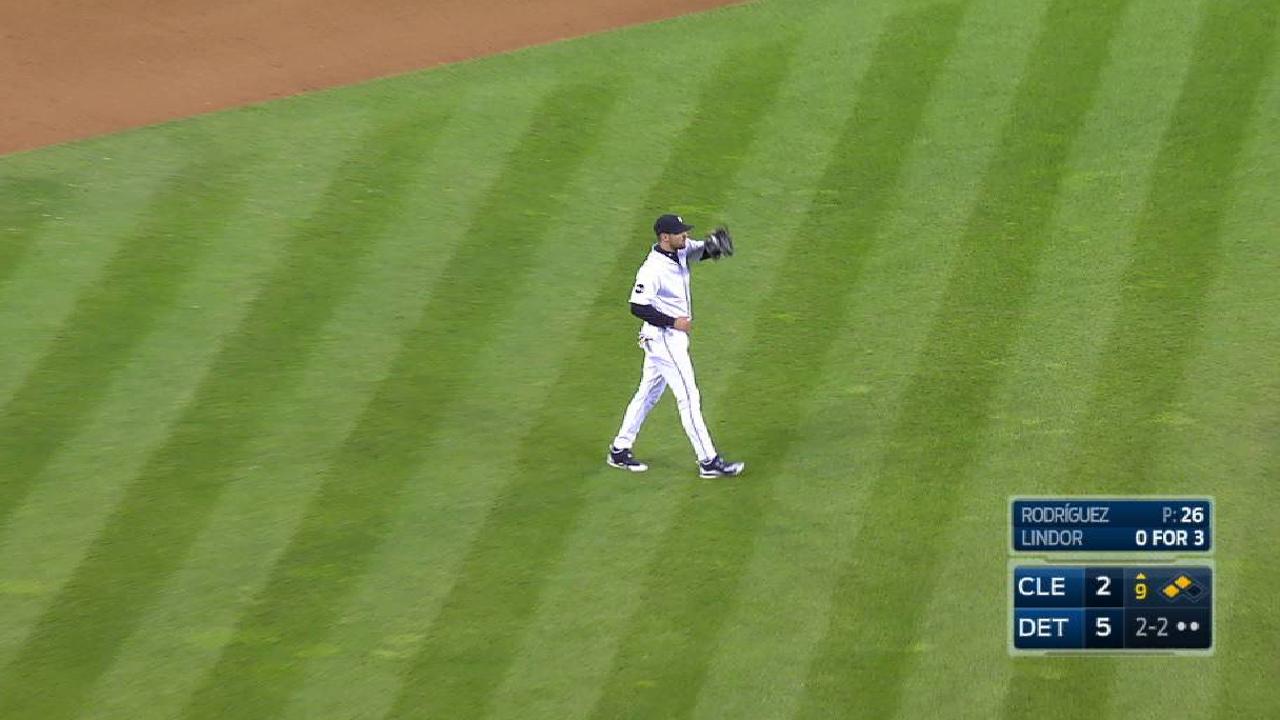 DETROIT -- No one said veteran pitchers can't learn a new trick or two. A month into this season, Tigers closer Francisco Rodriguez has tweaked his arsenal with increased use of his fastball and a slower-than-usual curveball to help take hitters off his notoriously effective out pitch, his changeup.
Rodriguez's curveball has been thrown at an average speed of 74.3 mph this season, according to Statcast™, down from 76 mph a year ago. That doesn't seem like a big jump, and Detroit manager Brad Ausmus and catcher Alex Avila both said they haven't noticed a drop in velocity on the curveball.
But in 2007, the first year advanced pitch tracking data was recorded, Rodriguez's curveball averaged 81.3 mph. It's slowly descended in the years since.
"To be honest with you, I really don't care how slow or hard it is, just as long as it has the action we want," Avila said. "Probably just coincidence."
Whether it's a coincidence or not, it's working. Though the sample size is small -- just 21 pitches -- K-Rod has allowed just one hit on the curveball while striking out two. It's possible that the slower curveball has helped him account for a dipping velocity on his fastball, which has gone from a 94.4 mph average in 2007 to 88.2 mph this year.
Through the years, K-Rod's curveball and fastball have been the sideshows for his changeup, which has held opponents to a .146 batting average since 2007. But this year, hitters are 6-for-23 (.261) on the changeup with three doubles, which is already as many doubles or more than he's allowed via the changeup in four of the previous five seasons.
Avila said he and Rodriguez have talked about using the fastball and curveball more this year to prevent hitters from sitting on his best pitch. The curveball is still used somewhat sparingly, but there's been a noticeable increase in fastballs to keep batters guessing.
In his most recent outing, when Rodriguez earned the save in Tuesday's 5-2 win over Cleveland, he threw 17 fastballs compared to just six changeups and three curves. In one at-bat, an eight-pitch walk to Carlos Santana, Rodriguez threw all fastballs.
As MLB's active leader in saves with 437, Rodriguez has been no stranger to success through his 16-year career. But while his changeup has been less effective early this year than ever before, the idea is that a commitment to multiple pitches will help it return to its typical dominance.
"When you got three pitches to worry about," Avila said, "that's to your advantage."
Jordan Horrobin is a reporter for MLB.com based in Detroit. This story was not subject to the approval of Major League Baseball or its clubs.