1st pro soccer match at Comerica set for July
Tigers' stadium set for PSG, Roma to play as part of International Champions Cup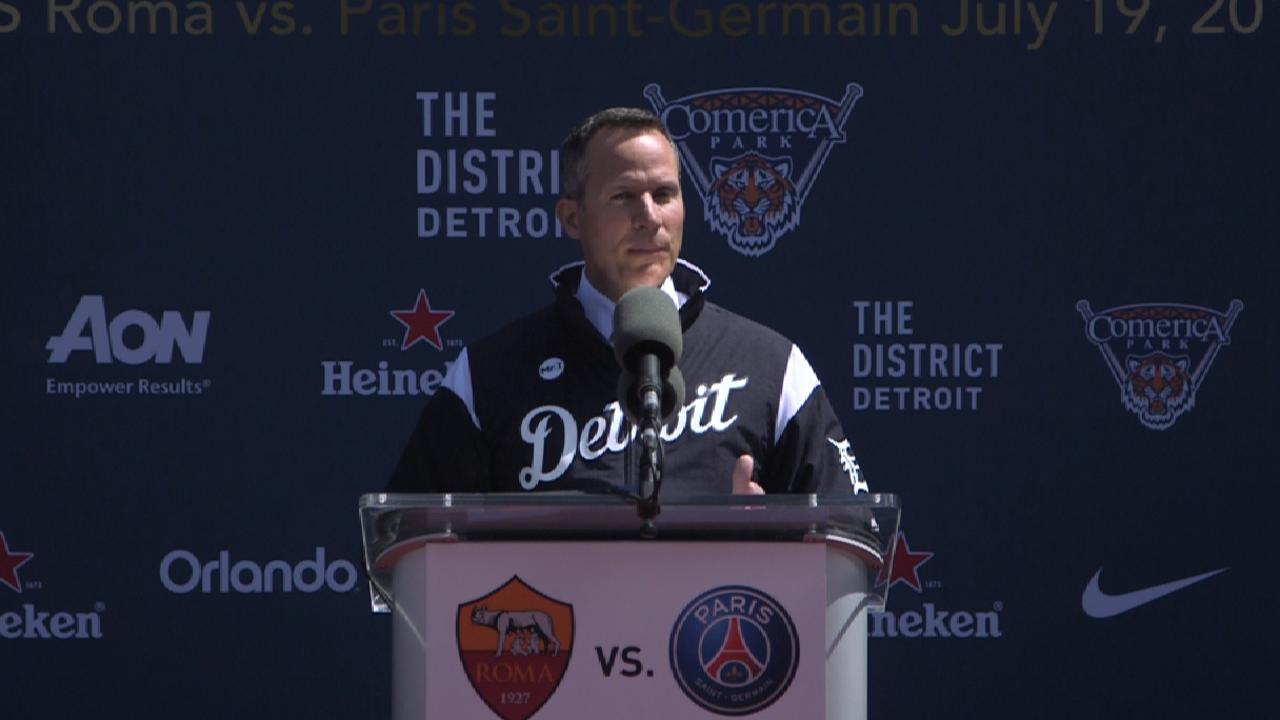 DETROIT -- Comerica Park has been the home field of the Tigers since 2000. For one night in July, it will become the pitch for two of Europe's most famous soccer clubs.
Paris Saint-Germain F.C. and AS Roma, former league champions and competitors for titles in France and Italy this year, will meet in the first professional soccer match held at Comerica Park. The preseason contest, part of the International Champions Cup tour that brings top European clubs to North America, will take place on July 19 at 8 p.m. ET.
"We're going through a period in our history that will be looked upon as a very special time in Detroit history," said Chris Ilitch, president and CEO of Ilitch Holdings, Inc. "And to have these two worldwide soccer clubs come and play at our community gathering place, Comerica Park -- right in the heart of our city, right in the heart of the District Detroit -- is very exciting, to be able to showcase all of positive things happening in our city to the world. It's a very exciting day to us."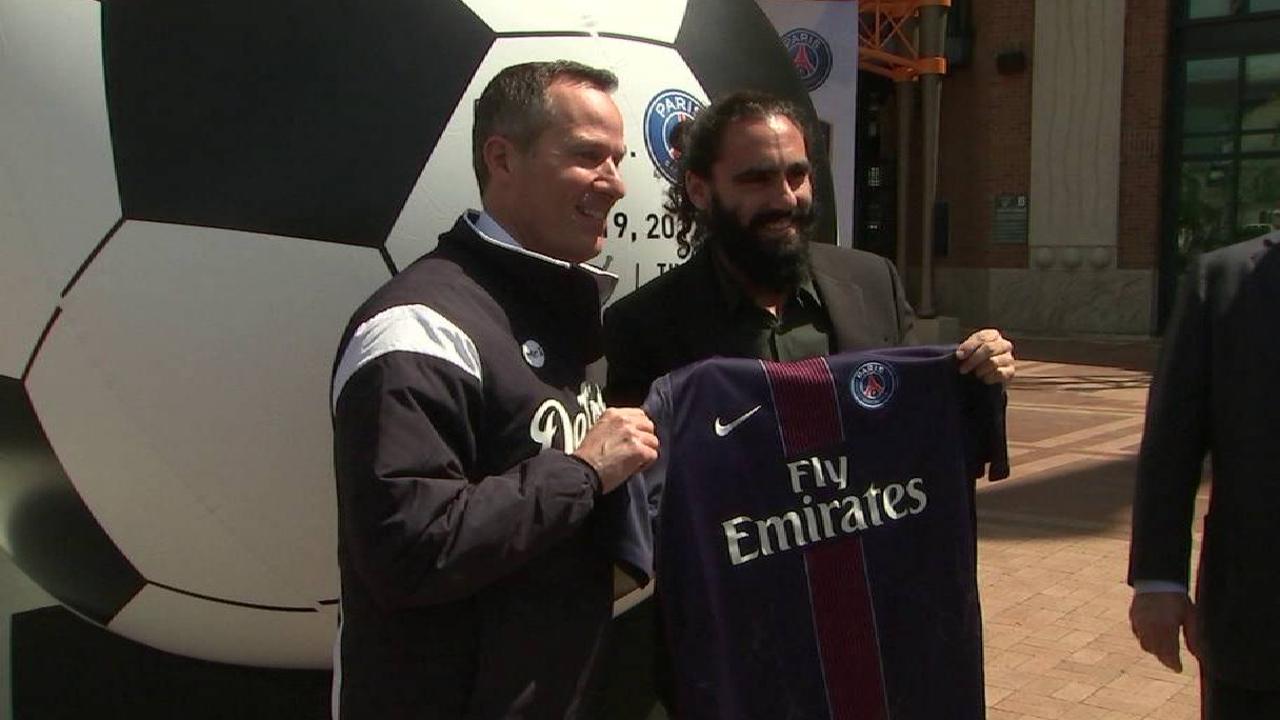 The International Champions Cup held two matches the past few summers at Michigan Stadium in Ann Arbor, drawing more than 100,000 fans for Chelsea and Real Madrid last year and setting a U.S. soccer attendance record for Manchester United-Real Madrid in 2014. This year, organizers -- including the Detroit-born Stephen Ross -- looked to bring a match into the city.
"We know it's a great soccer state," said Charlie Stillitano, chairman of Relevent Sports, which runs the event. "But to get into the heart of the city and be part of what's happening here in Detroit, we felt was very important."
Comerica Park is not the first MLB ballpark to host a match. Yankee Stadium serves as the home of NYCFC in Major League Soccer, while Fenway Park and Busch Stadium have hosted exhibitions. Detroit will lean on that history for how to prepare the field and market the seats. But the location and market also make this match unique.
"It's great for these teams to come here and see this city," said Stillitano, who was part of the USA World Cup effort that brought matches to the Pontiac Silverdome in 1994. "You're talking about three of the most famous cities in the world that have done things for so much of our western civilization. You're talking about Rome, Paris and Detroit. You really can put them in the same sentence for what they've given our society. And it's great to be back here and see Detroit back on its feet."
The setup, Stillitano said, takes about two days, with one day to tear it down afterward. The ICC will bring in its own field for the event, but the pitcher's mound will have to be torn down so that the field can be laid from left field to first base. The Tigers are on the road for the entire week of the event.
AS Roma, currently second in Italy's Serie A, already has ties to Detroit through its youth soccer academy program.
Juan Pablo Sorin, a former PSG midfielder who works with the club, is familiar with Detroit through its rich music history, and he hopes to learn more. The Argentinian also knows about fellow South American athlete Miguel Cabrera.
"I'm a fan of baseball," Sorin said through a translator. "I've always found it interesting, how big the stadiums are, how the games are nine innings and can extend to extra innings. But overall, what's interesting to me is knowing the culture."
Likewise, the Tigers have several soccer fans. Cabrera sometimes wears a Lionel Messi Barcelona jersey during workouts, and he met the team a couple of years ago while on vacation in Spain. Victor Martinez is a huge soccer fan, following Real Madrid in Spain as well as Bayern Munich in Germany.
Tickets for the match will start at $25 and go on sale May 16. For more information, visit tigers.com/soccer.
Jason Beck has covered the Tigers for MLB.com since 2002. Read Beck's Blog, follow him on Twitter @beckjason and Facebook. This story was not subject to the approval of Major League Baseball or its clubs.