MLB.com Columnist
Mike Petriello
SunTrust Park may not be new launching pad just yet
23 homers in first nine home games is up from 14 in 2016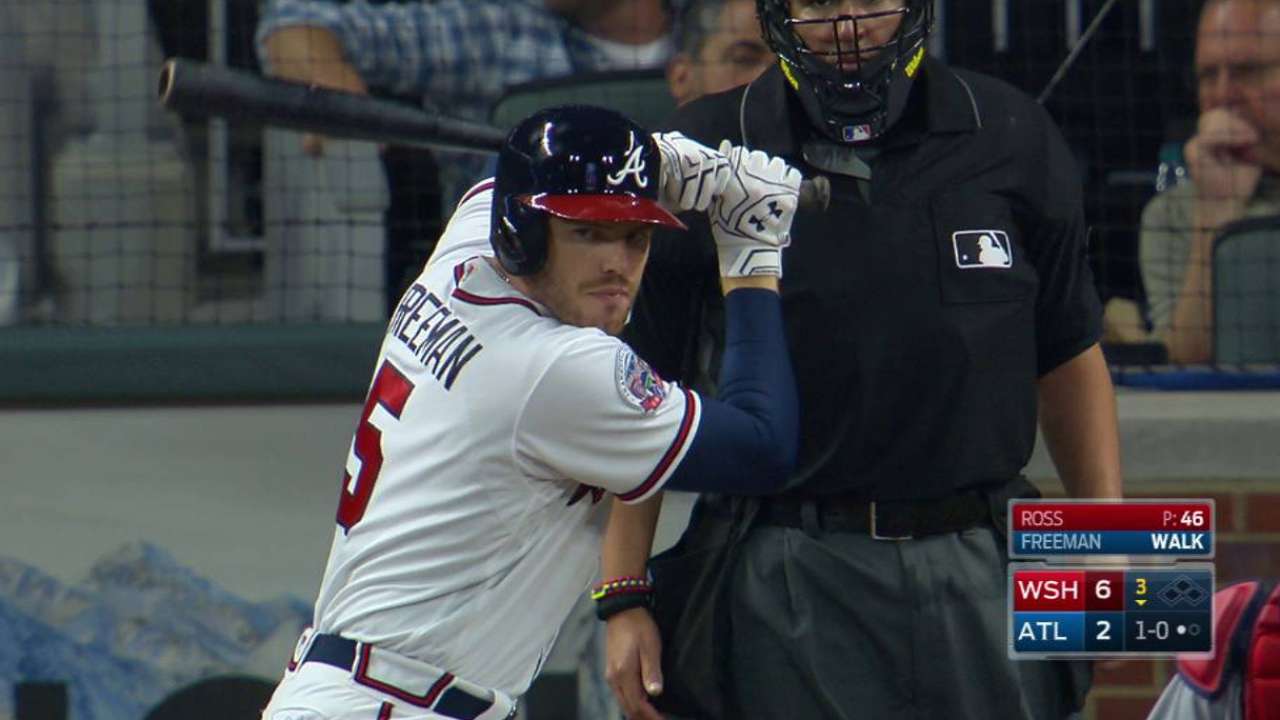 Nine games into the life of Atlanta's new SunTrust Park, it certainly feels like it might be a "launching pad" reminiscent of the old Atlanta-Fulton County Stadium. Freddie Freeman has enjoyed his new home, anyway, hitting an obscene .481/.622/1.074 in the home whites so far. But did the move to Cobb County really make such a huge difference? Is this suddenly "Coors Lite," as some have taken to calling it? Let's take a look into the Statcast™ data to see what we can find.
It's certainly easy to understand why it feels like the ball is flying out of the park. Through nine home dates, the Braves and their opponents have hit 23 homers, or 2.5 per game. Through the first nine games last year at Turner Field, the Braves and their opponents hit 14 homers, or just 1.5 per game. That's an enormous difference, and one worth noting.
Of course, there's a few obvious flaws in that comparison which makes it something less than apples to apples. Most obviously, the dimensions of the two stadiums aren't the same, particularly in right field. Second, home runs are flying out of all parks more often this year than last, not just Atlanta. In addition, last year's April Braves were starting Gordon Beckham and Hector Olivera, not Brandon Phillips and Matt Kemp, among other changes. (Not to mention that the early-season version of Freeman we're seeing now is much different than last year, when it took him until June 13 to hit 10 homers -- and six of those 10 this year have come on the road.)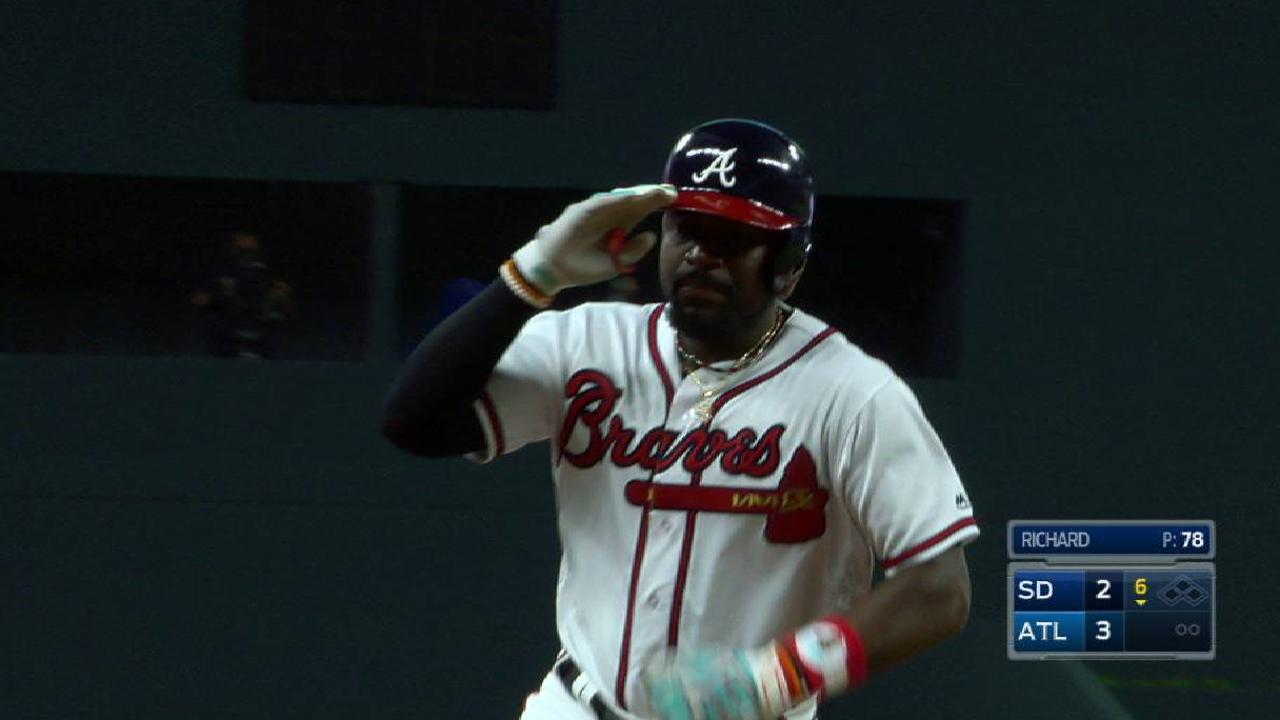 So we need to do a little better than that, and fortunately for us, we have the ability to do so. Let's ask two questions that will help us get to the bottom of this (with the obvious caveat that nine games is a terribly small sample size; Freeman won't hit .481 at home all year, of course). First, how many of those 23 homers seemed surprising based on how hard they were hit? And second, can we see if other types of batted balls are flying further than expected?
Let's start with the homers. The Braves have hit nine of the 23 (one per game), and their pitchers have allowed 14 (1.5 per game). On the road, Atlanta has hit 1.6 homers per game and allowed 1.2 dingers per game. So Braves hitters have actually hit more homers per game away from Georgia, while pitchers have allowed slightly more at home. Last year, through nine home games, they had hit only three (0.3 per game), and their pitchers had allowed 11 (1.2 per game). So right away, the immediate difference seems to be that the Braves simply have better hitters this year, which makes sense given that last year's Atlanta offense got off to a historically weak start.
But let's actually look at the 23 homers based on the quality of contact (meaning exit velocity and launch angle). When we think about parks that are friendly to offense, like in Colorado and Arizona, it's not necessarily that the ball is simply hit harder there, it's that environmental effects like altitude and humidity makes the ball go farther than expected. (The 86.2 mph average exit velocity in Atlanta is only 22nd highest, anyway.)
So if we look at the numbers on this year's 23 homers, we can get a good idea if these are crushed taters that would go out nearly anywhere, or if the park did actually help them get over the fence. By comparing exit velocity and launch angle numbers across the Statcast™ era, we can see how often these balls leave the yard.
For example, this Bryce Harper grand slam, based on his 106.2 mph exit velocity and 33 degree launch angle, is a hit 86 percent of the time, and 94 percent of those hits are homers. This ball goes out of basically every park.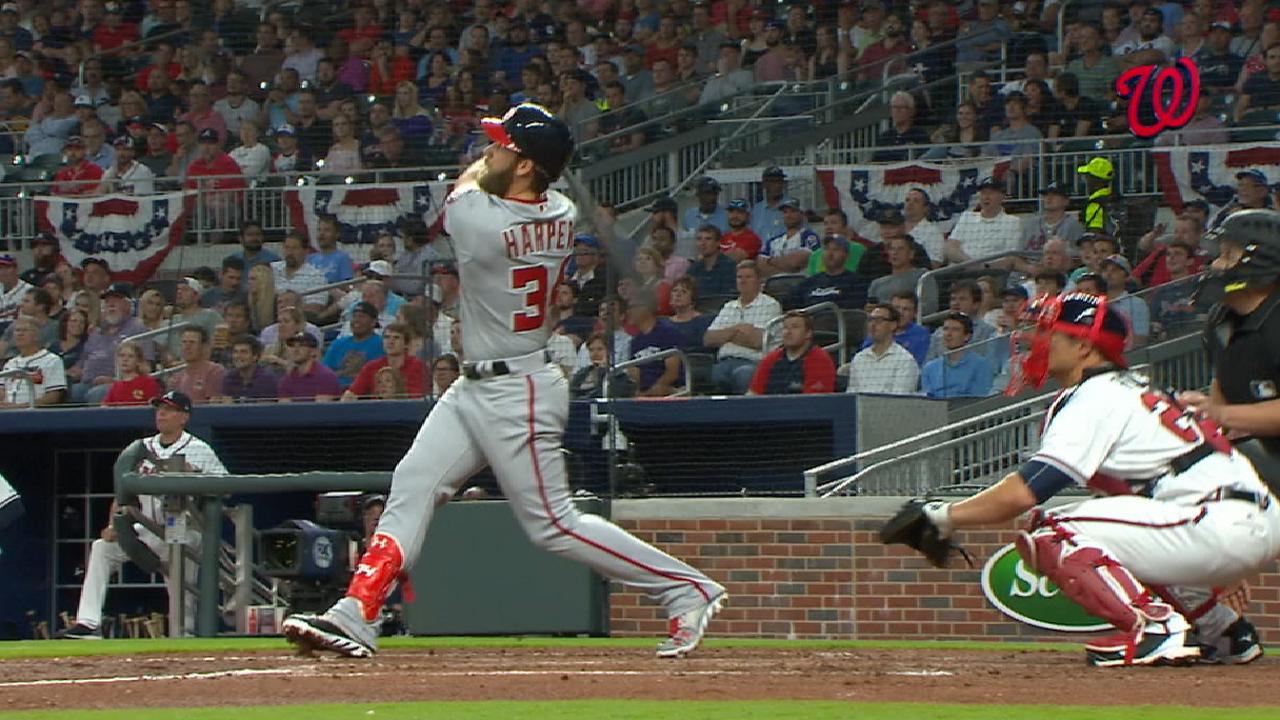 You might say the same about the shot Freeman hit on Tuesday night, which was hit at 107.2 mph and a 34 degree launch angle. That's a hit 86 percent of the time; 93 percent of those hits are dingers. No help from any park is needed here.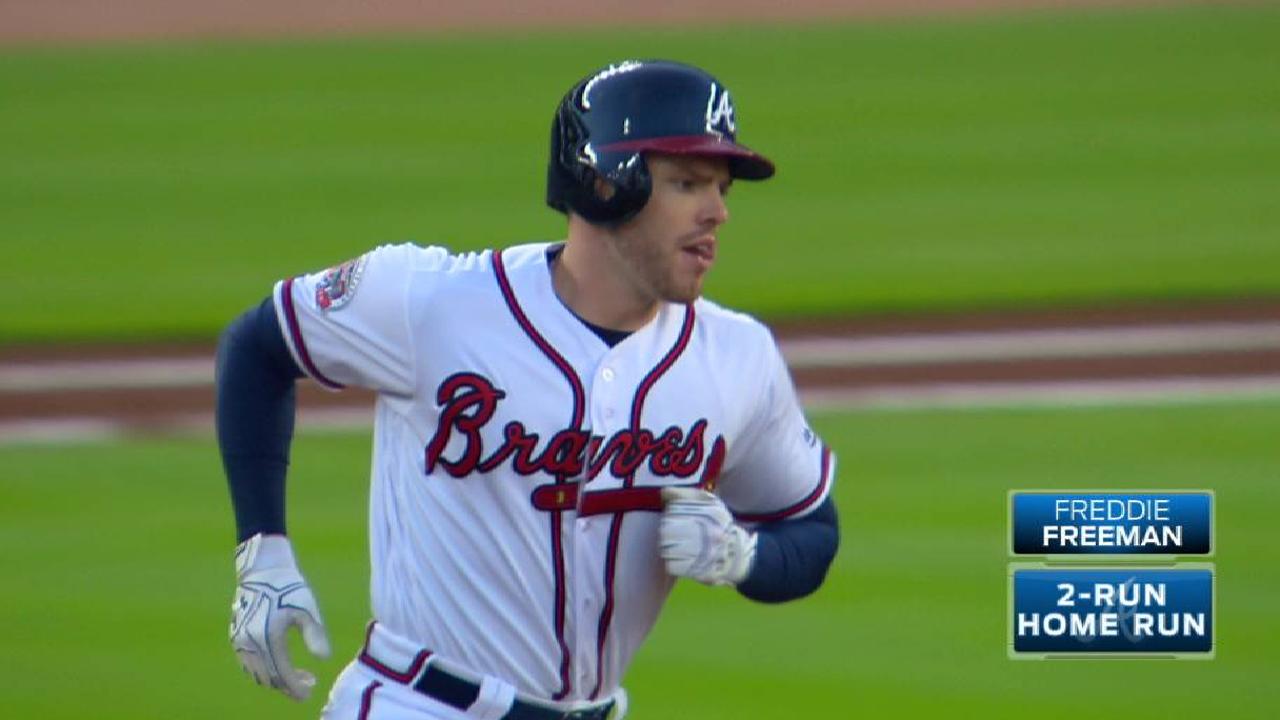 For the most part, this is true up and down the list. Twenty of the 23 homers came on batted balls that are hits more than 50 percent of the time. Fifteen are homers at least half the time they're hits, and 19 are homers at least 40 percent of the time they're hits. Most of these balls are being crushed, and R.A. Dickey alone has allowed five home dingers, four of which were hit at 103 mph or harder. (While Julio Teheran has allowed all three of his homers at home, Mike Foltynewicz has allowed all three on the road, so it's not affecting all pitchers equally.)
If there are unexpected homers, it's probably these two, by Ender Inciarte and Jose Reyes, each on batted balls that are hits fewer than 20 percent of the time and homers less than that. Inciarte's was hit at 99 mph and a 40 degree launch angle, but it carried out to left field for a projected 354 feet. Over the past three seasons, the Major League average on balls hit between 98-100 mph at an angle of 39-41 is… 351 feet.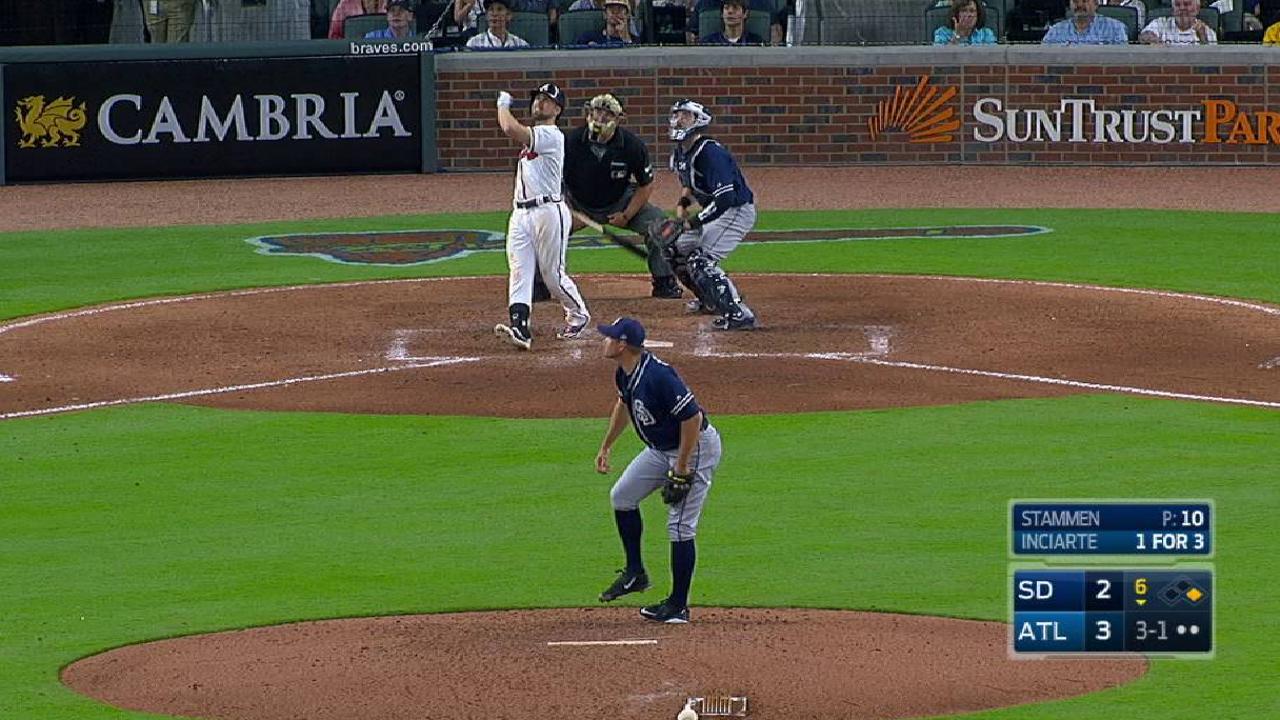 That distance of 354 may not have been enough to get out at the old Turner Field, but it was here at the shorter fence in SunTrust. What about the Reyes homer? That was hit at 95.9 mph and a 35 degree launch angle, going a projected 357 feet. If we do the same query, checking average distance on 94-96 mph at an angle of 34-36 degrees, we get.. 351 feet. Again, nothing unexpected there.
The one that really does stand out is the one Michael Conforto hit earlier this week. At an exit velocity of 100 mph and a launch angle of 26 degrees, he hit a ball that's a hit 65 percent of the time, so it didn't feel unfair when it soared 413 feet to dead center. That said, if we look at balls hit 99-101 mph between 25-27 degrees, we get an average of only 384 feet. It's only data point, and we're not accounting for wind, but it is the one that really stands out.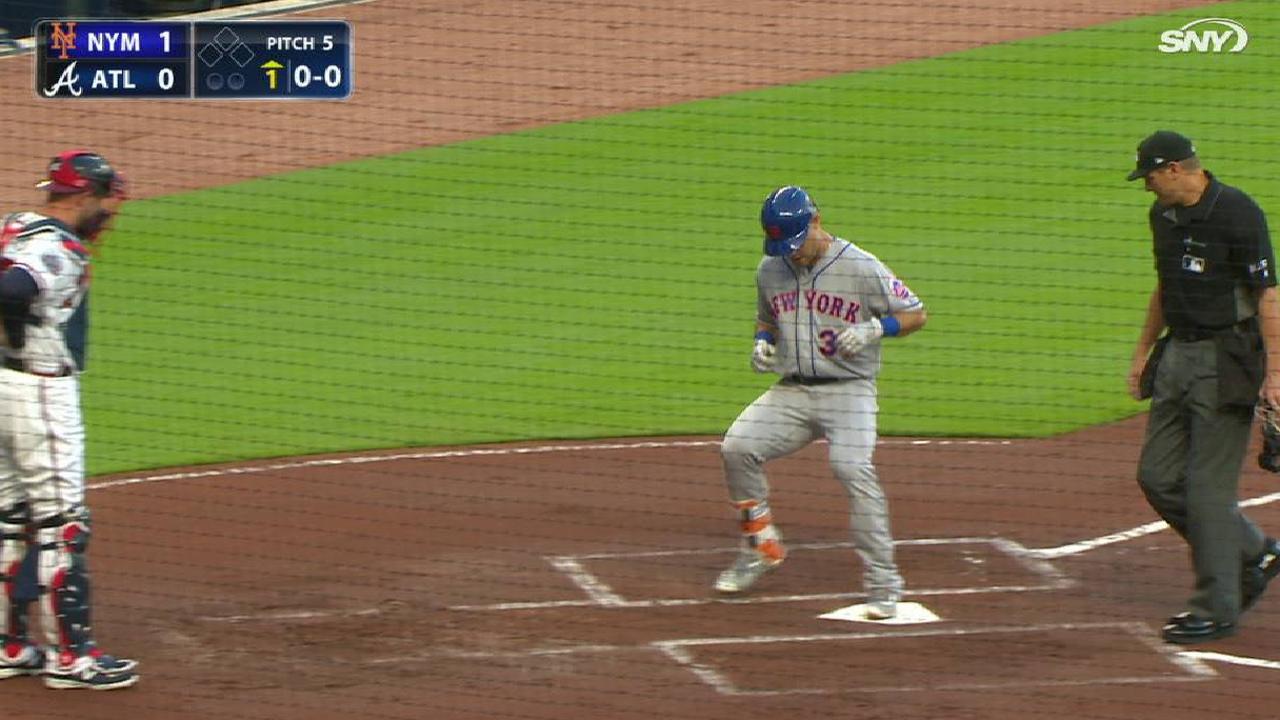 Let's get back to our second question. Are non-homer batted balls going further than they are at other parks? There are a million ways to look at this, but in the interest of brevity, we'll choose just one. Let's look at all batted balls this year hit more than 95 mph with a launch angle between 20 and 35 degrees. This is the real sweet spot for hitters; 83 percent of homers this year have come in that range, and the Major League average is .640. When hit like this, does the ball fly further in Atlanta? Not really:
Thus far in 2017, three of the four parks to see the most distance in this range are very expected -- Texas, Colorado, Arizona. (San Diego stands out; then again, it's not the pitcher's park it once was.) SunTrust Park does seem to be getting more distance on the same batted balls than Turner Field did last April, though again, last April's Braves just could not hit.
So is the ball flying out of SunTrust in ways it doesn't elsewhere? If it feels that way, it might be because it's almost certainly more of a hitter's park than Turner Field was, and because the Braves have a better lineup to take advantage of it. But so far, it doesn't seem to be an outlier or a hitter's paradise. It has, of course, been only nine games.
Mike Petriello is an analyst for MLB.com and the host of the Statcast podcast. He has previously written for ESPN Insider and FanGraphs. This story was not subject to the approval of Major League Baseball or its clubs.