Blister sends Marlins' Volquez to DL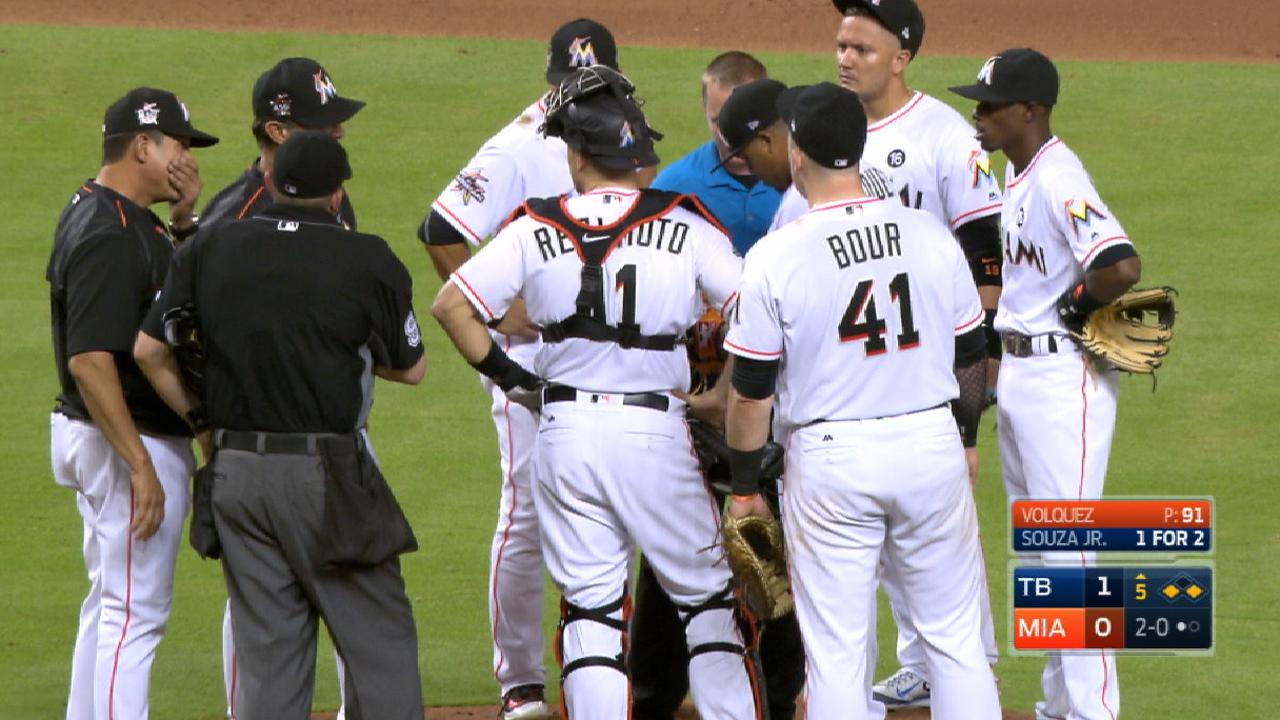 ST. PETERSBURG -- The Marlins officially placed starter Edinson Volquez on the 10-day disabled list before Wednesday's game against the Rays.

The veteran right-hander left Tuesday's start against Tampa Bay with one out in the fifth inning after he developed a blister on the thumb of his pitching hand. Before exiting, Volquez had nine strikeouts and a career-high eight walks. Volquez is 0-4 with a 4.71 ERA in six starts this season.

"The blister is pretty substantial and I think our biggest concern is trying to make sure the next time he goes out there, it's not an inning in and this thing blows up and then we are screwing up the whole thing," Marlins manager Don Mattingly said. "We want to give him a chance to make sure that this thing is gone."

Because of an off-day on May 11, the Marlins' Opening Day starter will only miss one scheduled start.

Mattingly did not name a replacement starter but said that long reliever Jose Urena could make a spot start for Miami, depending on how the Minor League rotation for Triple-A New Orleans lines up.

"It depends on what happens the next few days with the needs we have out of the bullpen," Mattingly said.

Miami recalled right-handed reliever Nick Wittgren from Triple-A to fill Volquez's spot on the roster in the short term. This will be Wittgren's second stint with the Marlins this season. He has allowed two earned runs in 6 2/3 innings with the big league club. He has seven strikeouts and two walks in that span.

"The guy we are calling up, we feel he is a Major League pitcher that is Major League ready," Mattingly said.

Flash gets day off
Marlins second baseman Dee Gordon got an extra day off on Wednesday. It was a scheduled day off for Gordon and not related to being hit in the wrist by a pitch on Tuesday night.

"He's OK. This was more of a day to keep him fresh and keep [Miguel Rojas] in the lineup with the lefty [Blake Snell pitching for Tampa Bay]," Mattingly said. "He's been swinging the bat good. We just want to keep that going."

Gordon is batting .286 with two triples and seven stolen bases this season.
Scott Butherus is a contributor to MLB.com based in St. Petersburg and covered the Marlins on Wednesday. This story was not subject to the approval of Major League Baseball or its clubs.