Friars club: Padres powering up HR charts
Solarte, Schimpf go back-to-back to continue recent surge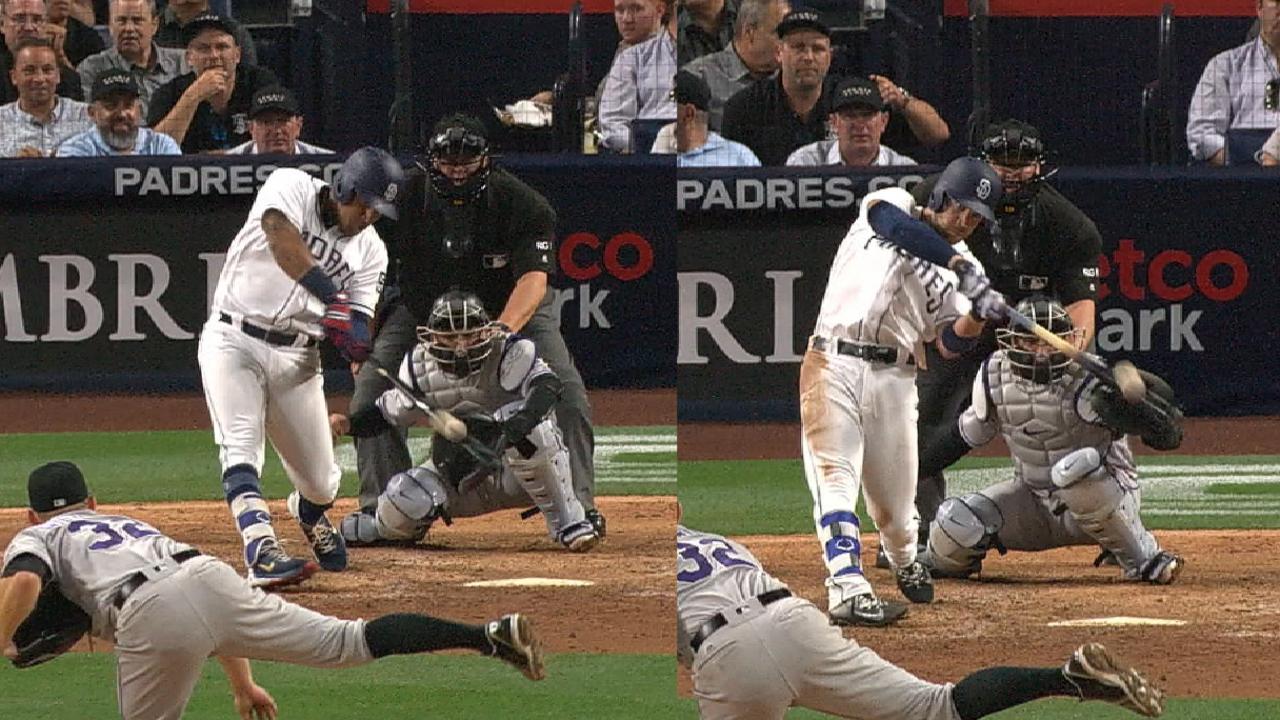 SAN DIEGO -- The Padres slugged their way to another win Tuesday night, this time a 6-2 victory over Bud Black and the Rockies. It was their third consecutive win and the third straight game in which they've hit multiple home runs in the sixth inning or later.
To fans in San Diego, it might seem a bit strange. After all, this is a baseball city that's been far kinder to pitchers than hitters over the years.
But the 2017 edition of the Padres is very much a power-hitting ballclub. They showed it again with back-to-back homers from Yangervis Solarte and Ryan Schimpf in the sixth.
It's been a quarter-century since San Diego has finished in the Majors' top 10 in home runs. Through 28 games this season, Padres hitters have left the yard 37 times -- good enough for sixth in baseball.
A month into the season, the Padres are on a 214-homer pace -- which would blow away last season's franchise record of 177.
"There are guys in that lineup, three down through seven, that can hit 20 each, maybe more," said Padres manager Andy Green. "That's a realistic expectation for some of those guys. You're looking at five guys in the lineup that have hit 20 home runs, that have the capability to do so. Yeah, it's a home-run-hitting team at times."
The back-to-back taters from Schimpf and Solarte chased Rockies starter Tyler Chatwood and capped a five-run rally.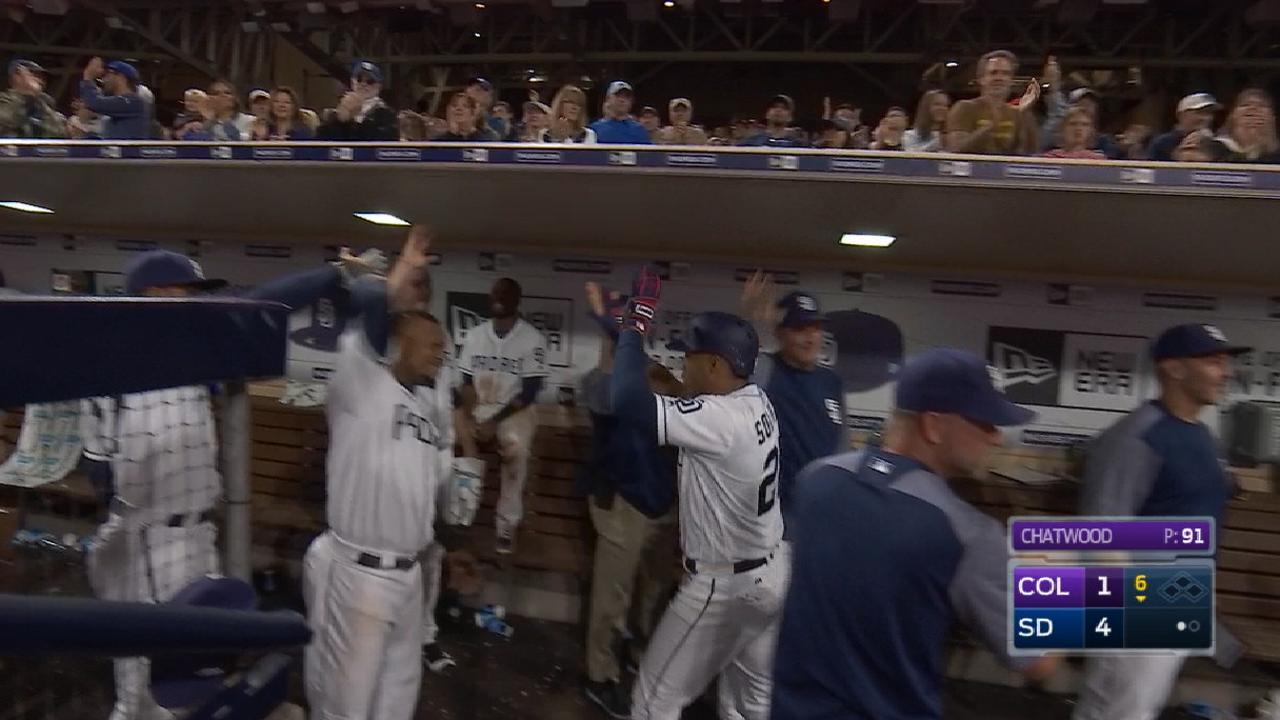 With his moonshot onto the right-center-field deck, Schimpf tied Wil Myers for the team lead with seven dingers. Austin Hedges (six) and Hunter Renfroe (five) are close behind.
"I love it, especially since we may not be that big, size-wise," Solarte said through a team interpreter. "We're showing people we have some power. That's the fun of it. People might not necessarily believe it, but we're showing them that they should believe it, that nothing's impossible. We don't necessarily have the big-name stars of other teams. But as a group we're able to show that we can do these things, that we do have that power."
It's been a while since any Padres team has showcased this level of pop. In the past 25 seasons, they've finished in the top half of the Majors in home runs only three times -- 14th in 2007, 13th in 1998 and 14th in '93.
The Padres have only cracked the top 10 in dingers twice in their existence -- most recently 1992, when Fred McGriff mashed 35 and Gary Sheffield tacked on 33. They finished ninth in baseball that year. In 1970, their second season, they finished sixth.
There's reason to believe this club is on par, power-wise, with those two Padres teams.
"We have a home run at any spot in the lineup," Myers said. "That's dangerous for any team pitching to us. We all know that. We know we're one swing away from getting back into any game."
Of course, there are plenty of areas in which the Padres need to improve on offense. First and foremost, they've struggled to reach base this season, doing so at a .284 clip, which ranks 29th in the Majors.
In Green's eyes, there's room for improvement on the power front, so long as the Padres can improve their plate discipline as well.
"The more we force pitchers into the strike zone, the more home runs we're going to hit," Green said. "Patience, taking walks, leads to good pitches to drive out of the ballpark."
AJ Cassavell covers the Padres for MLB.com. Follow him on Twitter @ajcassavell. This story was not subject to the approval of Major League Baseball or its clubs.