Turning Points: Gonzalez's slam lifts Astros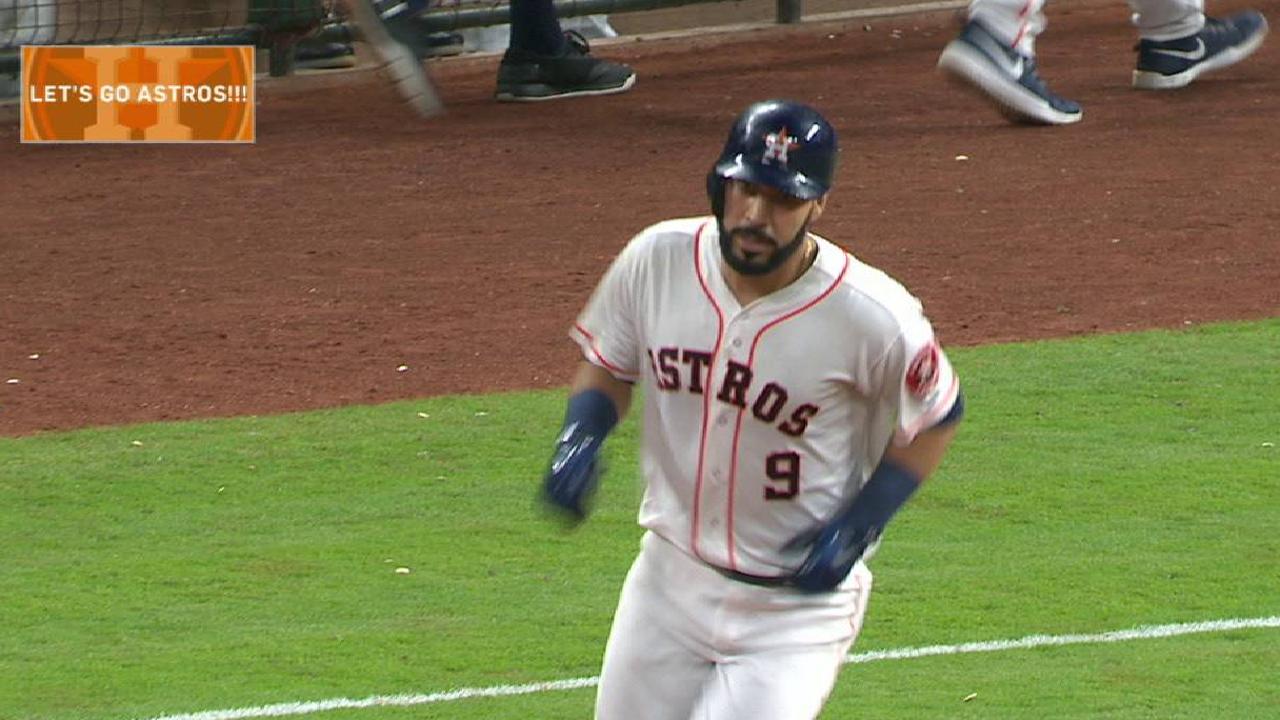 Every game has a turning point, where one team takes a big leap toward victory, whether it's a towering home run, a squeeze bunt, a bases-loaded strikeout or a run-saving catch.
Thanks to a metric called win expectancy, we can attach numbers to these swings in fortune. Win expectancy, expressed as a percentage, shows a team's chances of victory at a particular point in time. This is based on historical data showing how clubs have fared in different situations, based on factors such as the score, the inning, how many outs there are and which bases are occupied.
Using win expectancy as a guide, here is a look at three plays that served as turning points in Tuesday's games:
Marwin's well-placed slam
Game: Rangers at Astros
Situation: With Houston trailing, 5-3, in the eighth inning, Marwin Gonzalez faced Texas reliever Keone Kela, who was trying to get out of a two-out, bases-loaded jam.
Result: Kela caught too much of the zone with a 95.2-mph fastball, and Gonzalez lifted a high fly ball that just managed to stay fair while clearing the wall down the right-field line. Gonzalez's second homer of the game, a grand slam, turned a two-run deficit into a two-run lead, and Houston held on to win, 8-7.
Win expectancy for Astros: +71.1 percentage points (22.2% to 93.3%)
Facts to know:
• With a 94.2-mph exit velocity and 41-degree launch angle, Gonzalez's drive had just a 4-percent hit probability, according to Statcast™ . Similar batted balls have gone for home runs just 3 percent of the time.
• Gonzalez's blast had the highest launch angle on a home run by the Astros this season.
They said it: Gonzalez: "First thing I was wishing it would stay fair. It was almost foul. It was an unbelievable moment to be able to come back in the game like that. We have been doing that the whole year, and hopefully we can keep doing that and we're going to be in a good spot for the playoffs."
Schwarber breaks out
Game: Phillies at Cubs
Situation: Kyle Schwarber faced Phillies starter Jeremy Hellickson in a 2-2 game, with runners on first and second and two outs in the fourth inning.
Result: Schwarber entered the day batting just .196/.322/.330 this season, but in a 2-0 count, he golfed a sizzling liner over the right-field wall for a go-ahead, three-run shot that spurred an 8-3 victory.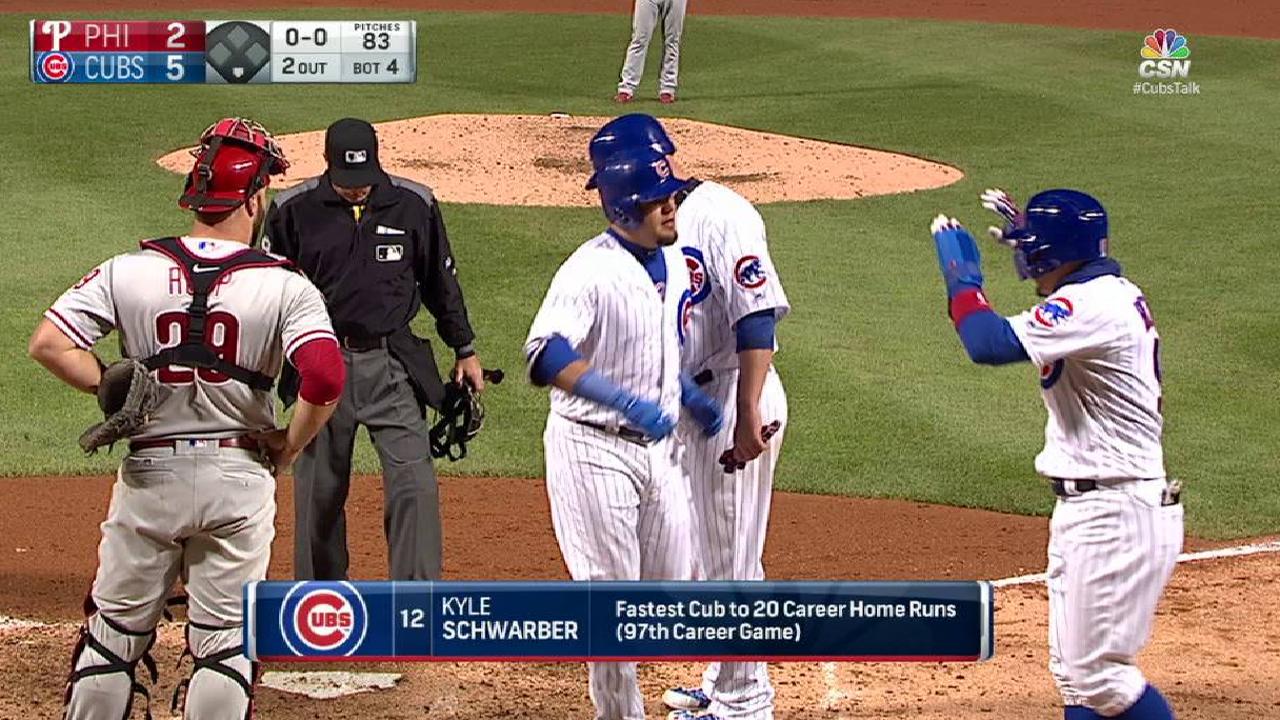 Win expectancy for Cubs: +29.5 percentage points (55.2% to 84.7%)
Facts to know:
• The homer snapped a streak of nine consecutive games without an extra-base hit for Schwarber, who was 4-for-36 over that span.
• That was the last of three homers the Cubs hit off Hellickson, who had allowed a total of two during his first five starts.
They said it: Schwarber: "I feel like I'm right there; I really do. Obviously, I just have to stick with the process. I can't be outcome-based to where you focus on just numbers. That's why it's called 'average.' It's an accumulation of something over the course of time."
Go, go, Margot
Game: Rockies at Padres
Situation: Colorado's Tyler Chatwood carried a no-hitter into the sixth inning, when he issued a leadoff walk to counterpart Trevor Cahill to bring rookie Manuel Margot to the plate in a game San Diego trailed, 1-0.
Result: Margot ripped a low liner to center field, where the Rockies' Charlie Blackmon tried to make a sliding catch. Instead, the ball got past him and rolled to the center-field wall, scoring Cahill on what was ruled an RBI triple. San Diego went on to score five times in the inning and won, 6-2.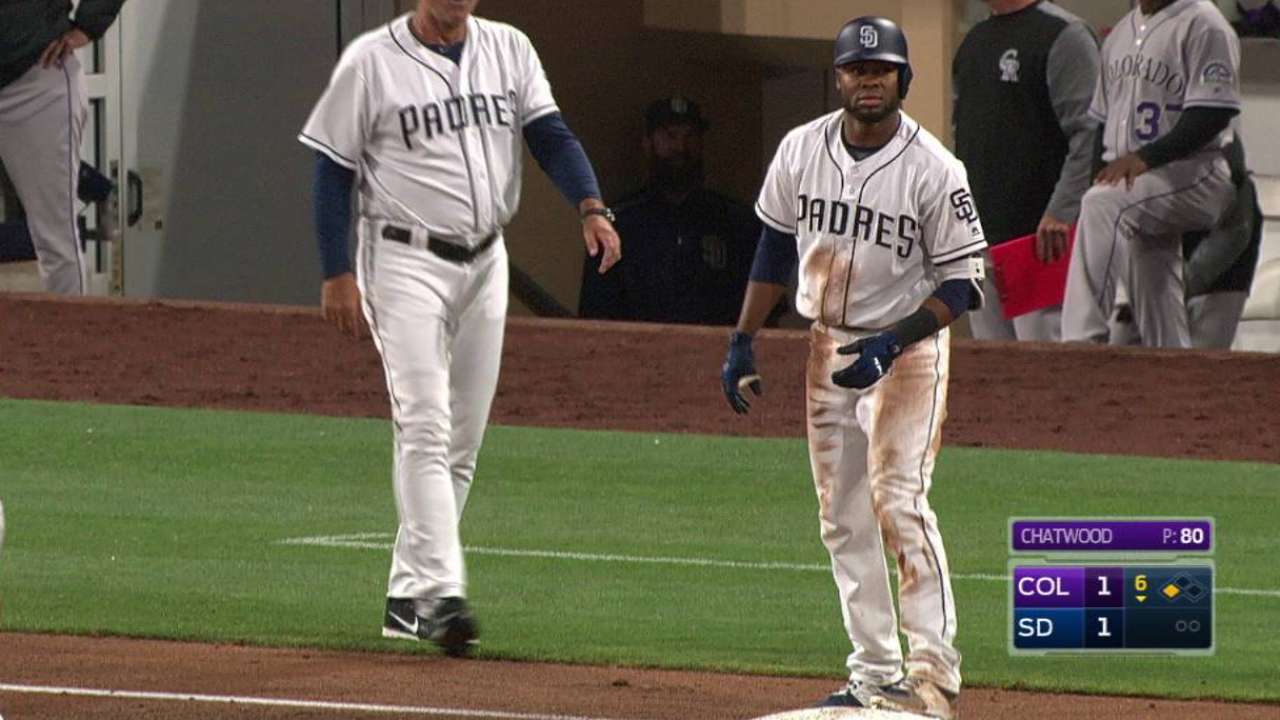 Win expectancy for Padres: +28.2 percentage points (44.4% to 72.6%)
Facts to know:
• It was a tough play for Blackmon, who needed to cover 30 feet in only 2.8 seconds. That gave him a catch probability of just 38 percent.
• With an exit velocity of 108.5 mph, the line drive was the hardest of Margot's young career.
They said it: Padres first baseman Wil Myers: "Margot getting the first hit out of the way, with the ball bouncing our way there, it was obviously really good that we capitalized right off the bat. Hitting is very contagious, and Cahill and Margot got it going."
Andrew Simon is a research analyst for MLB.com. Follow him on Twitter @AndrewSimonMLB. This story was not subject to the approval of Major League Baseball or its clubs.