Efficient Glasnow taps into potential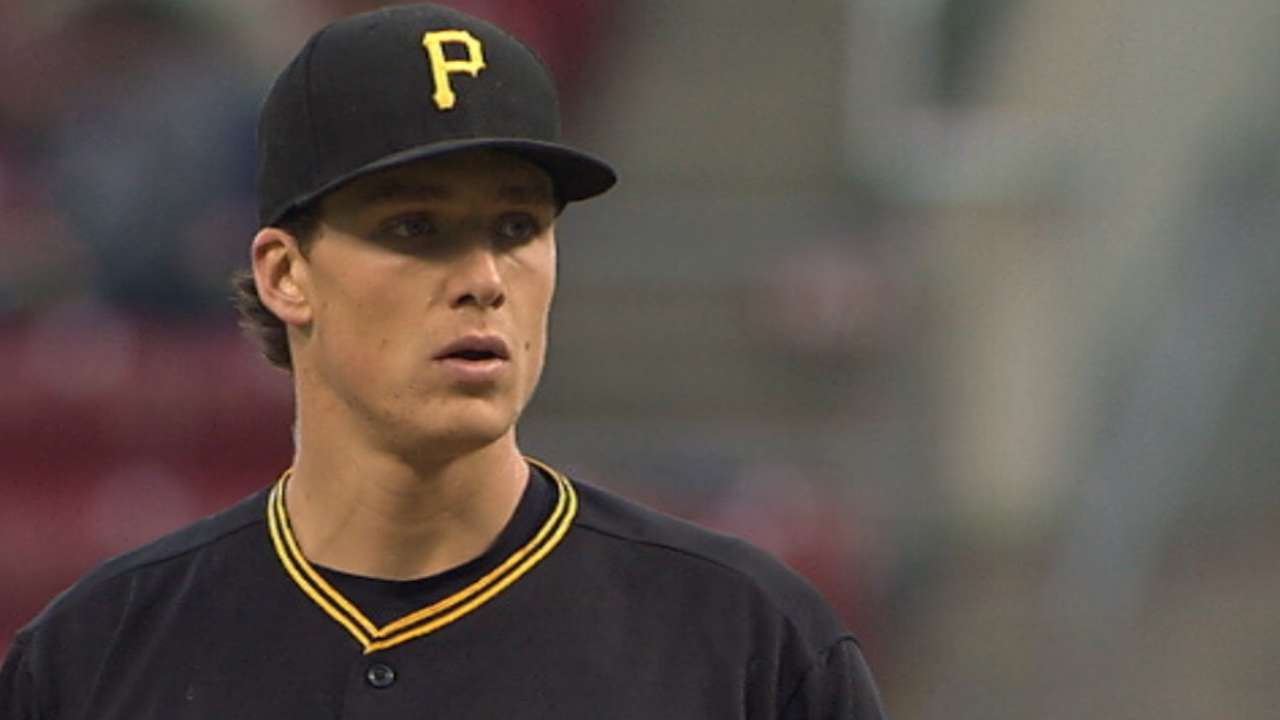 CINCINNATI -- The best performance of Tyler Glasnow's young Major League career could not have started much worse.
Three batters in, Glasnow was down by three runs. He threw 36 pitches in the first inning, seemingly destined for another short outing and a long night at Great American Ball Park. But Glasnow turned a corner, pitched six strong innings and earned his first Major League win in the Pirates' 12-3 victory over the Reds on Tuesday night.
"He got put in a spot where it was fight or flight," manager Clint Hurdle said, "and he fought."
The first inning was ugly. Glasnow walked leadoff man Billy Hamilton and watched him steal second and third. He walked another batter before Joey Votto crushed a 449-foot homer off the batter's eye.
Glasnow battled through the rest of the inning. He gave up another hit and a walk and faced eight hitters. When he came back out for the second inning, he looked like a different pitcher.
"I knew I had to get back out there and I had to compete and I had to give my team a chance to win," said Glasnow, who entered the night with a 7.98 ERA after four short starts. "It was just buckle-down mode."
For all his Minor League success and prospect hype, Glasnow said, he has felt "extremely uncomfortable" on the mound for nearly a year and a half. Pitching coach Ray Searage wanted Glasnow to relax and feel like himself, so he went back and watched video of Glasnow at his best in the Minor Leagues.
Glasnow gave all the credit Tuesday to Searage, with whom he's worked closely the last month. What did Searage say between the first and second innings?
"He came up and said, 'Hey, do you remember what he did?'" Glasnow said. "Fixed it in that second inning. I just made sure to focus on that and keep going. … He asked me to put my trust in him, and I did. And he's really helped me a lot."
From that point on, Glasnow did not allow another run. He permitted only two more hits and a walk while striking out five. He was aggressive and efficient, finishing the sixth inning with 105 pitches.
Glasnow struck out the side on 11 pitches in the second inning. His fastball command improved, and his curveball kept hitters off-balance. Mechanically, the key was to keep his top half over his legs and his shoulders level. In past outings, Glasnow stayed too far back over the rubber, lengthening his delivery and worsening his command.
"Just stuff he's told me, I went out in the second inning and did that and just went straight back to how I felt when I was good," Glasnow said. "It was weird. And yeah, it felt good."
After a series of short starts, the Pirates were pleased to watch Glasnow tap into his enormous potential.
"It was very good to see. We needed to see it," Hurdle said. "For him to pitch into the sixth and pitch through the sixth, I thought was a really good building block for him moving forward."
Glasnow has had encouraging innings and outings before. He showed signs of progress at Wrigley Field, but it didn't follow him beyond that. How can he make this feeling last?
"I'm not sitting here saying, 'I fixed it! I'm just going to do amazing all the time now!'" Glasnow said. "There's going to be ups and downs, of course. But I'm just confident and excited to go forward from here."
Adam Berry has covered the Pirates for MLB.com since 2015. Follow him on Twitter and Facebook, read his blog and listen to his podcast. This story was not subject to the approval of Major League Baseball or its clubs.