High-energy Sanchez finds ways to contribute
White Sox second baseman collects career-high three hits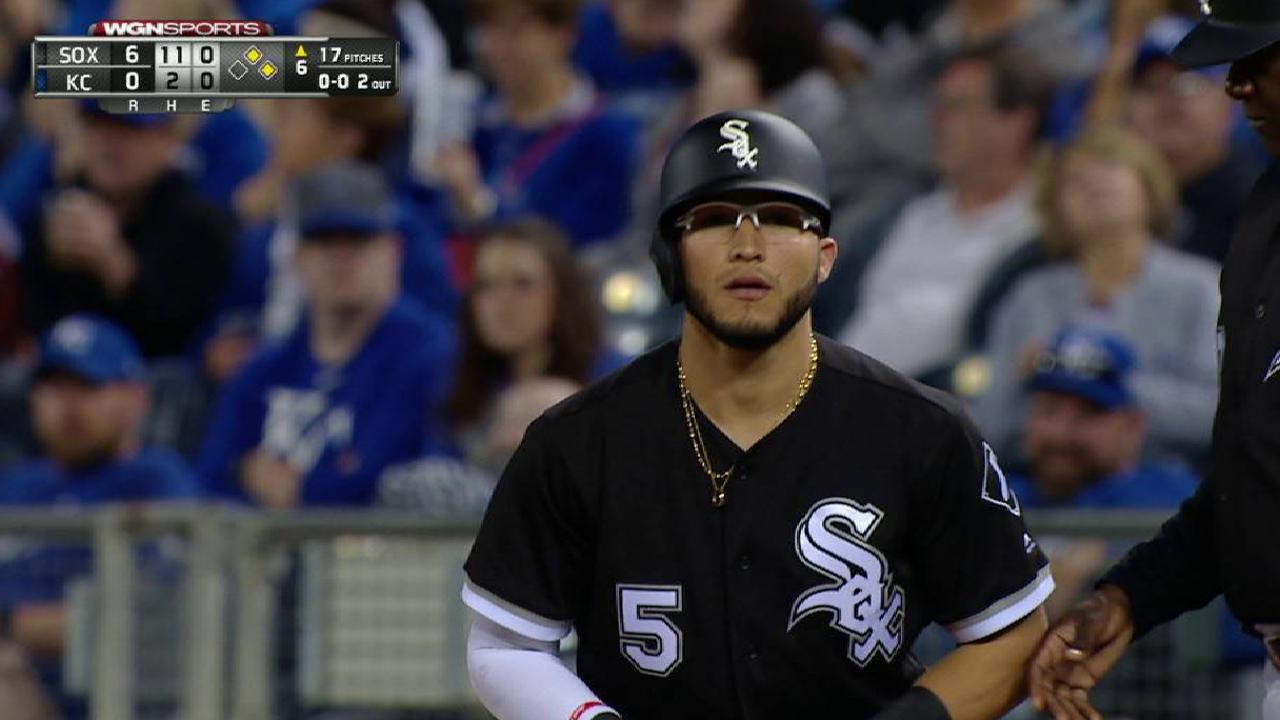 KANSAS CITY -- The only thing missing from Yolmer Sanchez's interview following the 6-0 White Sox win over the Royals Tuesday night was another player trying to ask a question, or sticking his phone into the session among the recorders and microphones.
That absence becomes understandable upon realizing the high-energy Sanchez usually is the one playing that humorous role.
"He's amazing. A lot of energy. Talks a lot," said White Sox pitcher Jose Quintana, who tossed eight scoreless innings, with a smile. "I like him."
"I just try to enjoy every second of my life," Sanchez said through an interpreter. "Right now, we are here, and tomorrow, we don't know where we are going to be. That's the thing that I'm trying to do, and that's the thing I try to teach to my kid, too."
Sanchez had a great deal to be happy about, as he helped move the White Sox back atop the American League Central.
Getting a start at second base and hitting second in the lineup, Sanchez collected a career-high three hits and snapped a 2-for-19 skid. He is batting .444 (8-for-18) with four extra-base hits against left-handed pitchers this season, and now 9-for-20 in his career against Kansas City starter Danny Duffy.
"I just know he's a very good pitcher, and I have my plan," Sanchez said. "My plan against him is to try to swing at good pitches and be aggressive in the at-bat."
"He works very hard. He's a very prepared and focused player," White Sox manager Rick Renteria said. "He's loosey-goosey, but he knows what he wants to do on the field."
At 24, Sanchez has played in 215 Major League games and has 686 at-bats. The switch-hitter usually doesn't get listed among the top prospects in the White Sox rebuild, but much like Matt Davidson, the organization can give Sanchez more of an opportunity this season to see what it has going forward.
Sanchez's ability to play across the infield, and even take some fly balls in the outfield, makes him a valuable asset off the bench. He has learned how to handle that bench role with more experience.
"I've learned a lot," Sanchez said. "I'm just trying to keep working hard every day, just to be ready when the chance shows up. I'm trying to do my job. That has been the key for me."
And when Sanchez is not playing, he's still lending energy throughout the clubhouse. It might be joking with Jose Abreu, or having a little fun with another player's interview session. But he's always contributing to the team.
"Lot of energy. Very happy, always supportive of his teammates, ready to go when you ask him," said Renteria, speaking of mixing in Sanchez with Tyler Saladino at second. "He's ready to go."
Scott Merkin has covered the White Sox for MLB.com since 2003. Read his blog, Merk's Works, follow him on Twitter @scottmerkin, on Facebook and listen to his podcast. This story was not subject to the approval of Major League Baseball or its clubs.