Roark saves Nats' bullpen in gritty start
Right-hander tosses career-high 125 pitches against D-backs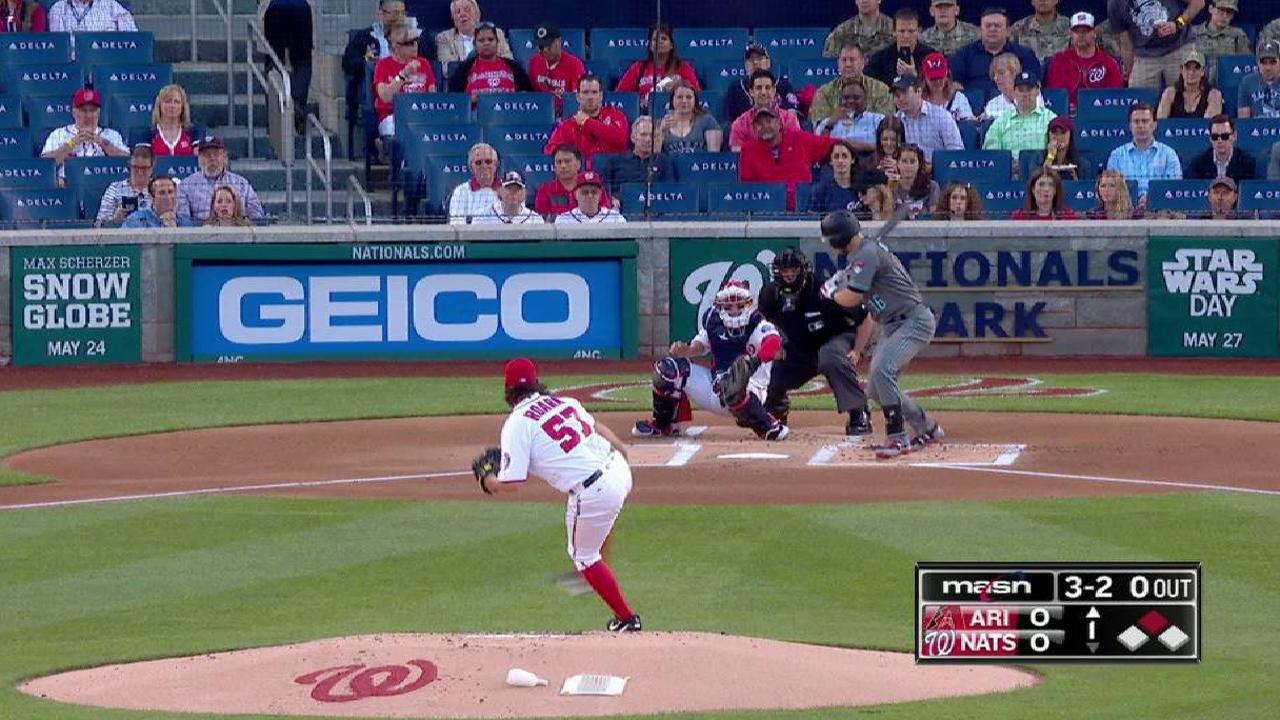 WASHINGTON -- The Nationals extended right-hander Tanner Roark beyond his usual limits in Tuesday night's 6-3 loss to the D-backs, as he threw a career-high 125 pitches to get though a gutsy six-inning start.
Arizona ran Roark's pitch count up from the start of his outing, beginning with a 33-pitch first inning. The D-backs continued to foul off pitches throughout the night -- that would have made it tough for Roark to last deep in the game.
"We drove up pitch counts with grimey at-bats," D-backs manager Torey Lovullo said. "We took Roark out of his game plan and we made him a little uncomfortable in the first inning and that's a credit to what we're doing behind the scenes."
Nats manager Dusty Baker pointed to his short bullpen as reason for extending Roark past his usual limit.
If possible, the Nats would like to stay away from right-hander Jacob Turner to keep him as an option this week for their now-vacant fifth-starter spot after Joe Ross was optioned to Triple-A Syracuse on Tuesday. Left-hander Oliver Perez had also warmed up twice so the Nats did not want to warm him up a third time.
So Baker called on a little extra effort from Roark, who delivered by striking out Brandon Drury and Chris Herrmann to end the sixth inning, finishing with a season-high eight strikeouts on the night.
"I'm very happy that Dusty let me go in there and finish the inning," said Roark, who tied Yu Darvish of the Rangers for most pitches by a starter this season. "I wanted to get that last guy. It builds confidence in me and I'm glad he has the confidence in me to finish the inning."
But what remains unclear is how much confidence Baker has in a bullpen that began the day with the third-worst bullpen ERA in the Majors.
Roark was relieved by right-hander Blake Treinen, who began the year as the team's closer but has not found a groove all season. After allowing a run on three hits in two innings, Treinen's ERA actually improved to 8.25.
"I think what's affected me for the most part this year has been my lack of ability to get ahead of hitters," Treinen said. "I feel like my last few outings I have, it's just a matter of putting guys away. Like tonight I had a few guys in situations where I should have put them away."
Then, Joe Blanton surrendered a solo homer in the ninth inning to Jeremy Hazelbaker. Blanton has now allowed five home runs in 11 innings this season, after giving up seven in 80 innings in 2016.
The Nationals bullpen has scuffled all season long, so when their top-ranked offense does not erupt for double-digit runs, perhaps they will require more from their starting pitchers.
"We have a few guys struggling," Baker said about the bullpen. "We've just got to keep on fighting. That's the whole thing until we do figure this thing out."
Jamal Collier covers the Nationals for MLB.com. Follow him on Twitter at @jamalcollier. This story was not subject to the approval of Major League Baseball or its clubs.