Gray can't shake off rust in season debut
A's righty gives up three homers in six innings in loss to Twins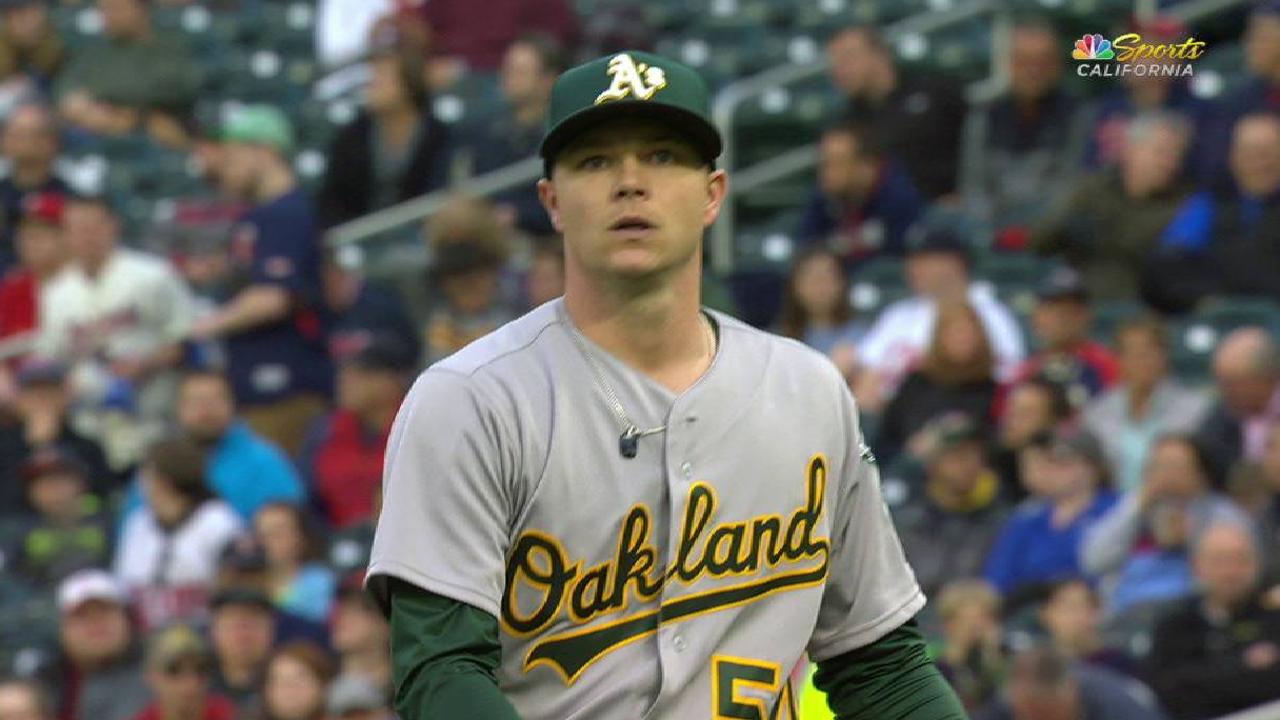 MINNEAPOLIS -- Sonny Gray's welcome-back party went haywire at Target Field on Tuesday evening, the return of Oakland's ace spoiled by a home run blitz.
Gray, the losing pitcher in a 9-1 rout in the series opener, was responsible for three of Minnesota's Target Field-record six homers. The right-hander was on the hook for four runs overall, going six innings with four strikeouts in a much-anticipated season debut that went awry.
"Just kind of getting back out there feels good. But getting back out there is really not good enough," said Gray, who had been out for seven weeks with a lat strain. "You gotta get out there and perform. I'll take that and learn from it and get ready for my next one."
The night began innocently enough, with Gray flashing the form that made him an All-Star and a Cy Young Award candidate in 2015. He retired eight of his first nine batters before the ambush began, and in a span of five batters, Gray issued a walk and three homers.
With two outs in the third, Brian Dozier homered for the Twins' first hit of the night. Then Gray walked Max Kepler, setting the stage for Miguel Sano's monster blast to center field, a Statcast-estimated 466-foot shot into the Catch restaurant -- just the second homer ever hit there.
"I was just trying to challenge him with a heater, and it just kind of ran right back to the middle of the plate," Gray said. "Had a good idea he was going to swing there, just where I was trying to go with it and where the pitch ended up wasn't exactly the same place."
In the fourth inning, Jason Castro homered with one out. Gray held the Twins to two hits, both singles, the rest of the way.
"When I get two quick outs in an inning, I have to be better than that and be able to shut down the inning," he said. "Even after you give up the first homer, you really can't walk the next guy and bring that guy to the plate. Three batters in a row got me."
The three homers matched a career high for Gray, who had not surrendered a home run in his previous two starts at Minnesota. He last three-homer game was in Tampa Bay, on May 15, 2016.
"That's all it was," A's manager Bob Melvin said. "He's sailing along really good, pitching the way we've seen him pitch before, had command of all his pitches. The first thing you look for is fastball command, and he had that. Good velocity and good movement. It's really just a matter of a couple pitches."
Gray's arrival, in conjunction with Rajai Davis' return from the disabled list Tuesday, was supposed to rejuvenate a struggling A's team, which has dropped seven of its last eight games with two runs or fewer totaled in six of them.
Gray expects better, and the lifeless A's, in dire need of any help they can get, remain eager to see him bounce back from an injury-riddled 2016 season that saw him go 5-11 with a 5.69 ERA.
"If I could take a couple pitches back, obviously I would," Gray said. "They just happened to be the difference in the game."
Jane Lee has covered the A's for MLB.com since 2010. This story was not subject to the approval of Major League Baseball or its clubs.