Yankees off to surprising hot start in AL East
The good and bad of opening month for all 5 division teams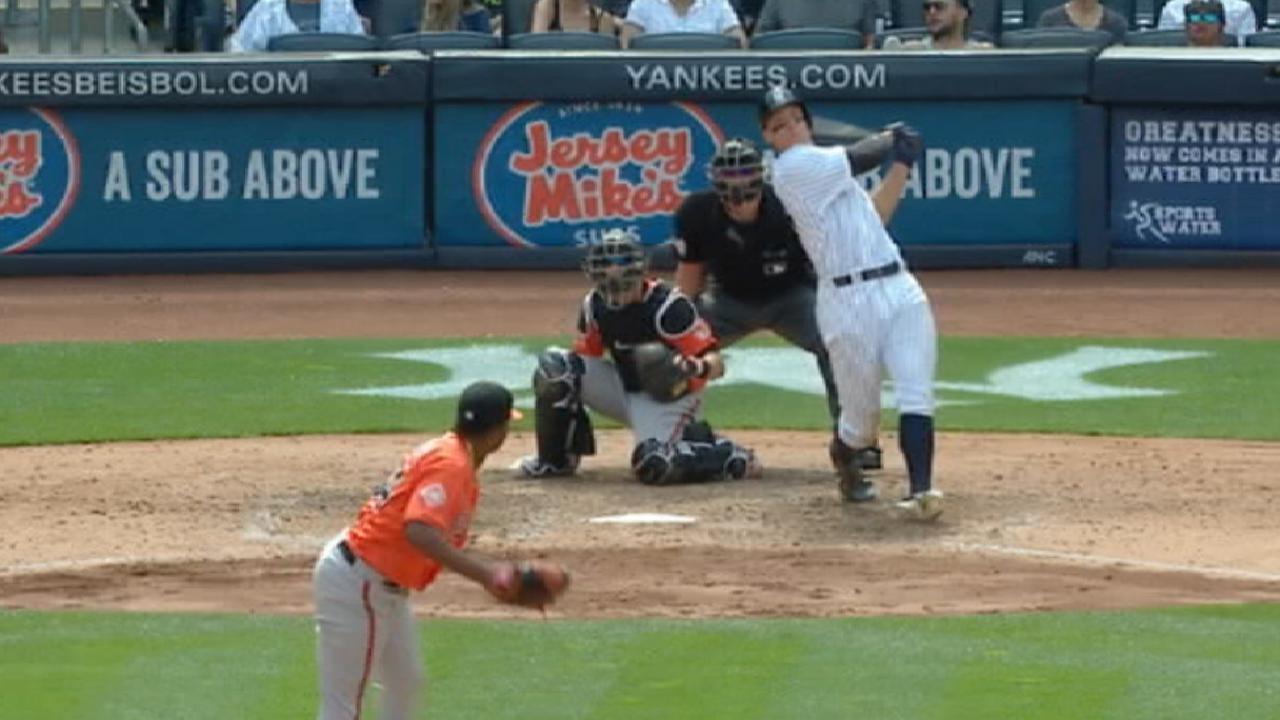 With a month of baseball in the books, let's take a look at the American League East, and what April revealed about each club.
Yankees
The good: The rotation has held its own, and it's been a nice lift in tandem with a strong back end of the bullpen. Aaron Judge has been incredible, flashing his power stroke early. Starlin Castro is raking and the Yanks have gotten solid contributions from a bench that includes Aaron Hicks, Austin Romine and Ronald Torreyes.
The bad: Gary Sanchez and Didi Gregorius were hurt for long stretches, and now Greg Bird -- who was struggling -- is on the disabled list. No one is sure if the starting pitching can hold up.
Scout's take: "I didn't think the young guys would be playing as well as they are now. They've really come on strong. They may have to be dealt with. That kid Judge is really swinging the bat. They're all playing really well right now. I don't know how long that will last, but I don't think they are going to let their starters slip, or just flounder. They'll find a way to make it happen, and find a replacement if they're close [to contention]."
Orioles
The good: Baltimore got off to a hot start and, like New York, has been boosted by a rotation that has largely overperformed. Dylan Bundy looks like the real deal, and rookie Trey Mancini has given the lineup a little boost. The bullpen has remained a strength, even when it was without closer Zach Britton.
The bad: Most of the Orioles' big guns aren't hitting. Ubaldo Jimenez has struggled enough that his rotation spot is already on thin ice, and the O's aren't going to get anywhere overrelying on their bullpen for another season.
Scout's take: "Things are kind of clicking all at once for them. This is the first time I've felt optimistic about their Minor League system and their players. Some of their younger players, if they wanted to get a Jose Quintana type of guy, I think they have the pieces to do it. They have the pieces to get a major arm in a trade. [Ryan] Mountcastle, Tanner Scott [is throwing] up to 101 [mph], and they've got [catcher Chance] Sisco."
Red Sox
The good: Chris Sale has been even better than expected, closer Craig Kimbrel has proved solid and young lefty Eduardo Rodriguez could be poised to take the next step. Plus, Boston has an enviable outfield with Andrew Benintendi and Mookie Betts.
The bad: Lineup concerns have to be the big priority, as the Red Sox's offense has been punchless in the post-David Ortiz era, and ranks last in the Majors in homers. Third base is also a problem, with Pablo Sandoval hurt and his replacements, Marco Hernandez and Josh Rutledge, pretty uninspiring.
Scout's take: "Benintendi is a really, really, really good hitter. He was a small high-school guy, and now he's getting comparisons to Fred Lynn. When I saw him last year [in the Minors], he was as good of a young hitter as I'd seen in a few years. He's obviously a Rookie of the Year candidate, one of the really good hitters in the league along with Betts, who will be an MVP candidate. Certainly would like to have that outfield. I think anyone would."
Rays
The good: The Rays held their own the first month of the season despite some notable injuries and a tough schedule. Chris Archer has been excellent, and Corey Dickerson and Steven Souza Jr. are also early bright spots.
The bad: Tampa Bay's defense has been suspect, No. 4 starter Blake Snell looks completely overmatched and closer Alex Colome doesn't look nearly as strong.
Scout's take: "[Alex] Cobb isn't 100 percent just yet. He has to be more exact to be effective than he is right now, but that will come with time. Archer is really the guy on that club that I like and would love if we were able to get him, because he's a front-rotation guy. Got to get Kevin Kiermaier going, the kid at shortstop [Tim Beckham] is playing better than I had seen in the past, and of course, [Evan] Longoria is as good as anyone right now. If the pitching can keep them afloat, they'll be all right."
Blue Jays
The good: Kevin Pillar seized the leadoff spot and the rotation has been as strong as you'd think, with Marcus Stroman and Marco Estrada leading the way. Aside from a terrible debut, Francisco Liriano has also been solid.
The bad: Toronto's bullpen has blown eight of its first 12 save opportunities. The Jays' offense is punchless and injuries to Josh Donaldson, Troy Tulowitzki, Aaron Sanchez and J.A. Happ haven't helped matters.
Scout's take: "I'm not that surprised about Toronto's start. They miss [Edwin] Encarnacion terribly. [Jose] Bautista isn't swinging well, and when Tulo's not in the lineup, they're going to miss him. Those three guys were huge last year. That big bat in Encarnacion, that's a lot to miss. Even their catcher [Russell Martin] isn't doing the job for them. When you've got guys who were cornerstones of your club not driving in runs, it's hard on the pitchers. That's a tough spot over there. I don't know if they can get out of it."
Brittany Ghiroli is a reporter for MLB.com. This story was not subject to the approval of Major League Baseball or its clubs.