Story aims for hard contact, not avoiding K's
Rockies shortstop among Majors' best in 'barrel' rate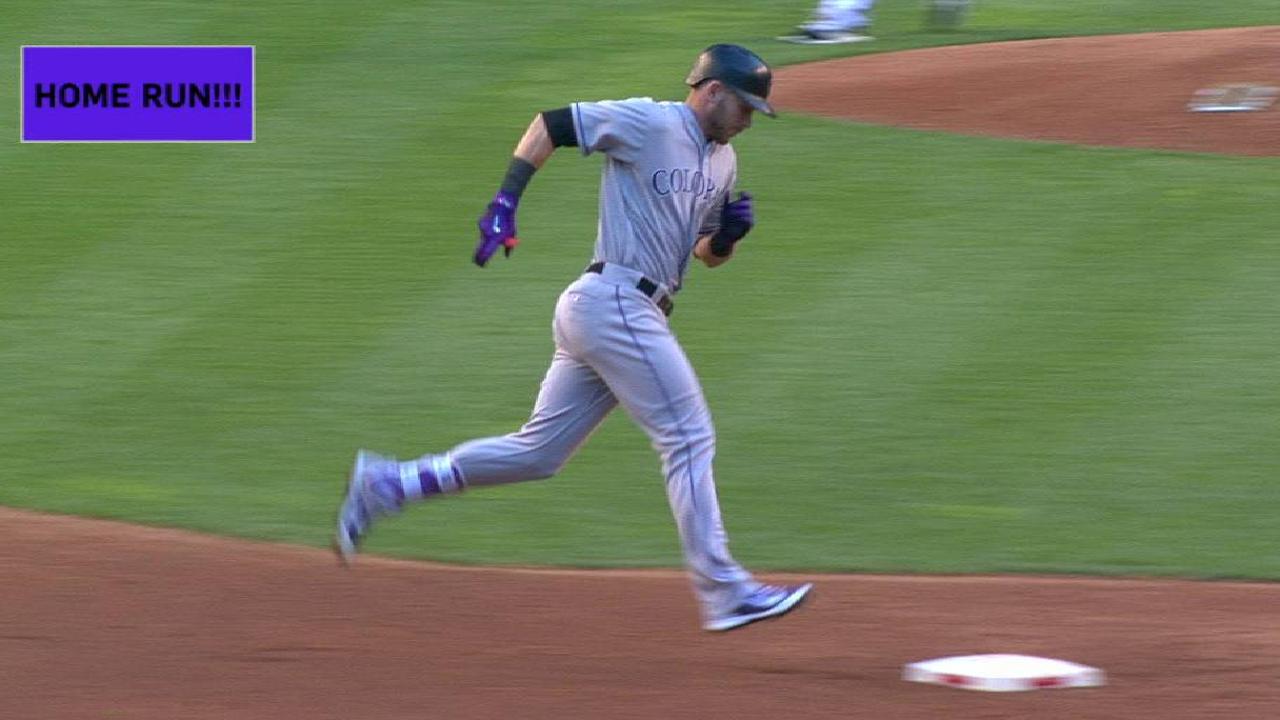 SAN DIEGO -- Rockies shortstop Trevor Story's baseball soul is based on hard contact, and why not? Baseballs don't hold grudges.
According to Statcast™, which defines well-struck balls as "barrels," Story entered Tuesday night's game against the Padres with a 15.7 percent barrels-to-batted-ball rate -- the 22nd-highest in the Majors. He had six home runs, four doubles and 13 RBIs. But if baseballs were so inclined, they'd taunt him often. He had a .178 batting average and his 39 strikeouts were the most in MLB.
Of course, Story would love to lower his strikeout rate. But not at the expense of giving up what he loves most, what he feels his role is and what makes him potentially special as an offensive middle infielder.
"You've got to know your game," Story said Tuesday afternoon. "I drive the ball. Maybe that's something I can work on, making contact. But I'm never going to swing soft. That's not my game.
"I'm not saying strikeouts are good. But I'm not too worried about it."
Some interesting perspective: From April 13, when he homered off the Giants' Madison Bumgarner, his six homers were tied for fifth in the NL and his 13 RBIs were tied for 16th. His 13 walks this season were tied with DJ LeMahieu for the Rockies' lead.
Story's Minor League homer total didn't spike until 2015, when he hit 20 at Double-A and Triple-A combined, yet Story feels he has always been a power guy.
"For me, I'm not trying to hit home runs -- I'm just trying to hit the ball hard," Story said. "My swing ever since I was a kid has that result to it. If I hit it hard, it's usually going to be in the air."
Story let the world in on his gift on a cold night -- May 3, 2015. Playing for Double-A New Britain, he launched a homer off Richmond pitcher Joe Biagini that cleared a hard-to-reach scoreboard and awed Duane Espy, then the organization's Minor League hitting coordinator and now the Rockies' hitting coach.
"I'm not going to be that guy that says, 'I always knew,'" Espy said. "But when I saw that homer, I remember thinking, 'Did he just catch one or does he really have that kind of power?' It was one of those 'wow' moments."
This year, Story has homered off Bumgarner, has the only grand slam yielded by the Giants' Johnny Cueto and has gone deep off D-backs ace Zack Greinke, as he did last year. With the ability to take anyone deep, Story isn't going to trade it simply to lower "K" totals.
"People assume, 'Well, if he tried to do less ...'" Espy said. "But then what kind of contact are you making? Soft contact at this level doesn't get you anything."
Story said, "Some guys can be selective and wait it out, hit tough pitchers -- pitchers' pitches. For me, I try to do damage on that one pitch I get in the at-bat and not miss it."
Worth noting
• Lefty Mike Dunn (back spasms) said he should be ready to return from the disabled list Wednesday, after having faced hitters Monday in Scottsdale, Ariz.
• Catcher Tom Murphy, who hasn't played this season because of a hairline fracture in his right forearm, was fitted for a smaller brace, which means the bone is healing, manager Bud Black said Tuesday.
• Outfielder David Dahl (stress reaction in sixth rib) continues physical work but hasn't graduated to full-fledged batting practice.
Thomas Harding has covered the Rockies since 2000, and for MLB.com since 2002. Follow him on Twitter @harding_at_mlb, listen to podcasts and like his Facebook page. This story was not subject to the approval of Major League Baseball or its clubs.