Inciarte a key factor behind Braves' offense
ATLANTA -- Though Freddie Freeman's MVP-caliber production and Matt Kemp's August arrival served as significant influences, the Braves know last year's late-season offensive success might not have been realized without Ender Inciarte providing the same kind of consistent production he has over the past week.
Inciarte continued to be a valuable catalyst as he recorded his first three-hit game of the season as the Braves claimed a 9-7 win over the Mets on Tuesday night at SunTrust Park. The Gold Glove Award-winning center fielder delivered a go-ahead RBI double in the second inning and capped a three-run fourth with a two-run single off Matt Harvey.
"If he goes, we go," Freeman said. "He's been swinging the bat. The last 25 or 30 at-bats, I don't know what he's hitting, but it seems like he's been on a lot. So, as you can tell, our offense has been much better since then. He's the catalyst to our offense. If he's on, we're going to score some runs."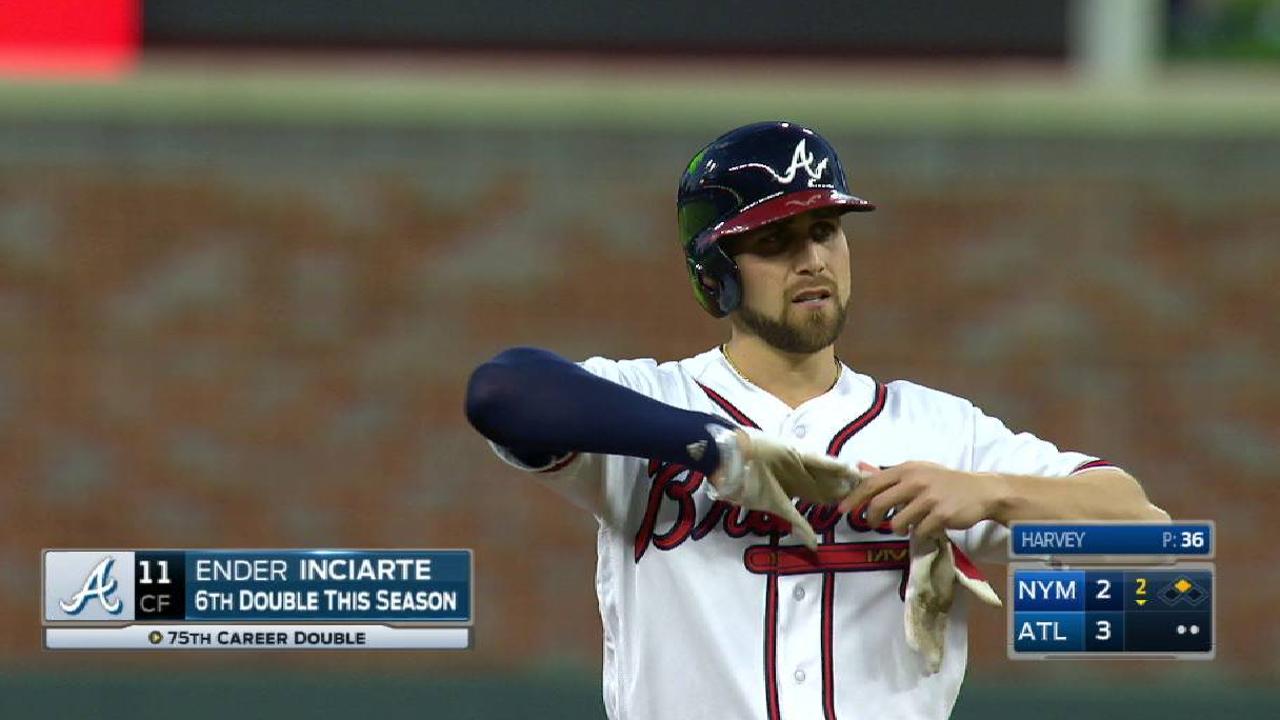 As the Braves have averaged 9.2 runs while winning five of their last seven games, Inciarte has hit .375 with a .429 on-base percentage. During the six-game losing streak that preceded this stretch, Atlanta's leadoff hitter reached via a hit or walk in just two of 25 plate appearances. The team totaled just 15 runs within that span.
But this trend dates back to last year, when Inciarte got hot after the All-Star break, cemented his place at the top of Atlanta's lineup in early August and then spent the remainder of the season providing consistent run-producing opportunities for Freeman, Kemp and Nick Markakis.
Since Inciarte moved to the top of Atlanta's order on Aug. 5, he has hit .305 with a .359 on-base percentage. The Braves have gone 40-38 and averaged five runs per game during this span.
"When he gets on, it changes the whole aspect of the game plan for the pitcher," Freeman said. "So they throw us better pitches because they don't want to throw anything in the dirt that will allow him to advance to second or third base. He's going to wreak havoc. He's stealing more bases this year. They pay attention to him, so they throw me and other guys in the lineup more heaters too."
After producing a .176 on-base percentage as the Braves lost six of this season's first seven games, Inciarte uncharacteristically hit four home runs (one more than he hit all of last season) within a four-game span. But he slumbered through the six-game skid that soon followed and truly found his groove over this past week, when he has primarily served as a table-setter, who just happened to add another homer to his total on Monday night.
"Sometimes when guys get older, they get stronger," Braves manager Brian Snitker said. "I don't think he's going to hit 25 homers, but maybe it's just him maturing as a hitter too."
Mark Bowman has covered the Braves for MLB.com since 2001. This story was not subject to the approval of Major League Baseball or its clubs.