Terminated 2! OF erupts on Judge-ment Day
Slugging rookie takes MLB HR lead after going deep twice vs. Blue Jays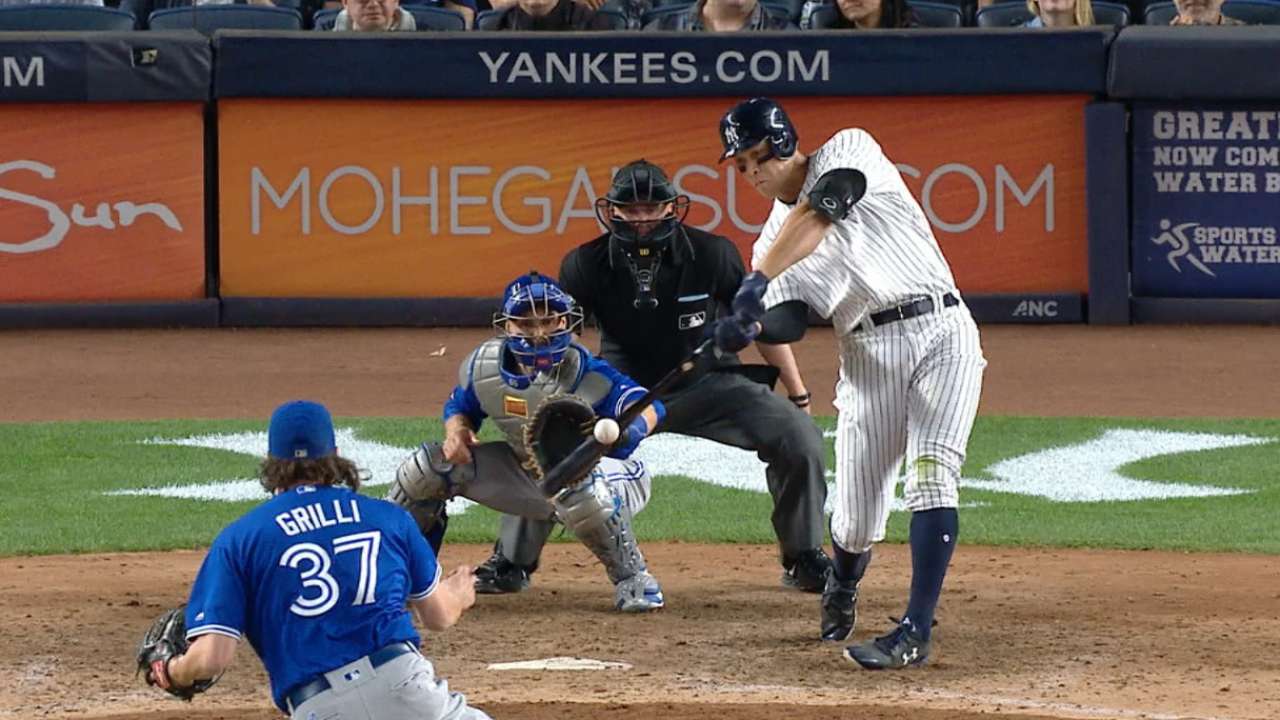 NEW YORK -- As Aaron Judge tells the story, there was a moment on the Yankees' bench during Tuesday's 11-5 victory over the Blue Jays when the team's starting outfielders counted the night's bounty of home runs amongst themselves -- at the time, Brett Gardner had two, while Aaron Hicks and Judge each had one.
"We're all kind of joking, if you were to guess out of all of us who'd have two, I think Gardy is the last one you're thinking," said Judge. "We were kind of joking about that. But what a day for everyone."
Especially after Judge launched his Major League-leading 12th homer in the seventh inning, giving the rookie his second multi-homer game in a week. Judge is just the third Yankee -- and the youngest -- to hit 12 homers in the team's first 25 games, joining Babe Ruth (12 in 1921) and Alex Rodriguez (14 in 2007).
• Cast your Esurance All-Star ballot for Judge and other #ASGWorthy players
Maybe the power surge is contagious. After a slow start, Gardner has been playing great ball on the homestand, homering twice off Toronto starter Mat Latos to produce his second multi-homer game in four days. All seven of Gardner's RBIs have come since Saturday, and all via the homer.
• Judge destroys flatscreen TV with BP homer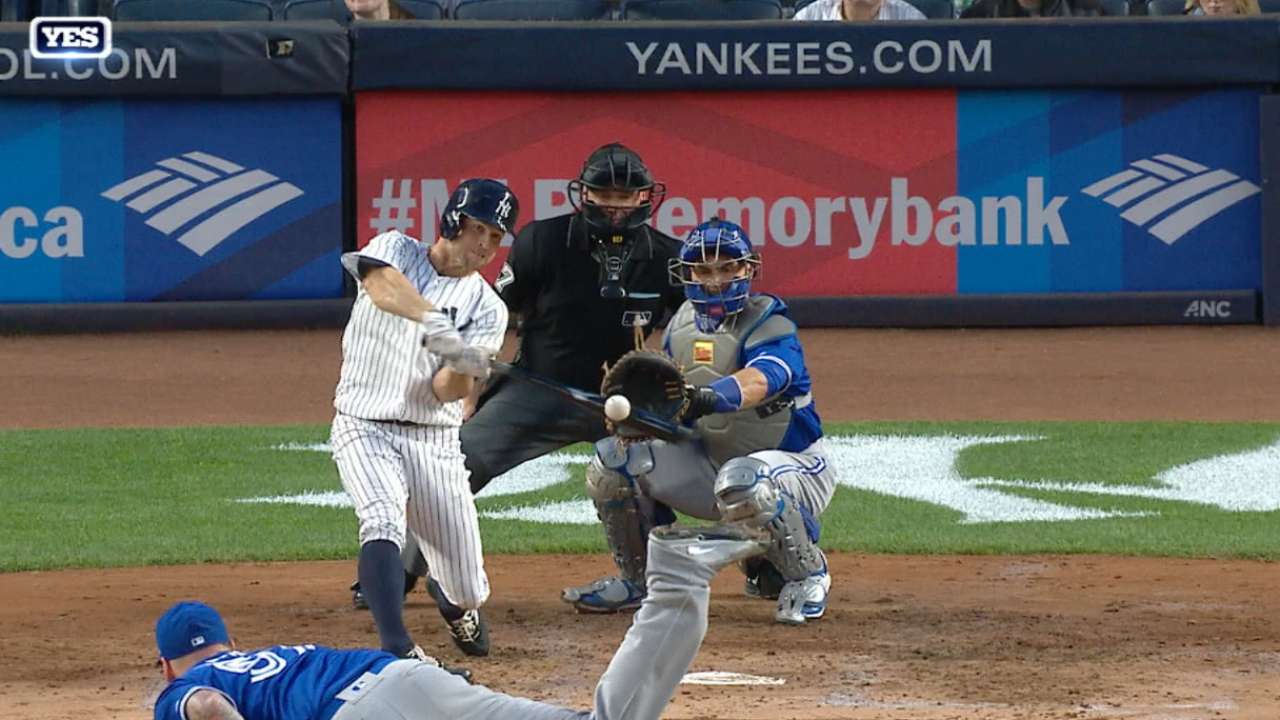 "It was pretty cool," Gardner said. "Aaron seems to be doing it every night, so I'm just trying to keep up with him. I think up and down the lineup, not just the outfield, but everybody is really contributing."
To find another game where the Yankees' starting outfield combined for as many as five home runs, you would have to turn back time to May 30, 1961, when Mickey Mantle (2), Roger Maris (2) and Yogi Berra (1) all went deep in a 12-3 rout of the Red Sox.
"It's hard to out-do what they did tonight," Yankees manager Joe Girardi said. "Pretty special. The home runs that they had. The RBIs that they had. Everything."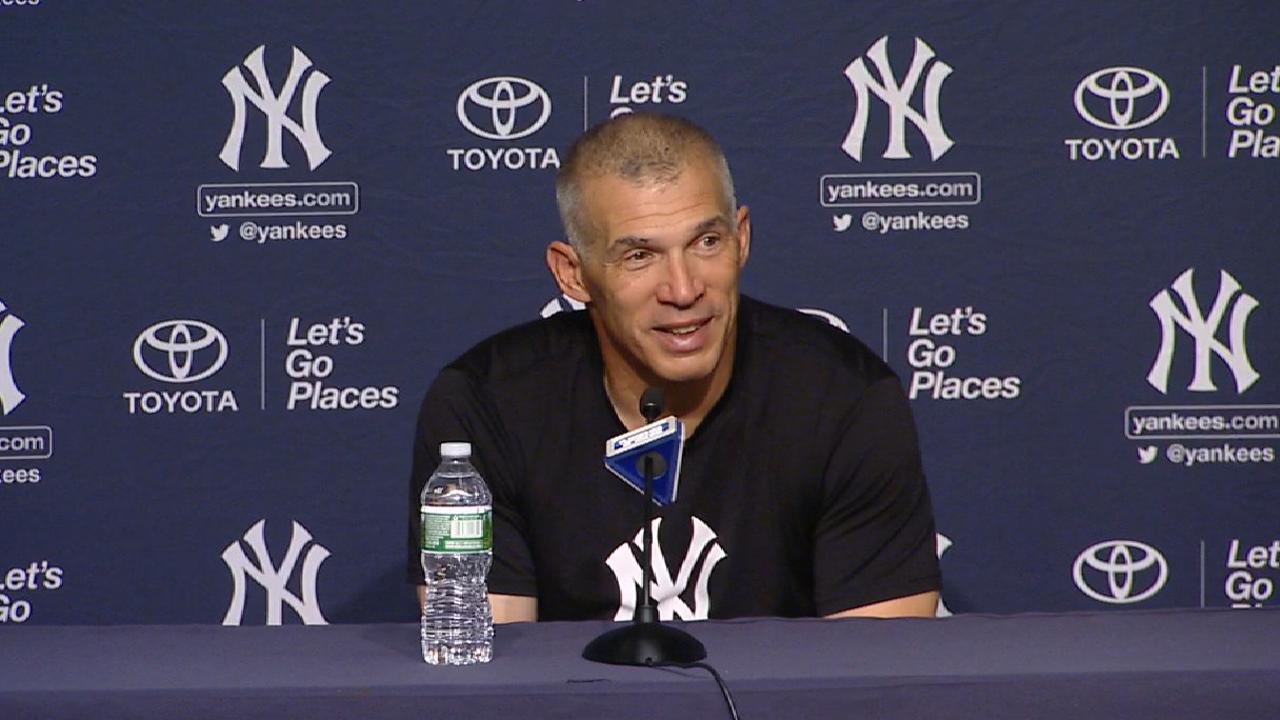 Both Gardner and Judge also contributed sharp defensive plays in Tuesday's win, with Judge laying out to take a hit away from Jose Bautista in the fourth inning and Gardner snaring a deep Kevin Pillar drive in the ninth.
The big takeaway is how teams are running out of ways to approach Judge, who is 8-for-16 (.500) on the homestand with 10 runs, five homers, 10 RBIs and eight walks.
"I liked a lot of things about him last year, and it looks like that experience did wonders for him," Blue Jays manager John Gibbons said. "I thought he had a few more holes last year, and we're not seeing it this year. You have to tip your hat to the kid, he's off to a tremendous start. I'm impressed with his defense too. Not only is he hitting home runs, he's making catches all over the place."
With All-Star voting now underway, the crowd moved ahead to postseason awards by serenading Judge with chants of "M-V-P" during Tuesday's game, then booed lustily when Aaron Loup walked Judge on four pitches in the eighth inning. Judge chuckled when asked if he had heard the reaction.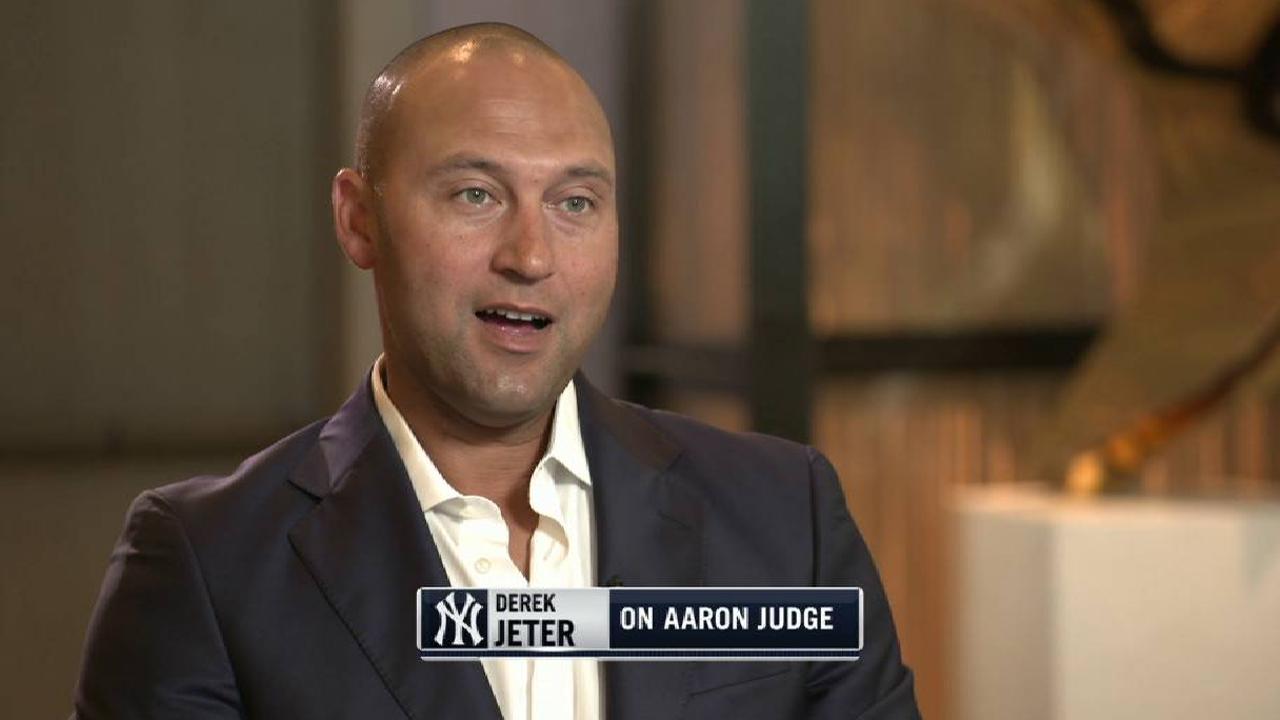 "I was just focused on the moment," Judge said. "Every time you go up to the plate, that's your most important at-bat. It doesn't matter what you did before. I was trying to go up there and see a pitch I could handle, put something in play so I could keep that thing going. I didn't that at-bat, but I'll take my walk and the guys behind me will do their job too."
Bryan Hoch has covered the Yankees for MLB.com since 2007. Follow him on Twitter @bryanhoch, on Facebook and read his MLBlog, Bombers Beat. This story was not subject to the approval of Major League Baseball or its clubs.