Volquez: 9 K's, 8 walks, 4 1/3 frames, 1 blister
Marlins' Opening Day starter could miss next start, end up on DL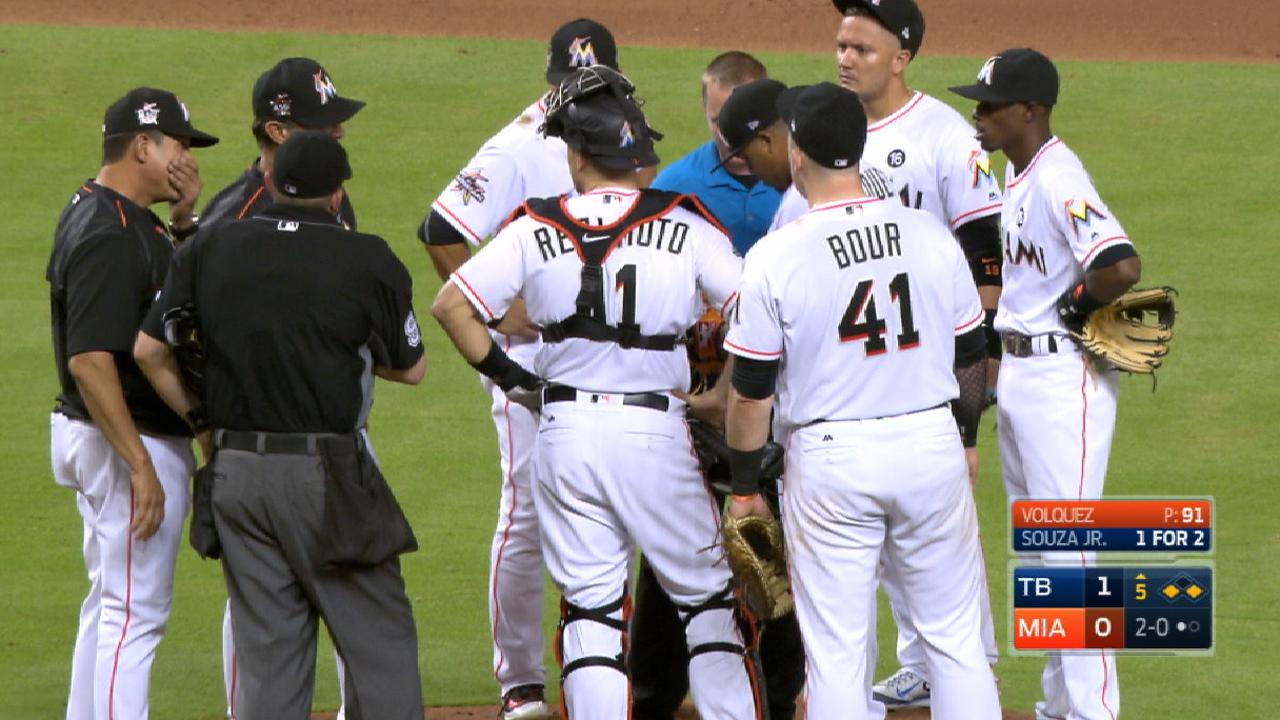 MIAMI -- Finding the strike zone was a challenge on Tuesday night for Edinson Volquez. A dime-sized blister on the inside of his right thumb certainly had something to do with it.
The blister issue complicated matters for Volquez, who exited after 4 1/3 innings with one of the most perplexing pitching lines in Major League history. The right-hander struck out nine, but walked eight, and he incurred one blister in the Marlins' 3-1 loss to the Rays at Marlins Park.
By the time Volquez received treatment on his finger, he had already established an offbeat MLB record. Per the Elias Sports Bureau, the 33-year-old is the first pitcher in the modern era (since 1900) to strike out nine and walk eight in fewer than five innings.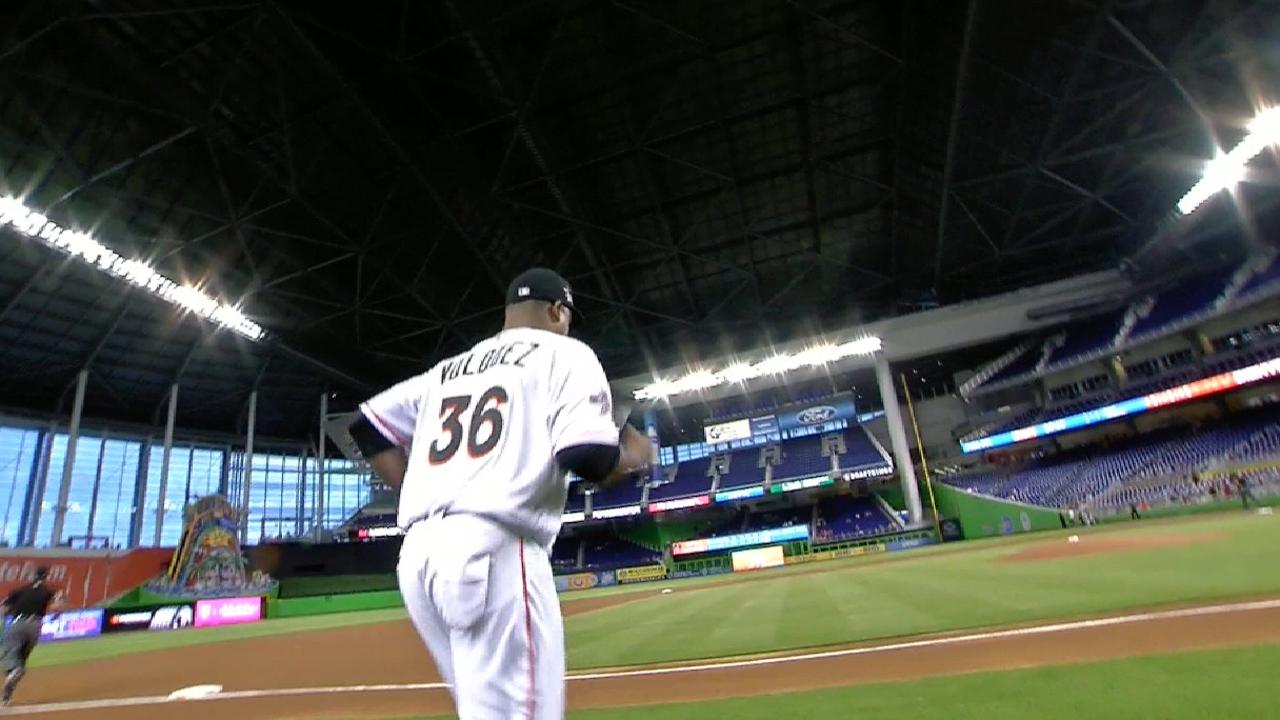 "I'm in the book now," Volquez joked. "It's crazy. Every game, it's like something crazy can happen. Every pitch counts. Every walk counts. Every strikeout counts. It's one of those days, crazy game."
Volquez kept his sense of humor in light of the fact he will likely miss his next start and possibly wind up on the disabled list.
Marlins manager Don Mattingly consulted with team trainer Dustin Luepker, who didn't rule out the veteran right-hander missing a little bit of time.
"Dustin actually came in, and that [start] is iffy, just because of the size and the redness," Mattingly said. "We'll see where we're at."
In the fifth inning, Volquez grimaced after throwing his 91st and final pitch. It was a 94-mph sinker that was low for a ball to Steven Souza Jr., and immediately catcher J.T. Realmuto, Luepker, Mattingly and pitching coach Juan Nieves headed to the mound. After a short discussion, Volquez exited to the dugout, and the Marlins now face uncertainty surrounding their Opening Day starter, who was listed as day to day.
"I've never missed a start because of a blister the last five or six years," Volquez said. "But this is really bad right now. We'll have to wait a couple of more days to see."
In the area on the inner side of the thumb, Volquez already had a callus. But after walking Logan Morrison in the first inning, the blister opened. He pitched on through, and as the condition got worse, the strikeout and walk totals soared.
"I had 20 different grips today to throw the ball to the plate," Volquez said. "It's really hard. ... I put the seam on top of the callus. The skin came up. It was bleeding a little bit."
Dustin McGowan replaced Volquez with a 2-0 count against Souza, and he threw back-to-back balls. The walk was charged to Volquez.
Volquez's previous high for walks was seven -- on April 24, 2009, against the Braves and June 22, 2013, against the Dodgers.
"I did my best today," Volquez said. "I was dealing with a blister. It was hard for me to have a good grip on the ball to command my fastball."
Joe Frisaro has covered the Marlins for MLB.com since 2002. Follow him on Twitter @JoeFrisaro and listen to his podcast. This story was not subject to the approval of Major League Baseball or its clubs.