Padres icon Jones declared cancer-free
SAN DIEGO -- The Padres received one of their most important victories of the season before they even arrived at the ballpark Tuesday.
Randy Jones is cancer-free.
The beloved former Padres left-hander was diagnosed with throat cancer in December. He completed 38 days of radiation treatment on Feb. 1. Three months later, he received some extremely welcome news.
"It's an emotional day for me, with what I've been through," Jones said. "All the support has been great. I know there's still a lot of work to do. I don't mind weighing 173 [pounds], but I think I should weigh a little more than that right now. Overall, I'm just thrilled that all the hard work the last few months has worked out, and I'm cancer-free."
An emotional day for @RJBBQ35 having received some great news: pic.twitter.com/PEaR0Qxakk

- San Diego Padres (@Padres) May 3, 2017
The Padres Hall of Famer spent eight seasons with the club from 1973-80, during which he won the '75 ERA title and '76 National League Cy Young Award.
Jones, 67, reiterated that he's been blown away by the support from the Padres fans and organization. He threw out the ceremonial first pitch on Opening Day and received an emotional standing ovation.
"The Padres fans and the response that I got have been overwhelming to me," Jones said. "It's been phenomenal. Maybe it shouldn't have come as a surprise."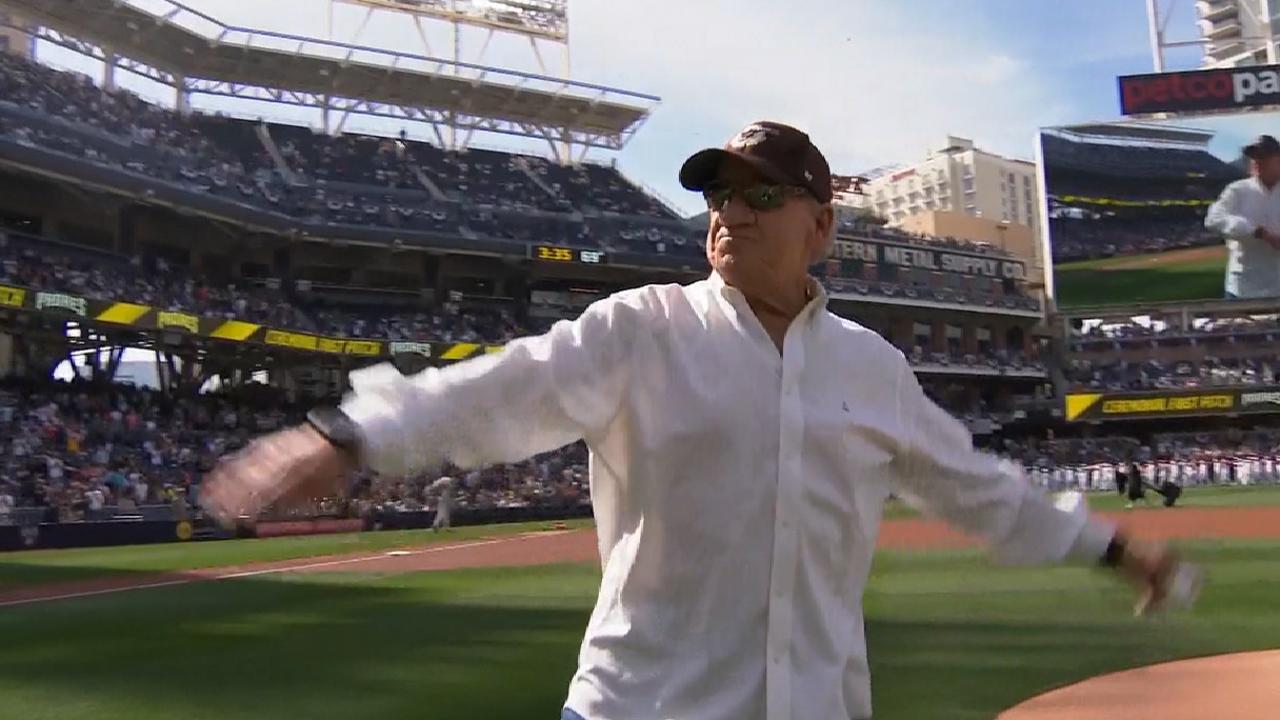 Jones said he's now turning his focus to rebuilding his strength and stamina. He hasn't yet regained his taste buds either.
"When a jelly doughnut tastes awful, you know you've got a problem," Jones quipped. "That's where I'm at right now."
It remains an arduous road back to full strength for Jones -- one that could take months. But he was quick to note that he wants to use his story to inspire others battling cancer.
"If I can help one person out there ... it's just a friendly reminder that you can get through this," Jones said. "You've got to stay positive."
Jones is consistently around the Padres in an advisory capacity. During the offseason, the Padres named Jones as their executive director of alumni. On his first day since learning he's cancer-free, Jones was at the ballpark, working and planning.
Throughout his battle, Jones said he approached the particularly hard days "like another start."
Tenacious on the mound, Jones was equally resilient in his most important fight.
"It makes me appreciate everything a little bit more," Jones said. "It puts everything in a little bit of perspective."
AJ Cassavell covers the Padres for MLB.com. Follow him on Twitter @ajcassavell. This story was not subject to the approval of Major League Baseball or its clubs.