Wright on DL with sprained left knee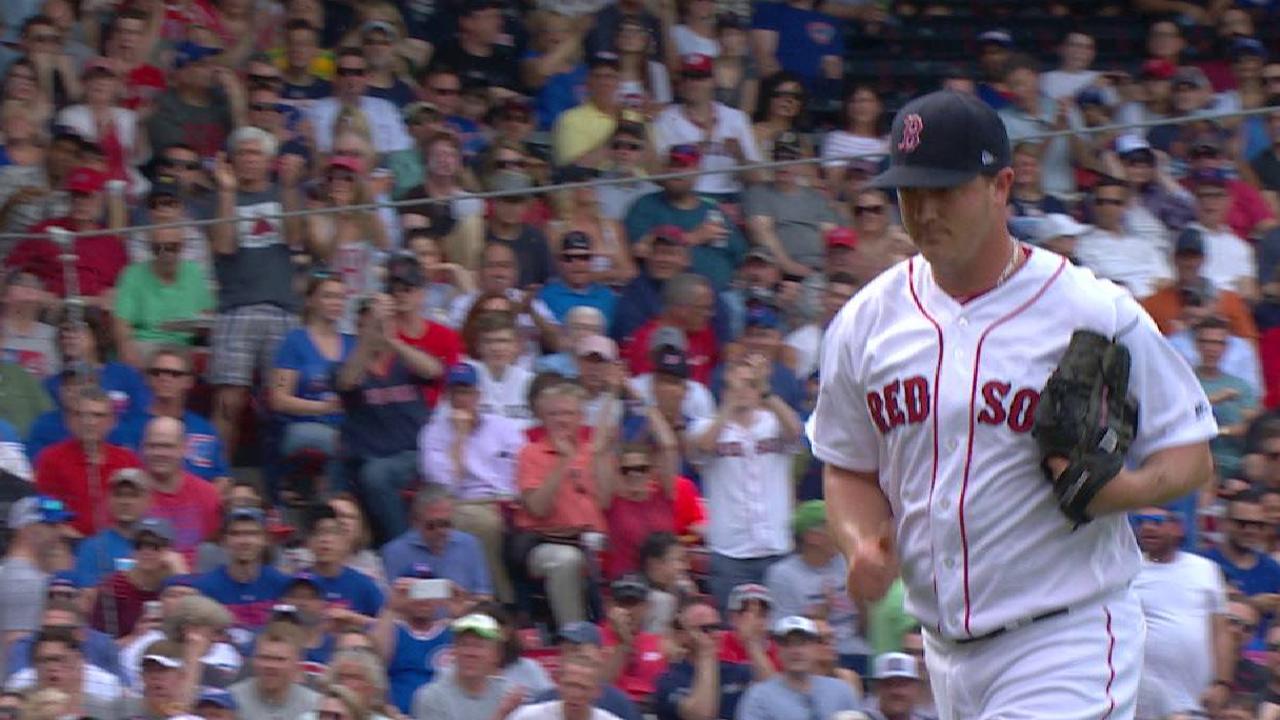 BOSTON -- Red Sox knuckleballer Steven Wright was sent to New York for a second opinion on his ailing left knee from Dr. Riley Williams, a knee specialist.
Once those findings are released, the Red Sox will have a better idea of how long Wright will be out of action.
The struggling right-hander was placed on the 10-day disabled list on Tuesday, retroactive to Sunday. Right-handed reliever Brandon Workman was recalled from Triple-A Pawtucket to take Wright's spot on the roster.
The Red Sox will call up Kyle Kendrick from Triple-A Pawtucket to start in Wright's place on Thursday.
Wright felt discomfort in his knee as far back as Spring Training, but it intensified on Sunday, the day after he lost to the Cubs.
"He felt like there was a spike in the discomfort," said Red Sox manager John Farrell. "He was obviously taken for an MRI at that point, and it's more severe than what he had been dealing with at any point and time. Like I said, we're still gathering information.
"To say there was one particular instance that really ramped this up and took it to another level, even Steven to this point can't say that this is the reason for it, or covering first base, or fielding a ground ball. There was none of that that signified that this was another re-injury or major advancement of it."
Holt has setback
The Red Sox have recalled utility man Brock Holt from his Minor League rehab assignment due to recurring symptoms of vertigo.
"He's dealing with a lot of frustration with the onset of symptoms, how they seem to dissipate and then they'll come back," said Farrell. "This is one that we don't have a timeframe on when he's going to go back out on a rehab yet."
The Red Sox are unsure if the vertigo is somehow related to the multiple concussions Holt has had in recent years.
"The one thing that we've learned about that is there's probably five or six different types of concussions," said Farrell. "We know that his is always centered around that vestibular system, which has everything to do with balance so when the virus triggers the onset of the vertigo, I can't say it's completely disconnected, but to what extent, I'm not the expert to determine that."
Holt's absence is particularly felt at a time Pablo Sandoval is on the disabled list indefinitely with a right knee sprain.
Ian Browne has covered the Red Sox for MLB.com since 2002. Follow him on Twitter @IanMBrowne and Facebook. This story was not subject to the approval of Major League Baseball or its clubs.