Rangers scramble after Hamels scratched
Claudio starts in place of lefty, who felt tight oblique in warmup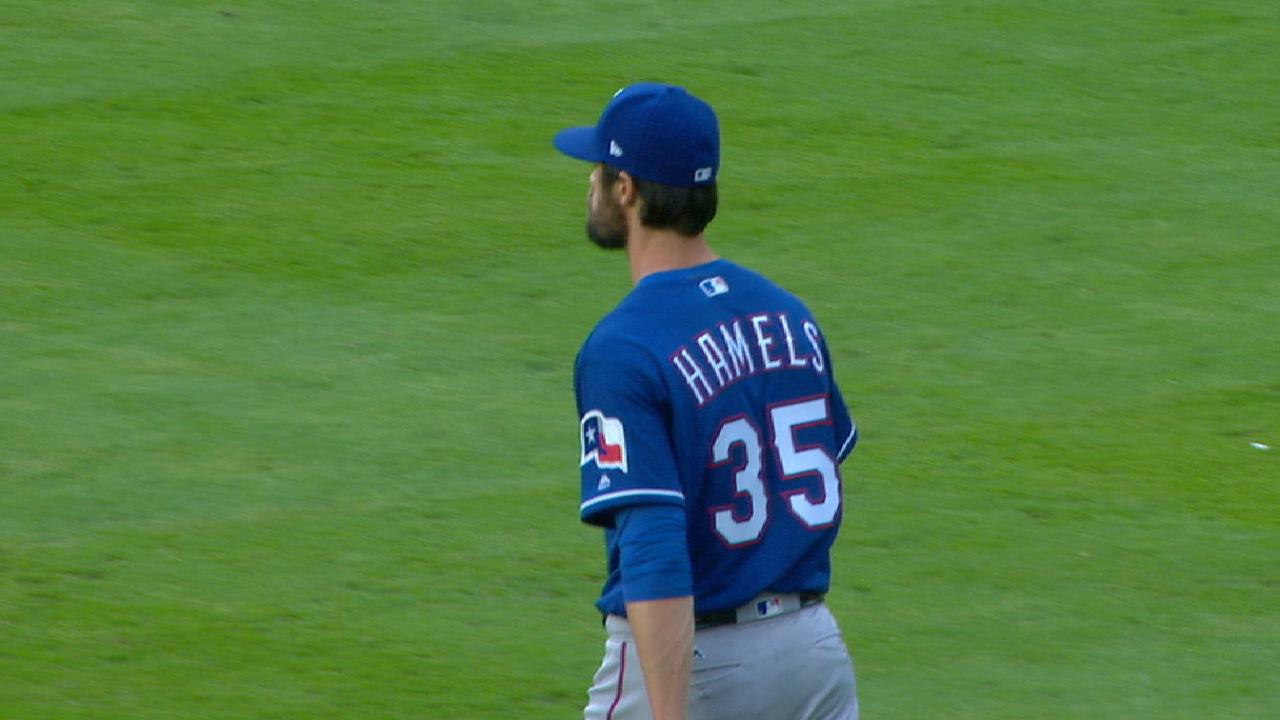 HOUSTON -- Rangers pitcher Cole Hamels said he didn't see this coming. He had no indication before beginning his warmups on Tuesday night.
It happened on the second pitch. Hamels felt a sharp pain in the area of the oblique muscle on the right side. He tried one more pitch, felt it again and that was it. Hamels was scratched from the start and the Rangers had to attempt pitching nine innings out of the bullpen beginning with Alex Claudio.
They were four outs away from making it work and couldn't quite get it to the finish line. Instead the Astros scored five runs in the eighth off of relievers Keone Kela and Jeremy Jeffress, and rallied to hand the Rangers an 8-7 loss.
"It's something I've never experienced, I think, ever in my career," Hamels said. "What those types of symptoms represent, you just want to be a little more cautious. Ultimately when you get into a game situation, you push even harder, and I think that would lead to a more serious injury that can be avoided."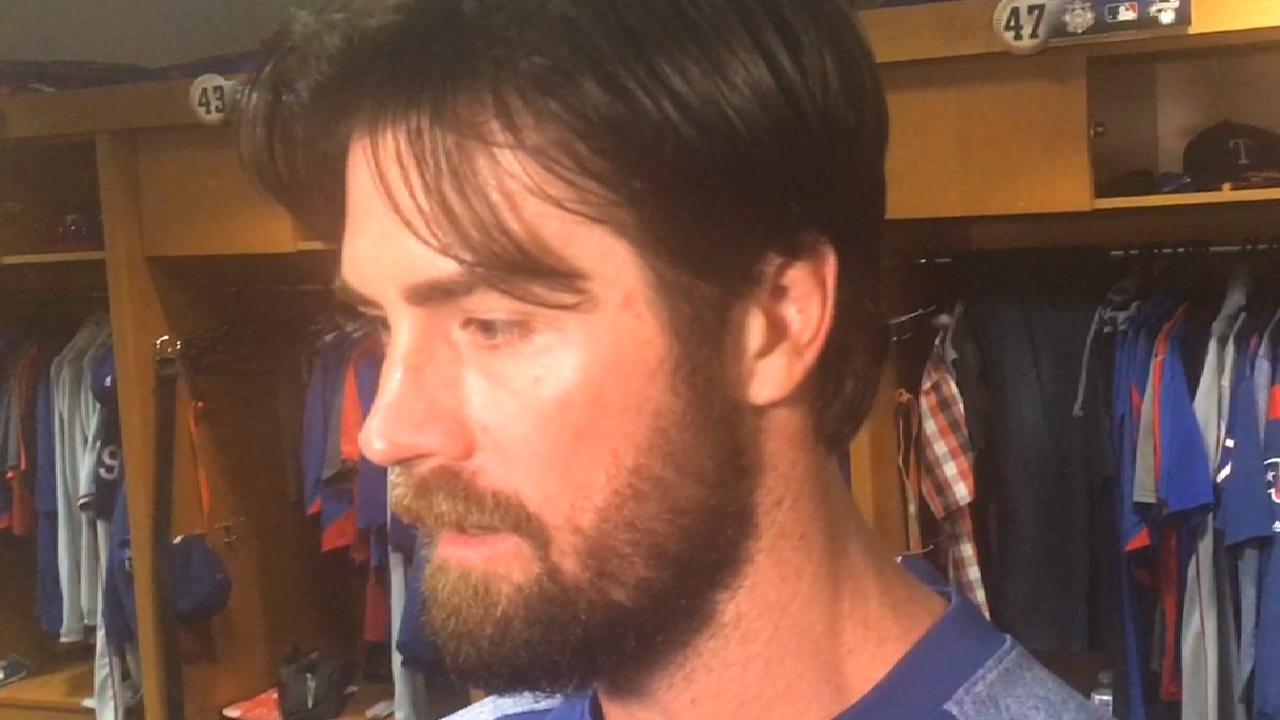 Hamels underwent treatment during the game and will return to Arlington on Wednesday to be examined by Dr. Keith Meister. The Rangers aren't sure yet if this is the type of injury that will put Hamels on the disabled list.
"I've never been in that situation ever. Minor League or any big league game," Hamels said. "I'm always ready to go and able to do things. It's a tough situation to be in, to put the team and the coaching staff in and all the players. Hopefully we caught things early and we can make the adjustment."
Claudio didn't let the last-minute notice bother him. He retired nine of 10 batters through three innings, then gave up a two-run home run to Jose Altuve in the fourth. His night came to an end after a leadoff home run to Marwin Gonzalez in the fifth. He threw 65 pitches, his most ever in a Major League game.
"In the fourth and fifth innings I was a little tired but I was still competing," Claudio said. "I'm disappointed we lost but I felt I did a good job."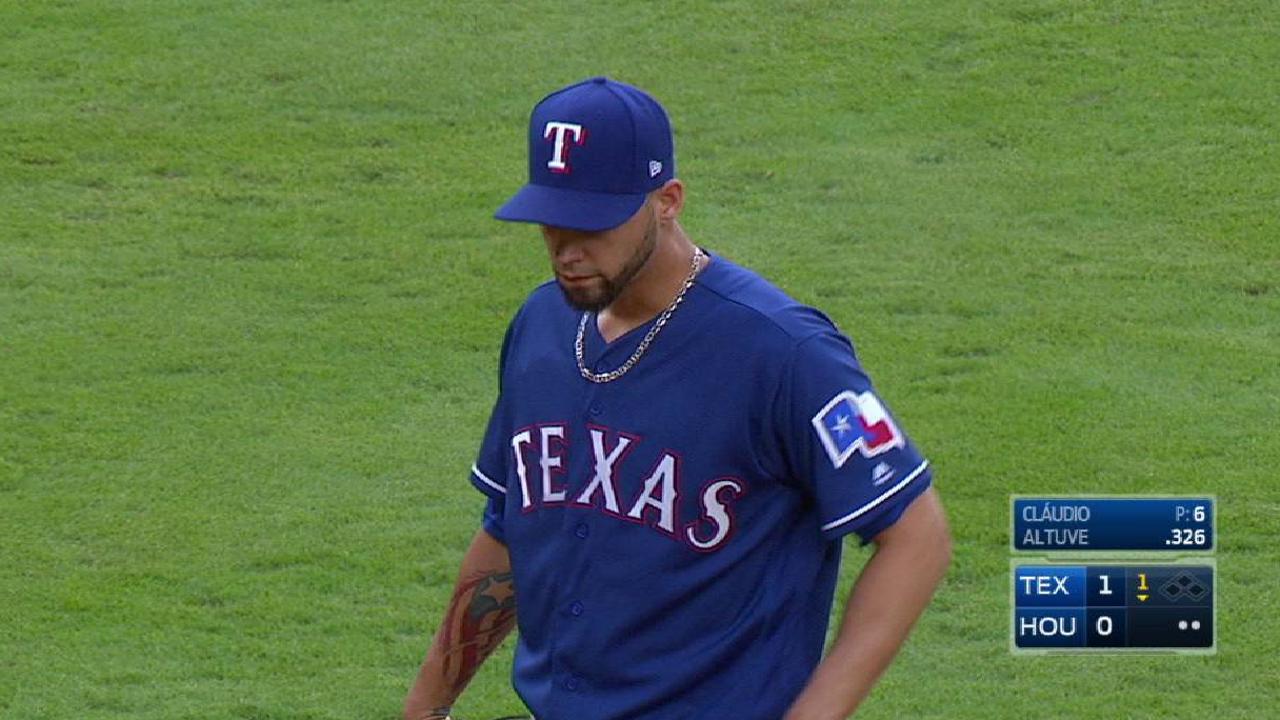 Manager Jeff Banister said the injury happened so quickly, there was no choice but to use the whole bullpen. The Rangers didn't have enough time to decide if Nick Martinez or A.J. Griffin could get ready to start. Martinez, who is scheduled to start Wednesday, was in the bullpen late in the game in case of extra innings.
The Rangers used six of their eight relievers, holding back only Tony Barnette and Matt Bush. The Rangers may have to make a roster move before Wednesday. Claudio will be unavailable and so will Kela, who threw 26 pitches in the eighth inning.
The Rangers are also trying to be careful with Jose Leclerc, who threw a scoreless inning after taking over for Claudio. He was unavailable for Monday's game and threw 21 pitches on Tuesday.
Right-handers Tanner Scheppers and R.J. Alvarez are among the experienced relievers at Triple-A Round Rock.
"We are in discussions as to our options," Banister said. "Hopefully Martinez can give us some length tomorrow and we'll go from there."
T.R. Sullivan has covered the Rangers since 1989, and for MLB.com since 2006. Follow him on Twitter @Sullivan_Ranger and listen to his podcast. This story was not subject to the approval of Major League Baseball or its clubs.