Plouffe catches up with friends in Minneapolis
A's third baseman has fond memories as longtime Twin
MINNEAPOLIS -- Twins manager Paul Molitor has known A's third baseman Trevor Plouffe since he was drafted by Minnesota in the first round of the 2004 Draft.
So when Plouffe, who played with the Twins from 2010-16, made his return to Target Field for a three-game series that began Tuesday night, Molitor couldn't help but joke with him.
"I finally told him he's batting where he belongs -- in the eight-hole today," Molitor said with a laugh.
Jokes aside, Molitor had nothing but positives to say about Plouffe, whom he coached on defense in the Minor Leagues before becoming his manager in 2015 for two seasons.
"It's even funny watching him when I see video of our games," Molitor said. "I've known him 12 years or so, since he was brought in here from high school. He gave a lot to our community and our organization."
Plouffe, 30, admitted it was different being on the visitors' side at Target Field, but said he believes he was lucky to spend the first seven years of his career with the Twins. He knew there was a chance he could be traded or released in the offseason with Minnesota's crowded corner-infield situation, especially with Miguel Sano moving back to third.
"It feels weird, but I knew it was a possibility," Plouffe said. "I got a call I think in November so it was early in the offseason. It sank in right there. I started talking with other teams and we had the best talks with the A's."
With both teams having an off-day Monday, Plouffe spent the day catching up with his former teammates Brian Dozier and Phil Hughes at Surly Brewing, one of his favorite spots in the Twin Cities. He also caught up with Molitor and his other former teammates before Tuesday's game.
"It was nice to be here an extra day," Plouffe said. "I was able to see everyone. I talked to Mollie and my teammates. Those are the guys I cared a lot about."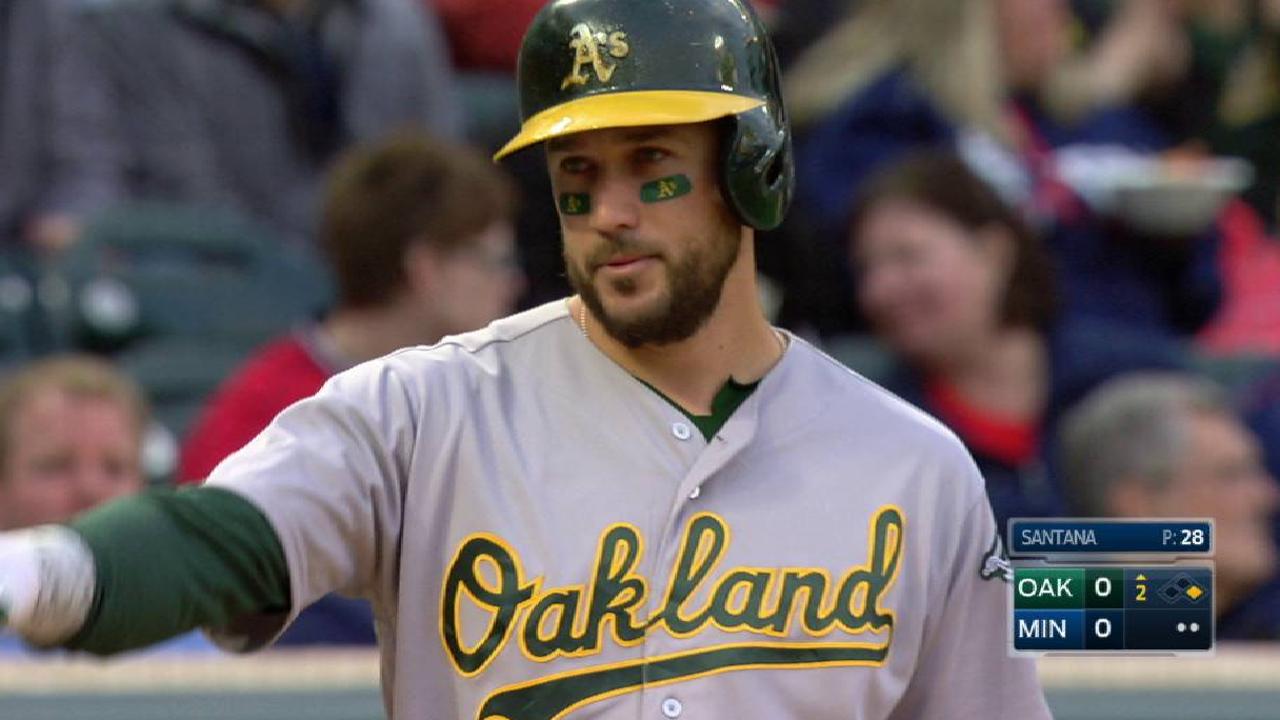 Molitor was a fan of Plouffe's, as he saw how hard he worked to make himself an everyday third baseman after struggling at shortstop early in his career, and even spending time in the outfield early in the 2012 season. As a result, Plouffe had nothing but gratitude for the role Molitor had in shaping his career.
"He's just so consistent," Plouffe said. "He shows up as the same guy every day. In this industry, to be successful you kind of have to be that way. He's a great man and I learned a lot from him."
Plouffe has also continued to monitor his former team from afar, and said he's not surprised they finished April with a winning record at 12-11.
"We're starting to see some of the younger players come into their own," Plouffe said. "Once everyone starts to come together and there's some more experience, this team will do good things."
Rhett Bollinger has covered the Twins for MLB.com since 2011. Read his blog, Bollinger Beat, follow him on Twitter @RhettBollinger and listen to his podcast. This story was not subject to the approval of Major League Baseball or its clubs.